"Oh hai!" I'm sorry about not updating this spanking blog as often recently, it's not for want of trying. So much has been going on (all good, of course) behind the scenes. If you follow my Twitter account, then you'd get a sense of what is happening but I won't bore you with it here -go stalk me, it's not exactly hard to find, lol!
Anyway, one such time that both Sarah & I were busy was our visit at the end of last month when we were in Las Vegas on a very hectic schedule. We met Tony & Eve from Shadowlane.com to feature in a film alongside the very beautiful and talented Violet October. We had a really fun shoot doing something VERY similar to what you'll see here below… this film featured here today was carried out not long ago on Violet alongside Nikki Rouge. The release of the film with myself, Sarah and Violet is imminent… so this film will prove most apt for you all to check over! It will give you an idea (with a special twist) of what is to come!
Beautiful, 22 year old thrill seeker, Violet, revisits Nikki Rouge (her summer disciplinarian). This time she confesses her ardent desire for further therapeutic correction. The petite blonde has been dreaming about embarrassing anal discipline, butt plugs and enemas. She has even visited a sex therapist for preliminary anal training. Lovely, leggy Nikki enthusiastically accepts the assignment, informing Violet that anal penetration must always be prefaced by spanking. This is to render the culprit's bottom a deep, dark pink and infusing it with warmth that should last throughout the treatment. Below are some scenes from the film…
WARNING: Purists will complain and huff and puff… others will enjoy this for what it is. A very sexual F/F spanking film infused with a deep fetish of anal play, humiliation, embarrassment and enemas.
Over the knee spanking & lubrication of an anal plug
An early part of her introduction to the treatment – there will be spanking involved!
[jwplayer mediaid="47686″]
Nikki uses a professional lube shooter to inject surgical grade lubricant into Violet's upturned bottom. She then slowly introduces a wiggly, 5″ silicone dildo into Violet's tiny rectum. All this along with plenty of crisp hand spankings to her bare bottom.
Making sure to keep Violet's jutting cheeks pink with spanking… Nikki then administers a preliminary over the knee, mini bottle enema infusion into Violet's well-lubricated anus.
The red water bag enema scene – spankings and humiliation roleplay
[jwplayer mediaid="47685″]
Never forgetting to spank Violet's satiny smooth cheeks to a constant state of pinkness. Nikki relubricates Violet and administers a classic bag enema to her charge, while Violet kneels, in the knee to elbow position.
The Final scene – a 24 stroke caning
Violet's therapeutic punishment session is finished off with a purifying 24 stroke caning across her adorable bottom, administered with careful exactitude by her thorough mistress.
[jwplayer mediaid="47684″]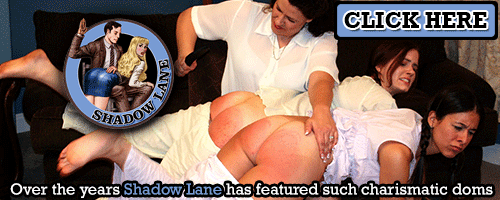 Oh, before I go, a quick apology to members at AAA Spanking – The new film should have come out on Wednesday & I was tasked with putting this up but I had to help with a film shoot in the UK. I was still (and am) suffering from jetlag (having flown in from LA). I will be getting that up later today and letting you know more about it. If you can't wait, it is already released at the Clips Store in full HERE and has already become a top seller. It's no surprise as it features a really hard tearful severe Uncle/Niece leather strapping punishment. This is with new AAA debutante, Harley Havik! She is awesome… as is Johnny Lake who spanked and strapped her in this film – (see below).