It's time to check out the hot new full spanking film that has recently appeared at new site CheerleaderSpankings.com starring one of the hottest fetish models currently in the scene, Angela Sommers (pictured left). I don't need to tell you what a looker she is, I think the images below will do that for me, but what I do need to tell you is that this uniform she was wearing was made for her, don't you agree? Sarah & I saw this and once we knew that Angela would be filming with us (we were very excited!) qwe both said "Angela" looking at this! What I adore about this new site is the attention to authentic uniform detail, more than any other site in a similar category that uses uniforms as their niche! If you want to see cheerleaders and cheer girl storylines based around our favorite subject, then this site really is for you! With superb additions like Angela here… what we have discovered is that the girls LOVE to wear these uniforms and act out their darkest, meanest fantasies. For some, it relives their memories of being the popular girl at school. For others, like many stunning fetish actresses out there, they may have been late developers so missed out on being that stunning cheer girl that they can portray now! & of course, with the added twist that they can play a slutty or naughty girl far more than if they were their younger selves and get punished for it too! As was the case with Angela, she embraced this storyline you'll see below and found it very hot… I know I did too watching this! So to all you uniform and cheerleader fetishisistas out there, this really is for you! Enjoy!
Angela the Slut – now showing at CheerleaderSpankings.com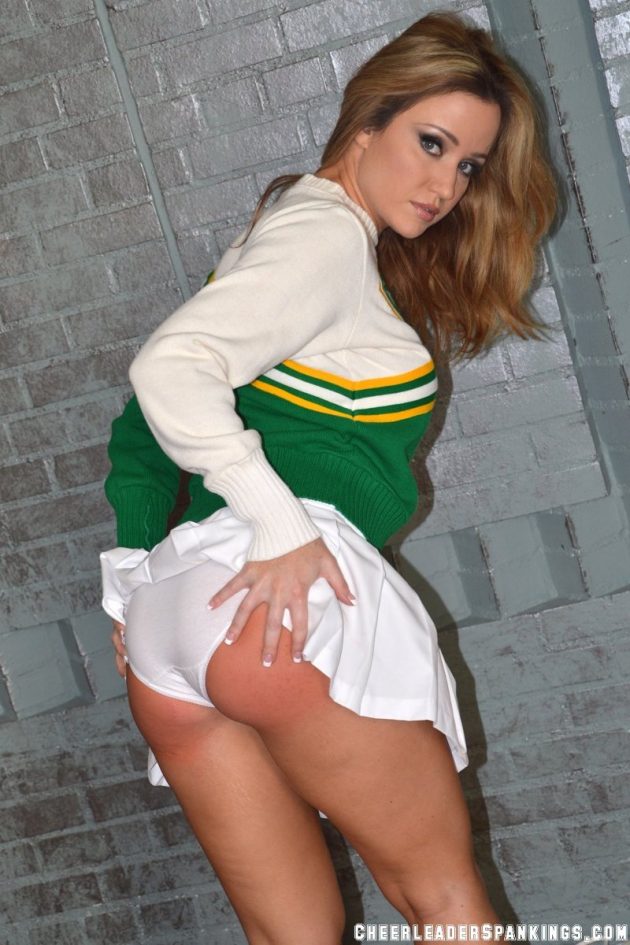 Angela honestly had no idea why the assistant coach, Miss Gregory, wanted to see her in the basement below the gym. She was soon going to find out why she wanted to see her alone as the other girls were fed up with Angela being such a diva and, as they pointed out, screwed her way into the squad. Miss Gregory knew exactly how to deal with little sluts like Angela and gave her an ultimatum… she took a punishment like the squad members or she could leave. No amount of screwing the coach or anyone else would change this. Angela, dressed in her cute uniform, decided to take the punishment and took a bare bottom hand spanking which was humiliating as Miss Gregory took delight in making this attractive brat apologize and ask to be punished. For good measure, the Bad Cheerleader paddle was used as a further deterrent against future indiscretions. This is a really hot all girl spanking video!
Check out the FREE CLIP of Angela's punishment (below)
[jwplayer mediaid="48462″]
(below) are some images taken directly from the rest of this movie…
Convinced yet? Check out MORE of Angela NOW at CheerleaderSpankings.com