It's that time when I attempt to catch up with some of the best spanking updates I've seen from the SG Group of sites in one go! That's 4 websites for you to look at and there are some amazing spanking scenes and stories to tell. I hope you like the images and GIFS that I have made for you here… if you see these GIFs elsewhere, just remember that you saw them here first 😉
I'll start with AAA Spanking and a long play film in 2 clear parts: I have covered the first part here (below) which is wholly F/F and is a Mommy/Daughter spanking scenario (that's the Sarah Gregory influence, which I think is a good thing!). She wanted more of these type of scenes played out so with the AAA twist, the second part sees the (step) mother of Stevie punished by the distraught husband in a hard domestic discipline with "heavy leather straps and sticks" who never gave his new wife permisssion to spank his precious little daughter!
This films stars Stevie Rose & Miss Anna (the wicked step mom)
Spanking Daddy's Princess (part 1)
Stevie is confronted by her new step mother before bedtime in another unfair "discipline session" that went too far this time with Stevie getting her PJ bottoms pulled down and given a hard bare bottom spanking, leather paddling and hairbrush punishment to tears. (just wait til daddy finds out – in part 2)
Stevie Rose had a new stepmom and they didn't like each other one little bit! Anna made sure that her new bratty daughter got no favoritism from her when Stevie's Daddy (John) was away on business. He trusted Anna to look after her as she was his Special Little Princess. His wife found fault with Stevie's behavior and often spanked her hard until this time she went too far and spanked Stevie on her bare bottom with a leather paddle and a hairbrush!
The full film is now available at the Clip Store HERE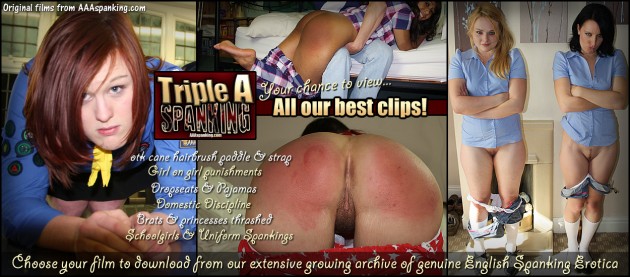 Cheerleader Spankings delievers on its promise of sexy films and real hard discipline films – although, personally I'd find this new one in the "both" category this week. Angel Lee (who we rarely see online), as far as I can see, has only appeared at the SG network of all sites featured here today… so it is my pleasure to showcase this excellent cheergirl discipline film. Angel took not only a Reformatory Strap but the 5ft+ Workout Strap which I also believe is the first time it has ever been shown on film… Johnny (FLAPaddler) was the coach who wielded this wicked piece of heavy leather. Take a look at her sore bottom and tell me this punishment didn't get the message across!
Coach had called for one of his best cheerleaders, Angel Lee, to see him when he found out she had been late for practice again. She had potential but her attitude and workrate recently had started to let down the team. He ignored her weak excuses and took her over his lap for a hard bare bottom spanking that had her gasping in disbelief. This punishment took a turn for the worse when Angel swore at her coach in frustration when he made her repeat "Practice makes Precision". No girl on his squad would dare show such disrespect so he gave her 2 further painful lessons bent over a bench, her bare bottom high in the air, quivering and exposed. First, the reformatory strap did its job then the dreaded 5ft long heavy workout strap crashed onto her sore, red cheeks for a total of 10 furious licks of mean leather no girl should ever have to take! Warning: This is a severe punishment film that not many girls can take… See how much Angel was able to withstand in this authentic style cheergirl discipline drama.

Or visit The New Cheer Clips Store (below) to view this full HD video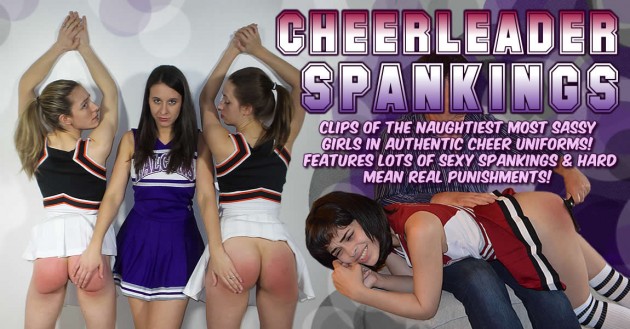 At Sarah Gregory Spanking Johnny Lake is again featured giving the amazing Harley Havik her most tearful and very real discipline film with "Straps and sticks!" As I recall, Harley was only filmed twice as both films were severe and there was no way after this one she could continue… in fact, sarah and I caught up with her later the following week in LA and made some more hard, but beautiful punishment films). On thsi particular day, we were at a private spanking party this was the last film we shot (well, we only did 2 and they were both severe) You can see her other tearful film already showing at AAA Spanking HERE (<<free gallery)
Real Tears, Real Apologies – featuring Harley Havik
Harley has really fucked up this time. She was caught on camera kissing, dancing, and being spanked by another man. She knows the rules, woman only. Johnny is not happy with her to say the least, in fact he is disappointed beyond belief. His girlfriend and submissive will not disobey him like this. There are only two things he uses to teach her a lesson, Straps and Sticks. He takes his thickest meanest strap to poor Harley's bottom and then his thickest cane. By the time the first stroke of the cane comes down she is crying real tears and begging for forgiveness. This is Harley's first ever time crying real tears in a film.

Finally for today, another Mother spanking daughter video, also with Miss Anna… from Momma Spankings – only this time the spankees are sisters played by the adorable pairing of Alex Reynolds and Adriana Evans… oh my, look at them all!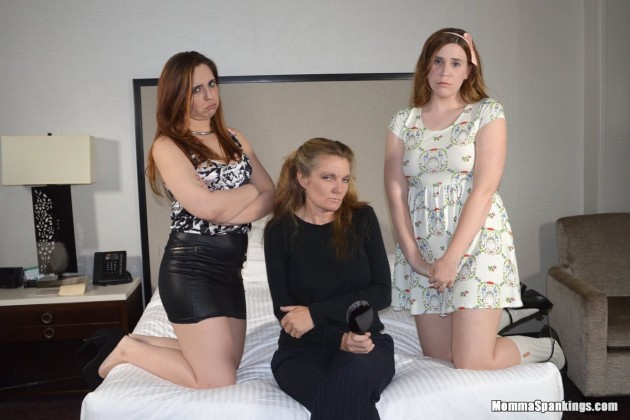 Sister Trouble – with Adriana Evans, Alex Reynolds & Miss Anna (their mom)
Alex and her sister Adriana are non-stop arguing and fighting and mommy has had just about enough of their behavior. Mommy takes each of her naughty daughters over the knee for bare bottom spankings. This elicits real tears from Alex as she apologizes and cries. Adriana continues to sass mom and earns herself another trip over mom's lap for the hairbrush. Alex makes snarky remarks from the corner and also earns the hairbrush on her already sore spanked bottom. These are two very sorry sisters.
This is part of the better value Sarah Gregory Pass – giving you access to both her main sites for less than the combined cost! just be sure that you have enough disk space as there are 100's of Gb of film data to view and download! See more info on how to join by clicking HERE or on the banner (below).


I love drama in the films but NOT at meetings or public gatherings – which is why, for a large national spanking party, you will get to enjoy meeting other like minded spankos on your level… this is at the LONE STAR SPANKING PARTY – There's absolutely no pressure to join in any organized stuff but it helps for some of you who might be alone to break the ice (such as newbie orientation, the Spankee Hawkins events and so on…) but there are some great classes (such as Amelia Jane Rutherford's and a special presentation from Michael Masterson too!). Then, of course, there are all the suite parties where lots of the nocturnal shenanigans happen. If the doors are open you're welcome to go take a looksee and maybe join in too! The main suite will be open so anyone is welcome there and people often take off to various rooms for smaller parties within a party.
Last year's party was a big hit with the relaxed atmosphere that people appreciated and this year will be even better – a new, better, very kink friendly hotel that can't wait to welcome us all… I know Sarah, Tubaman & I are excited about it this year. So if you are in the Houston (Texas) area on May 19-23 then come book a room at the hotel for a discounted group price, pay your registration and enjoy all the fun.
It's even cheaper this year if you don't want to partake in the Evening Ball/Dining on Friday and Saturday (as that costs more) so there are options for everyone's tastes/time and wallet. There is also the Dark Party (which got quite raunchy where there was a little more BDSM play involved). Oh my… there is so much to do including an excursion to the coast and the bus we have hired will have tinyed windows and a driver that will expect LOTS of spanking noises going on behind him! LOL – just go take a looksee at the website and check out the full schedule!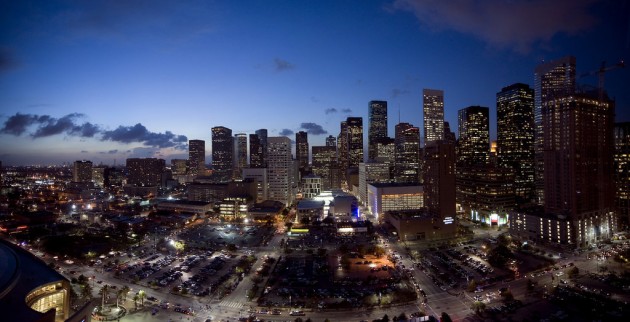 Welcome to Houston! 🙂