Filmed about a year ago, Rosie wanted to appear in a film at AAA Spanking that was both edgy and unexpected… playing a foul mouthed and unruly schoolgirl. So we came up with an idea and something she never dared dream would happen – as the title of this film suggests. "The Ballgagged Schoolgirl". Add to that a rather hard and humiliating spanking punishment there was also an added twist when a smoking infraction earned her a painful hand punishment she hadn't thought was possible.
Ever been whacked with a wooden ruler? (we're talking an old school heavy ruler that stings like a "mother"). Well, she got that too and she took this punishment as best she could. Looking your tormentor in the eye is rather more intimate and added to the whole submissive humiliating suspense of her punishment early on!
So here is the latest schoolgirl film, a detention punishment setting, an austere office and some traditional implements of correction including a heavy double sided leather strap that had all the thud and force of a school paddle. This is a great film, check out the images (they are reduced in size here, of course) which are both taken directly from the film and stills images that members get to download along with the video.
Rosie Ann – The Ballgagged Schoolgirl
Rosie Ann faced her most humiliating detention punishment to date when her potty mouth got her into trouble. Mr Osborne wasn't going to listen to anymore of her "F Bombs" and shut her up immediately by ballgagging her. This shocked schoolgirl then went through the rest of her punishment muted except for the muffled sounds of her cries of pain. He punished her for the other misdemeanors such as smoking, for which she received a hard and painful wooden ruler first on on her hands then later on her bare bottom! A hard OTK bare bottom spanking and a double thick heavy leather strap ensured this foul mouthed young lady learnt her lesson thoroughly in her after school detention. This was by far Rosie Ann's most humiliating spanking punishment to date!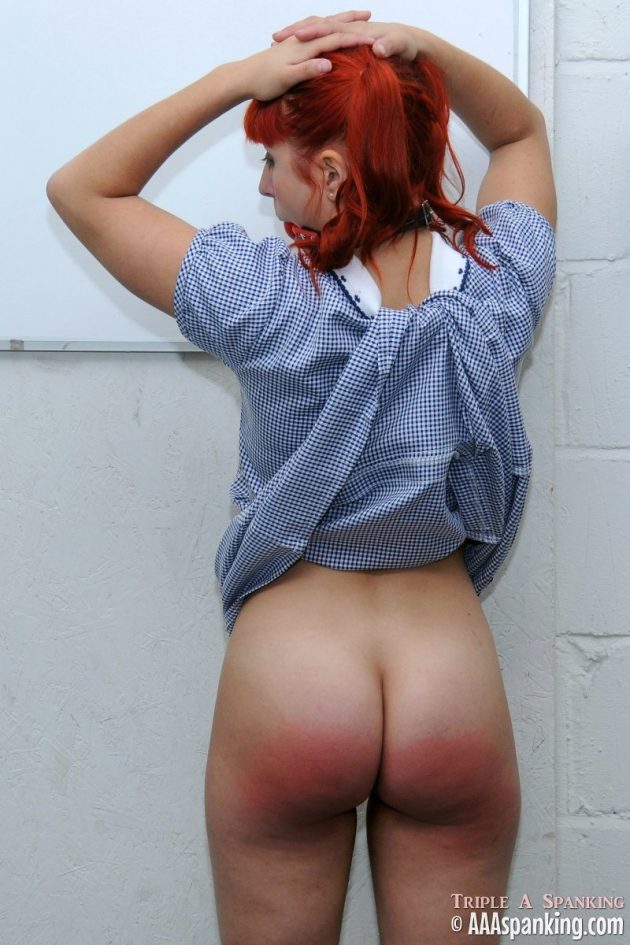 This film is also available to download at the clips store in full HD HERE