Earlier  today Sarah was reminiscing about one of her ex GFs, Abigail Whittaker,(oh my) and she wanted an image to place on her blog for a banner for Firm Hand Spanking in her honor as she asked me to help update the look of her blog… she had issues with the old style blog theme and so we just chose a basic but effective theme that is fully supported on WordPress. I helped her withthe set up and it's a work in progress but already it's starting to look much easier on the eye Sarah has got the bug setting up new banners etc (I have been asked to do some for her too) and she has got the blogging bug again.
So please do visit her usual blog HERE when you have a chance and she has promised to write there far more often. She also has just started a Tumblr blog which she has already become addicted to, if you're a Tumblr addict too, please go follow her blog, she has promised to place lots of images from vanilla shoots, behind the scenes info and of course you can ask her ANYTHING easily by placing a question (be respectful, of course, lol) but go for it. Anyway, I jope this awesome set of images of Abigail are enough for sarah to choose from! These images were taken from the "Interventionist series" from 2010. ALL images are available to be downloaded or viewed in a larger size (hope you get what you're looking for, sarah, LOL).
The Interventionist series featuring Abigail Whittaker & John Ryan (2010)
Interventionist John Ryan brings feisty Abigail Whittaker from a nightclub to keep her out of trouble and try to reform her ways. She's going to have a course of counselling and discipline. Theft, alcohol, the list is endless. Now a mouthy Abigail is going to be punished for stealing his wallet. A blistering bare bottom spanking is only the start of a steep learning curve and there's no escape!
It's the morning after Abigail Whittaker committed an act of theft. John Ryan gives her a choice: face the police or accept his alternative method of punishment, applied to her bottom! Perhaps 60 swats with a leather paddle, 40 of them with her butt bare, will change her attitude? Looks like Abi has trouble conforming to his rules: her bottom has some serious spankings in The Interventionist.
Abigail has trouble following simple instructions, like emptying the dishwasher! So what better way to teach her the rules of the house by paddling her behind 50 times? John Ryan is The Interventionist who's taken wild girl Abi into his home after a theft incident. Now she's learning the rules the hard way, with a sore bottom. Those gym-toned cheeks redden nicely!
There's something about corporal punishment for selected young ladies that seems to work! Abigail Whittaker is finally learning from her new mentor that disobedience, dishonesty and attitude all carry a penalty – and that means a sore bottom in The Interventionist. 50 swats with a large wooden spoon, most bare bottom, send a clear message to her backside! She still hates the dress!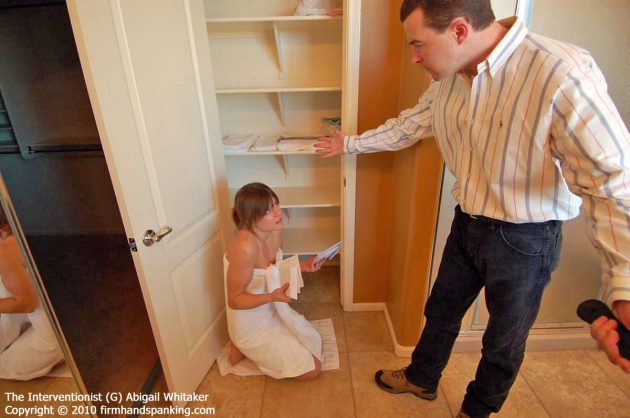 John Ryan takes a leather strap to Abigail Whittaker, laid nude across his bed for 40 strokes in The Interventionist. Her offense? Not asking for permission to use his shower. While looking in his towel closet, she discovers his dark secret: a hoard of spanking DVDs! Now Abigail understands why she's punished so frequently. But it won't stop her being thrown nude on the bed for a licking!
All she did was open the front door to a courier wearing workout shorts and top. But The Interventionist John Ryan is ultra-conservative and thinks she's flaunting herself. A 12-stroke caning is the sentence, bent over the landing rail shorts stretched tight over her gym-toned bottom. "When I drop to my knees, that was real, the cane hit across the back of my thighs!" Abigail said.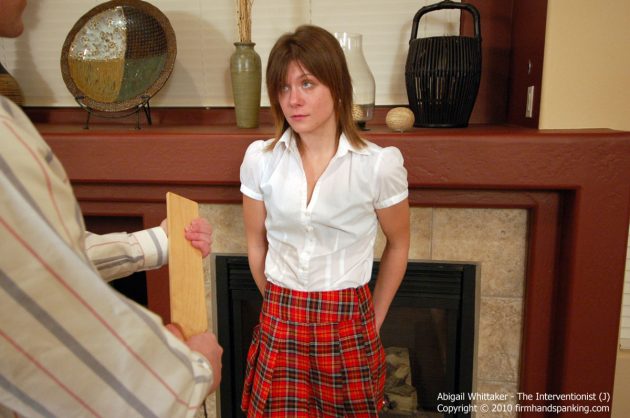 A classic bare bottom paddling in school uniform awaits fans of Abigail Whittaker in The Interventionist finale. Caught stealing, she'd under the watchful eye of disciplinarian John Ryan. But she discovered that he's into spanking videos – it's not just about discipline! She agrees to role-play a stern school paddling – so stern, you have see the Reaction Cam replay for those 10 swats!
This is an example of what is available in the archives, and of course, my private external hard drive stash which I hope you appreciate… we are all spanko lovers and quite frankly, I have to say that Sarah had taste with her ladies! It's a pity Abigail has retired and moved on with her vanilla life, but that is what happens and a new girl piques our interest and so on… but someone like Abigail won't be forgotten easily. So I say thank you to sites like Firmhandspanking.com for being there and recording this for us all to still enjoy well over 6 years later! Anyway, I hope Sarah manages to find what she wants from this awesome set of images, which, are ALL available to be downloaded with the films… and of course MORE Abigail Whittaker series (of which there are MANY!)
Please visit the spanking site that made this possible – CLICK HERE