I was going to do a "Throwback Thursday" spanking post but then realized that there are still far too many site updates that I wanted to cover for you all… so here is a little catch up post instead with some gorgeous imagery I know you love with links to free clips and the sites themselves so you can check them out in more detail. If I have time later I will get you another post for the #TT at the Teen Discipline Blog – So check out the following NEW spanking films, all updated at the sites within the last few days and no older than that! In no particular order of preference, here are the latest batch of interwebz spankful goodness to appear on your screens!

The Disappointing Disciplined Secretary – NEW from Sarah Gregory Spanking
Behind the scenes info: One of my main motivations for being in Atlantic City not too long ago was the proximity to which we could both meet the wonderful Audrey Sugarsmak. Sarah was growing tired of me saying how cool Audrey was and how we should spank her magnificent booty together… as it turned out, Sarah trusted me and we were more than impressed with Audrey. when she turned up. I love this lady! Anyway, this is her first appearance at the SG sites and you *know* that she will be appearing at the rest very soon. Just check out how amazing Audrey looks, the clarity and imagery that does her justice in this video… oh my, this is just the start of how you should see Audrey spanked by a stern boss lady… and of course the bonus is getting spanked and scolded by Sarah which makes it an addictive "MUST SEE" video!
Image grabs of the video…
Sarah has called her secretary, Audrey, into her office. Audrey has not done the assignments given to her and Sarah is very disappointed. She trusted her to get the work done as asked and now the clients and business will be affected for her laziness and inability to follow instructions. Sarah offers her a choice, get fired, or take the discipline the way Sarah sees fit. Audrey needs her job so she reluctantly goes across Miss Sarah's lap for her punishment. She is spanked, and strapped and hairbrushed like the naughty little girl she has acted like.
Stills from the photo gallery – both sets of images are reduced in size (members get to view the larger ones)
This site is part of the Sarah Gregory Pass – giving you access to this and Momma Spankings with one set of usercodes for less than the combined cost of both memberships. See more info on this HERE


Next up is a new video production release from a film shoot I was present at in early January this year. It was the last ever big UK production for Northern Spanking so it had a special cast… it was also the scene of Alex (who had come over from Los Angeles to brave the British winter) getting formally engaged to Paul with a gorgeous ring… so this was made all the more memorable! "Northern fans" might recognize the location… Paul admitted to me that this huge house was one of his favorite filming locations and I can see why, it had something like 8 bedrooms in it and some fantastic retro furnishings and an early 20th century feel to it.
Family Meeting – NEW from Northern Spanking
Schoolgirl Zabrina faces the unexpected wrath of her parents having been brought home by the police, for shoplifting! Such behaviour in this family is quite unprecedented and a family meeting is called, whereupon it it is decided that there is no alternative but for her mother to give Zabrina a spanking. Her big sister, Alex, also has to watch. Her behavior has never sunk so low but while she is under this roof, she needs to see what could happen. Alex visibly shivers as Zabrina's knickers are taken down and her bottom given a good smacking.

Another new girl for the RSN Group of sites and another beautiful black girl getting spanked and punished the RS way. This is Rylee's introduction to the "Institute" and it is a fabulous hard uncompromising punishment that she receives.
A Bra is not Optional – From Real Spankings Institute
The Dean decides to take matters into his own hands and punish all the ladies who refuse to wear a bra. Rylee happens to be one of them and she is bent over, with her breasts exposed, and strapped hard on her bare bottom.
This site is part of the Real Spankings Pass – giving you access to 8 sites for a fraction of the combined cost, check out all the sites on this deal and more options HERE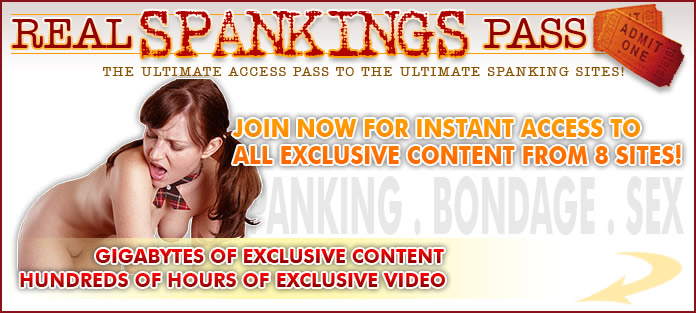 Belinda Lawson makes another wonderful film for Firmhand Spanking dressed in this military uniform that doesn't stay on for long. I have really liked this series and rate it as one of her best so with that endorsement – do go check out the clip and of course the exclusive early preview images I have for you (below)
Stripped nude and bent over, Belinda Lawson's bottom burns from the paddle
Spectacularly nude, Belinda Lawson strips off her non-uniform jumpsuit and bends over a vault horse after testing Colonel Grey's patience in Military Discipline. He uses her own riding crop on skin-tight pants before she has to get nude for a stinging wooden paddle. That is one very sore pair of bottom cheeks!

 DON'T FORGET TO REGISTER – ROOMS ARE SELLING OUT FAST!!!