Hello everyone, sorry I hadn't got back to you sooner… Sarah & I have been traveling on a short vacation… but we still have full customer support and are updating all the sites on time! It was just things like blogging and such that took a back space as I'd much rather spend my free time with her than here, I'm sure you understand. Anyway, I had a brief time to update you on a few wonderful films and here they are… no GIFs… I know how you like them but they take up too much time to prepare, sorry.
Amelia is a very curious maid. She has been told the shed out back is off limits. But she finds herself taking a detour there and she is shocked at what she finds. Paddles, whips, canes, floggers, a bench of some sort, are very peculiar she notes. Her boss, John, catches her snooping where she should not be. If she is so interested in what happens out here between him and his wife and she wants to keep her job, he will just have to show her. Being such a curious maid will most definitely get Amelia spanked, cropped, strapped, and caned.
This site is part of the Sarah Gregory Pass – giving you access to her sites for a fraction of the combined cost. See more at the banner below.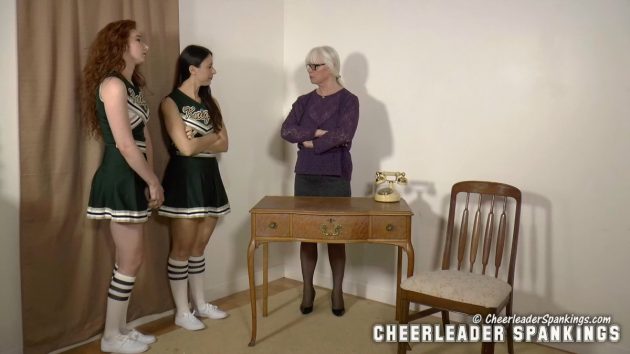 Bianca & Sarah were sent to Principal Specht's office because they had both been caught spying on the boys changing in the football locker rooms. They didn't seem very sorry and giggled as Principal Specht scolded them & reminded the girls what happened to those who couldn't behave properly. Spanking Punishments! They were both contrite and full of apologies but it was too late for that! Each girl was spanked in turn as the other was made to watch what happened over the knee of their school's head teacher, still in the cheer uniforms, with their white panties pulled down. To ensure she got the message across, Ms. Specht used a leather strap & a paddle on them both bent over the desk at the same time which had both girls wailing and crying out in real pain as this punishment genuinely marked and bruised the girls much later!

When Veronica catches Stevie Rose and Jenna Satvia acting naughty with each other, she bursts into their room and gives them each a painful spanking. She also gives each girl a hard wedgie to further teach them to behave. And since she believes that Stevie was the main instigator, she gives Stevie and extra hard spanking with a wooden bath brush.
This site is part of the 5 site Clare Fonda pass – giving you access to all the sites for a fraction of the combined cost. See more at the banner below.