"Spanked by Daddy" is the latest film just released in full at AAA Spanking and it features a debut performance at this site for Belle Calder. In fact, this was the 2nd of a special 2 part film Sarah & I had devised with a couple of sites in mind. Recently, Belle made her feature debut at Momma Spankings as the schoolgirl daughter of Sarah Gregory which you can get up to speed on the full review HERE. Needless to say, there was a continuation and we felt it would be fitting to put it onto AAA. This film features a quick recap of what happened previously, then we see Belle take the walk of shame to her bedroom. The camera follows her upstairs, as she rubs her sore red bottom over her regulation knickers. All the action in this 2nd part takes place in her bedroom when her father returns home. The motto in this household is a "Spanking by Mother means a  Spanking by Father too!" Of course, the spanking only took place because mother had heard about her punishment at school. So poor Belle got a triple whammy punishment!
Check out nervous Belle Calder (below) – about to take her spanking in her pajamas.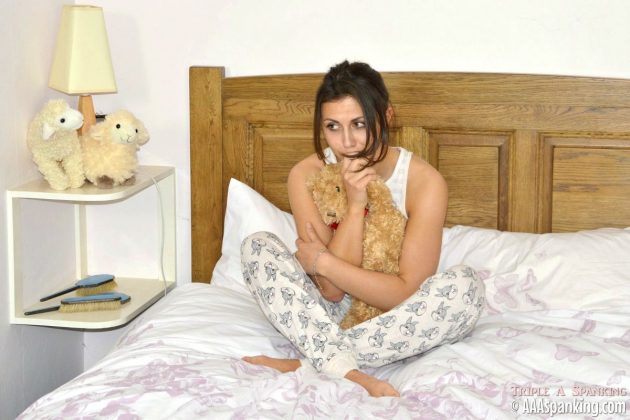 As I said, prior to this she had been spanked by Mom downstairs and told to go up and change and wait for her Dad when he got home!
Spanked by Daddy – starring Belle Calder & John Osborne
This is part of the "Spanked by Mother, Spanked by Father" series. Part One can be found at Momma Spankings when Belle is spanked by her Mother at home after school where she had already been punished. In this house, a spanking from her Mom also means a spanking from Daddy. We see some introductory footage from the earlier spanking of her in traditional school uniform. Then watch Belle rubbing her sore bottom over her regulation panties as she is sent upstairs, early to bed, to wait for Dad. He is none too pleased and takes her over his lap for a long hand spanking. She is spanked first over her pajama bottoms then on her sore red bottom. He isn't finished there, he rarely uses his belt but this time Belle's behavior deserved it. She gets 27 licks with the heavy leather belt including a hard final 6! This is Belle Calder's debut appearance, watch out for more memorable videos of her coming soon!
Watch out for more debut performances of yet more new girls to AAA coming soon. There will be more special exclusives that members will love with some stunning girls! Check out the very reasonable membership prices for access to the site. In particular: The long term memberships which are unbeatable value for a small but busy network that rewards those who support its work!
Or you can view this film as a special one time download to keep and play back as often as you wish. There are 2 stores so whichever suits your needs best. CLIPS4SALE & SpankingLIBRARY