Hello everyone, I have a couple of rather interesting new spanking film updates today with the theme of "step mothers" – and in this respect, two very different scenarios. the first, from Momma Spankings features a recent film that Sarah Gregory filmed with the amazing Elsa Svenson. She doesn't work for other companies as a rule but as they both know each other pretty well, Sarah reached out to Elsa and she was more than happy to make a few films… and this is a fantastic stepmother film with Sarah as the bratty American daughter sassing her new European "step mom".
Then… the second update is a role reversal film from AAA Spanking featuring beautiful Dutch girl, Leandra James. She is a young stepmother to a daughter who has been consistently in trouble (with punishments etc) at school and the teacher interviews her and discovers that SHE is the root of the problem and faces a humiliating choice… I wonder if you can guess what that could be?
Anyway, first up is a great bedtime spanking punishment with Sarah in PJs spanked by (who she thinks is) her "evil spiteful stepmother" (Elsa Svenson).
Stepmother's Discipline – with Sarah Gregory & Elsa Svenson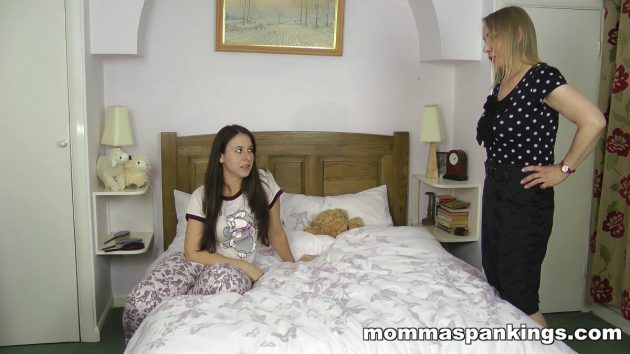 Sarah's father has passed away and left her in the care of her stepmother. Sarah acts like an ungrateful spoiled American brat and step mommy has had enough. Good hard old fashioned discipline is what this naughty brat needs. Strict stepmom, Miss Svenson, takes Sarah over her knee for a spanking with her hand and hairbrush.First over her pajamas and then on the dreaded bare bottom. It doesn't take long for Sarah to start to promise to be a good girl and listen to her stepmom.
Check out the free clip of this latest spanking punishment film at the link below



Then to the second featured update today from AAA Spanking starring beautiful Leandra… when it was discovered that she was the root cause for a once promising pupil's poor behavior, she was given a punishment by the girl's teacher like a naughty little brat. This was a way of ensuring she took more responsibility of daddy's precious little girl when he was away on business. Leandra played the aloof and selfish young stepmother perfectly… (as you can see below)
Disrespectful Stepmother – with Leandra James & John Osborne 
Young wife Leandra had no time for her new step daughter's education and wellbeing when she was supposed to be in charge of her when her father was away on business. This showed with the failing grades and continual punishments.that she had received but her teacher had guessed that Leandra was the cause of his once best pupil's erratic behavior. Leandra was summoned for an urgent meeting and it soon became apparent how aloof and selfish she was so he gave her an ultimatum: To take a similar style humiliating punishment or he'd inform her new husband what she had been doing! He gave her a bare bottom spanking and leather paddling then remarked on her style of dress which was far too provocative… Leandra felt ashamed that she had put her new daughter through these punishments too as her punishment was finished off with an embarrassing cornertime, panties down, like a very naughty little girl.
Check out all the latest updates featuring hot girls getting spanked incl free clips (below)

This film can also be viewed as a one time download to keep at the Clip store HERE