Just a brief spanking post today to cover the very latest film and some of those that are missed because of the end of year hack which  wiped 6 months off the old blog posts. The uploaded content is still there so I am attempting to re link some of them (when I have time) with the GIFs and images as well as any links to the free clips I can find. Seems a pity to waste all my hard work. I'll start with 2 unseen films from AAAspanking.com – the latest which is called "Pokemon Punishment" and a previous epic now showing in full at the site called "Severe Judicial Singapore Canings".
Pokemon Punishment – starring Bianca Rose & Audrey Sugarsmak
This is a bit of fun but also rather sinister as Bianca is humiliated by the very thing she loves… her Pokemon plushies and the game itself in this "roomie" all girl spanking fest.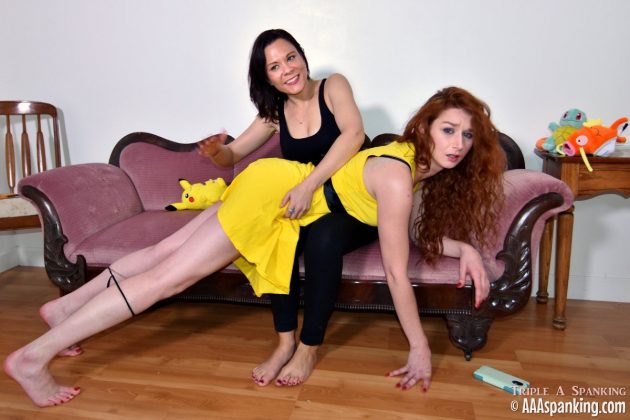 Bianca was a poor roommate. Audrey had put up with her as she usually paid her share of the rent on time but recently she had been pre-occupied with a game that had been a global phenonemon. Audrey didn't understand what all the fuss was about, after all, she thought, "wasn't it supposed to be for kids and not grown ups?" Bianca was addicted to playing Pokémon Go on her phone… anywhere, anytime she could. She had even started wearing clothing from the game and buying cute plushy characters which were littering the apartment. This infuriated Audrey when she returned home early from work to find Bianca lounging on the sofa, playing the game, surrounded by yet more plushies… wearing a Pikachu dress! Enough was enough! Audrey told her how she dealt with people who annoyed her or didn't do what they were told, a good old fashioned spanking! If Bianca wanted to behave like a brat then she'd punish her like one too! See this hot, sexy OTK spanking of fiery redhead, Bianca, by beautiful Audrey. What follows is a bare bottom leather strapping with plenty more naked humiliation in store for Bianca watched by her many Pokémon plushies!
The Xmas release late last year was a very special custom film with a very hard judicial caning of Elle Bea and Lily Swan. Check out the screen images from this movie and a link to an awesome free clip showcasing this special 45 minute film.
Lily and Elle have been caught selling firearms in Singapore. Normally women would receive a lengthy prison sentence. Lily's mother is a senior member of the American government and the authorities are keen to avoid an international incident. They are to be secretly caned and then be deported. Elle, as the accomplice will receive 12 strokes and Lily will receive 24 for being the ringleader. Ahead of the severe physical punishment, a psycholgical deterrant of a humiliating medical examination, stripped bare and shivering, only makes them even more nervous and worried! Elle is first and taken to the Punishment Room. She is tied and restrained to the caning bench, then with a heavy rattan cane she is slowly and deliberately given each painful stroke. Welts quickly appear and you will see both the rear and facial angles as tears flow freely. She is returned to the medical room where Lily sees Elle a blubbering mess then the defiant girl takes the same harsh punishment with 24 strokes! In the epilogue, the girls are given lotion on a medical table to preapre them on a long and uncomfortable flight back to the USA later that evening! This is a special feature that observers of hard, calculated discipline will appreciate.
Finally for now, members were witness to another severe punishment video starring the wonderful Miss Anna. She took a hard hand spanking, a heavy leather belting followed by a relentless bath brush punishment that left some seriously beautiful deep impact bruising… as you'll see from the images below: A fantastic domestic discipline video that is over 30 minutes in length!
Anna Never Learns – starring Miss Anna & John Osborne
Anna has been caught out lying to John over a missed payment to a company that they had agreed terms with for a specialist new vacuum cleaner for their carpets and rugs. They had been impressed by the demonstration which cleaned one particularly dirty rug so they agreed a payment plan. However, Anna pocketed the cash John had provided and spent it on lingerie and personal grooming products instead and kept this a secret for quite some time until they contacted him directly! He presented the evidence of a lack of new vacuum cleaner and irate calls from the company but she continued to deny any wrongdoing! He was angry and tried to give Anna a chance to own up but she had continued to lie and once again was not learning lessons about this sort of behavior. Only a severe punishment would work, he thought, so he presented his thick leather belt and heavy bathbrush he knew Anna hated. he spanked her first, scolding her and reminding her of what was to come across her bare bottom. The leather belt was relentless and stroke after stroke hit the target ready for the final tearful severe bathbrush spanking that you have to see to believe! Anna's poor bottom took one hell of a lengthy punishment!
All the above films are also available in smaller and full length clips of these films at the AAA CLIPS STORE – check it out and you'll see a vast library of content easily accessible if you prefer this method! Download the clips you want to view and keep to play back as often as you want in a format of your choice.

P.S. Please bear with me regarding the Spanking Awards – Sarah Gregory is with me here in England and we are both having "Alone Time" so I will get back to you all ASAP on that matter! Thanks!