I am so sorry that I have not been able to get you your usual updates and spanking news snippets… it's not through a lack of trying. The awards take up a lot of my spare resources (believe it or not) and I had also been filing my Tax Returns. In the UK deadline day is Jan 31st and I got them all done with hours to spare!!! Then… when I thought I'd have a whole day to catch up on work, I swallowed a pill last night which got stuck in my throat and anyone that has had a pill get stuck there (scratching the area) will know how irritating and painful it is. So lack of sleep meant I got up late and I'm ready to snooze again but I thought I'd at least get this update out to you from AAA Spanking as it's a damned good film starring Amelia Jane Rutherford & Johnny Lake.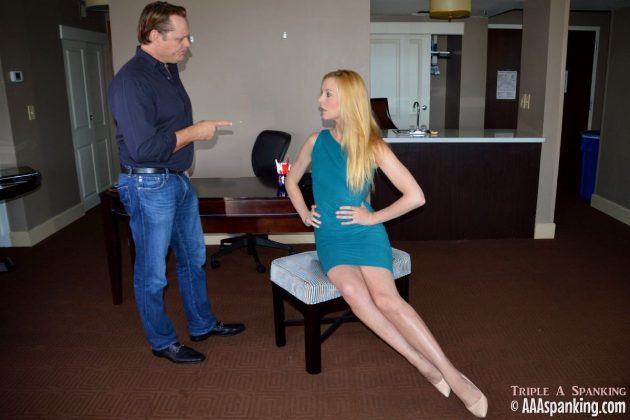 Director for UK operations at Lake Industries, Amelia Jane Rutherford, had been flown into Houston for a personal meeting with CEO, Johhny Lake. Her area had suffered the worst profit margins and he held her responsible. Johhny gave her an ultimatum to toughen her up, a spanking punishment in private, or if she refused, he would fire her right there! This haughty British lady knew her high paying job was at risk and reluctantly took the punishment option. However, she didn't know that the spanking would be on her bare bottom and she felt embarrassed and ashamed as her boss removed her panties!

Amelia's long legs kicked and struggled as his hand spanked her cheeks hard over his lap like she was a naughty little girl. However, more humiliation was in store for her. She had been a little too defiant earlier and Mr Lake promised her a leather strapping but she thought he wasn't serious! Amelia was bent over his desk and she was scolded and reminded of what she had to do whilst all the time a thick leather strap was marking her beautiful tight bottom.

Amelia's cries of anguish and genuine remorse and promises to do better means he has a motivated boss for this Anglo American enterprise. This is a hot punishment video of the one and only Amelia Jane Rutherford we recommend that you do not miss!
Don't miss the chance to see many more films of Amelia in unique and interesting scenarios exclusive to AAAspanking.com