I'm half watching "Superbowl LI" while I type this and New England are getting their asses kicked (poor Pats!) – Superbowl Sunday is also Sarah Gregory's birthday… so happy birthday, my love, and I'll be seeing you soon! As I promised yesterday, here are some more spanking updates for y'all. No waffle, just showing you what is out there and where you can get it! As it's the Superbowl, why not check out one recent update from FirmHandSpanking.com starring Samantha Woodley in this current Cheerleader Challenge series (below):
Samantha Woodley feels a stinging leather tawse across her jiggling bare bottom
Richard Anderson metes out tough justice as Samantha Woodley's uncle Guy. She's trashed his security clearance by compromising his laptop and phone. Now he takes it out on the perfect target of her spectacularly bare bottom, cheerleader skirt raised, kneeling on a chair. "Stick it out!" he barks. This is some Cheerleader Challenge!
Real "girl next door" models getting hard, bare ass spankings!
CLICK HERE TO SEE THE FREE SPANKING PREVIEW

What happens when young curiosity gets the better of you? Here's a tale many of us remember from the past… remember porno magazines? Don't get caught reading them after dark… as poor Kitty did by her strict aunt Bianca! This is one of the latest hot new all girl spanking films from Punishedbrats.com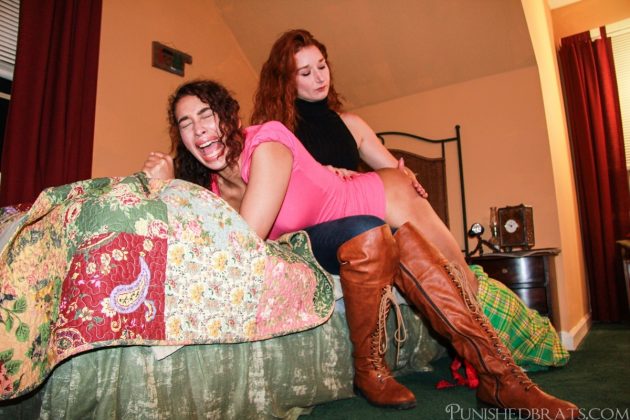 Kitty was caught by her Auntie Bianca reading a pornographic magazine under the covers with a flashlight. She was then taken out of bed, had her PJ bottoms lowered, and a hard spanking ensued. Auntie Bianca spanked Kitty until she tearfully promised not to read such material again. Once her spanking was over, all Kitty wanted to do was pull up her pajama bottoms but she was instructed that she was to sleep with them down. Kitty cried herself to sleep, on her stomach.

St. Justs Academy at SpankingSarah.com opens punishments to the parents of the poorly behaved girls as posh mother, Amelia Jane Rutherford, finds out!
The new rules at St. Justs Academy are being strictly applied, no matter how posh the parents no matter what the problem rules are rules and the parents have to go along with the rather strange Headmistresses way of sorting out problems in her Academy. Amelia Jane Rutherford feels that she should not be treated in the same way as ordinary parents, but she is soon to find out the error of her ways. Her bare bottom will tell the story.

Sarah also appears at one of the other Strand Media sites over at English-Spankers.com with a new girl called Isabella. When mother (Sarah) finds out her daughter has been caught fighting at school… it won't end well for this young lady at all!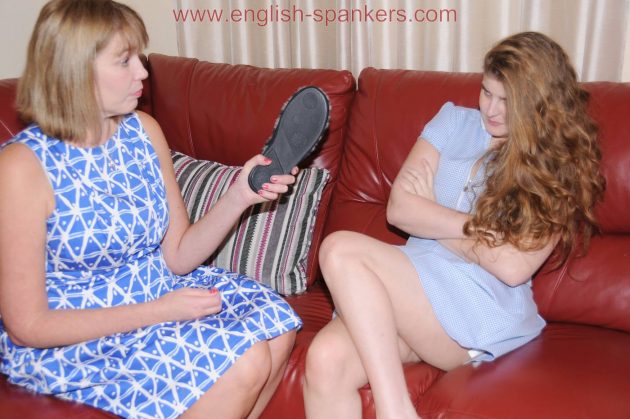 A brand new model to English Spankers and she is a real beauty. Her name is Isabella and she has been naughty at school now she is to be punished. Sarah does like to use a slipper on a naughty bottom and that's what she gets. Straight over her knee and she starts on her skimpy panties and then on her bare bottom. She is not a girl who likes to be spanked and punished but she does take what she deserves.

Finally, for those that like the awesome pussy strappings that SpankingServer.com are well known for, past and present. Here is one of their all time top girls, Miela (from Hungary), getting this humiliating treatment! Peter is waiting for her, looking imposing  in his white medical coat, she disrobes and places her legs in the stirrups waiting for him to strap her bare exposed pussy. There is no hiding her shame and this is what I always find exciting to watch as she catches his eye at times and feels even more embarrassed. Like there is no hiding place and you can see she feels vulnerable (who wouldn't?). There are also more strappings like this in the archives of this website.
Miela takes a painful and embarrassing pussy strapping at SpankingServer.com

I'll be back later with a thorough review of another spanking network you won't want to miss! & if you started reading this blog post, I finished it AFTER the Superbowl result so I have to say… WHAT THE F*CK??? Well done to the Pats. I will be finding my Patriots tee shirt and fitting in with the rest of New England when I am over there soon enough! #bandwagonjumper "laters!"