Today's little featurette on the spanking stage is courtesy of English Spankers when a girl I have seen online and on Twitter appeared recently at this website starring alongside Sarah Stern in some quite excellent introductory spanking roles showing so far! I'm not sure how much Tindra could actually take but as you'll see from the images and GIFs (below) I would say she took it pretty hard and her killer curves and gorgeous booty make this most compelling viewing!
Say "Hello" to Tindra Frost… a gorgeous Scandinavian heritage, London based adult and fetish model with an hourglass figure, discreet tattoos… perfect for that girl next door look (yay!) and large natural breasts (yay again!) – This was her description on her own site TindraFrost.com – in case you're thinking that I'm some obsessed guy about shapely ass n'tits (which, I guess I am… being into spanking n'all and being with Sarah Gregory who also has these *ahem* lovely attributes! oops!) – those who love following models and such on various social feeds will easily find her via her own website shown above and of course she tweets on her account HERE
TINDRA HAS HER FIRST SPANKING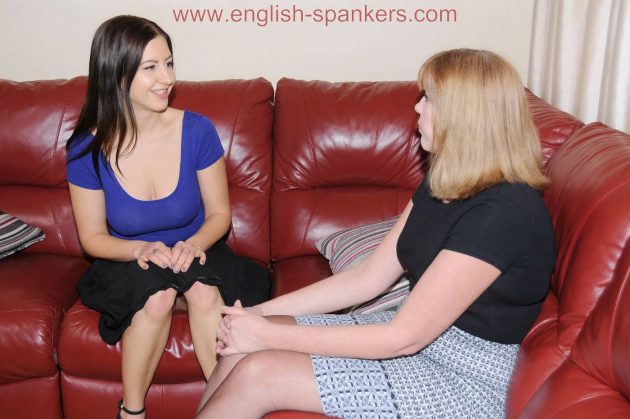 Tindra meets Sarah for her first spanking… see what happens (below)
This is what Sarah had to say about Tindra's first appearance: "She is another girl very new to the spanking scene, she had however at one time tried self spanking and she did it in front of her web cam. We liked this idea so after we had interviewed her we got her to show just what she did. We thought it was great but we just had to give her an extra spanking and this, I can tell you was much harder."
This was soon followed by the next film at the same site (below)
YOU PADDLE MUCH HARDER
"A leather paddle? Whatever could this be used for?" Tindra wonders…
This is the beginning of what is hoped will be a continuing career in spanking for Tindra. Having just taken her first spanking she is now ready to go further. She is given a paddle and starts to paddle her own bottom, Mrs. Stern is not happy with the result and takes over and after making this young lovely strip naked… the resulting paddling is much harder!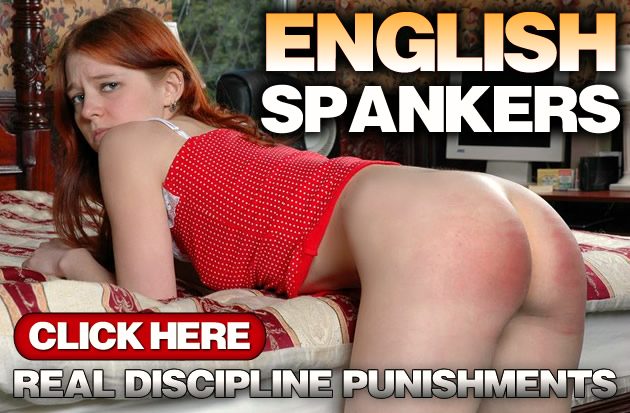 In other news… The Lone Star Spanking Party (Houston, TX. tbh May 18-22 2017)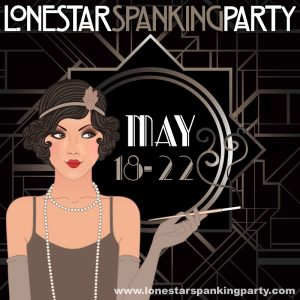 As you may know, Sarah Gregory, Paul "Tubaman" Rogers & myself run the Lone Star Spanking Party – we will be getting the full schedule of events for this on the website very soon  – I honestly say this without prejudice (as I have attended many parties across America) but I feel this one is really going to be a bit special and an amazing fun filled, busy event.
There will be a perfect mix for those used to going to National Parties and wanting to do a lot (e.g. -Demos and experiences or the best Vendors Fair of any party: Period!). Space for those who wish to play privately, meet scene friends, try out the "Dark Party" and of course, we're especially known for being most welcoming to newbies and first time party attendees! However, more importantly, if you don't register and pay you won;t even be able to go get your rooms at the special discount rate (you receive the booking link and party codes from us once registration is filled out and payment received). You won't be able to fully experience the event, will you?
I know other parties might often say they are nearly full when it would appear they were not come time of the event: (Now this annoys the crap out of me as it's a "Cry Wolf" thing that affects at least one other party I know of when they really are filling up) – but we have had unprecedented demand recently and we are continually hounding the hotel to free up more block space (which we agree to pay for in advance… it's how it works) and of course there is only so much space they are able to free up. So if you have any issues booking, don't worry, write to me, Sarah or Paul and we will try to answer your queries as soon as we can and resolve any issue. The party starts on May 18th and there is going to be a cut off point for the cheaper priced Registrations end of April and no online bookings taken for registration after, I think, about May 15th…
"My advice is to never do tomorrow what you can do today. Procrastination is the thief of time." – Charles Dickens

This year's theme for those that like to dress up is the Roaring Spanking Twenties – now it doesn't have to be all gangsters and flappers for the guys & gals, the Twenties was a rather unique decade and very prominent for fashion in both North America and Europe. We decided on this immediately after our 1950's theme last year. There are only so many themes one can do for these parties that like to have a theme for a Saturday Night Ball but we have something planned for next year that we hope will be different. Of course, we're not telling now (LOL) until after the event and if it is the same anywhere else, well, so be it… but we will announce the following theme soon after (& that is all we can do).