For those that like to view spanking punishments with real tears, then you're in for a treat reading this post. Lots of images, stills and the stories behind these 2 films are explained below:
From AAA Spanking – one of the new girls to this group of sites is the lovely Elle Bea, who hails from Connecticut and is as kinky as anyone that I have ever met. You'll be seeing much more of her over the coming months and her tolerance is as high as anyone I know! Add to that she is an incredibly nice person. She accompanied Sarah, myself and Justin (J_Doggg) to the NELA Fetish Flea event in Rhode Island last month and had a blast helping us and exploring all the wonderful events, classes and vendors fairs that were contained within the hotel. (She enjoyed the naked Yoga, apparently!)
Anyway, onto this film which we made in early December last year. She would have featured sooner but she did appear as one of the two unfortunate victims in our fantastic custom film "Severe Judicial Singapore Caning" which you can see a review of HERE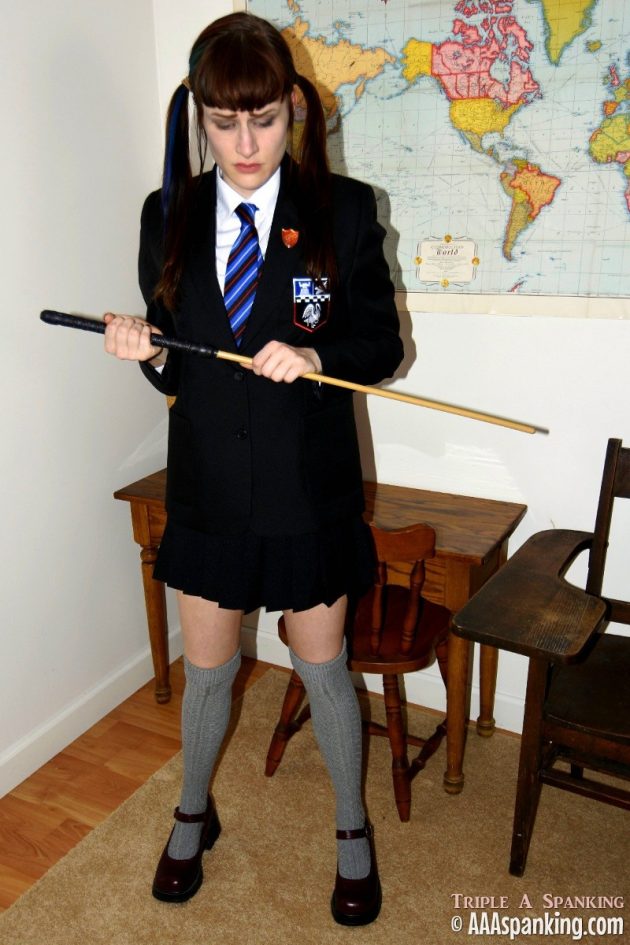 Elle spies one of the many implements waiting for her detention punishment!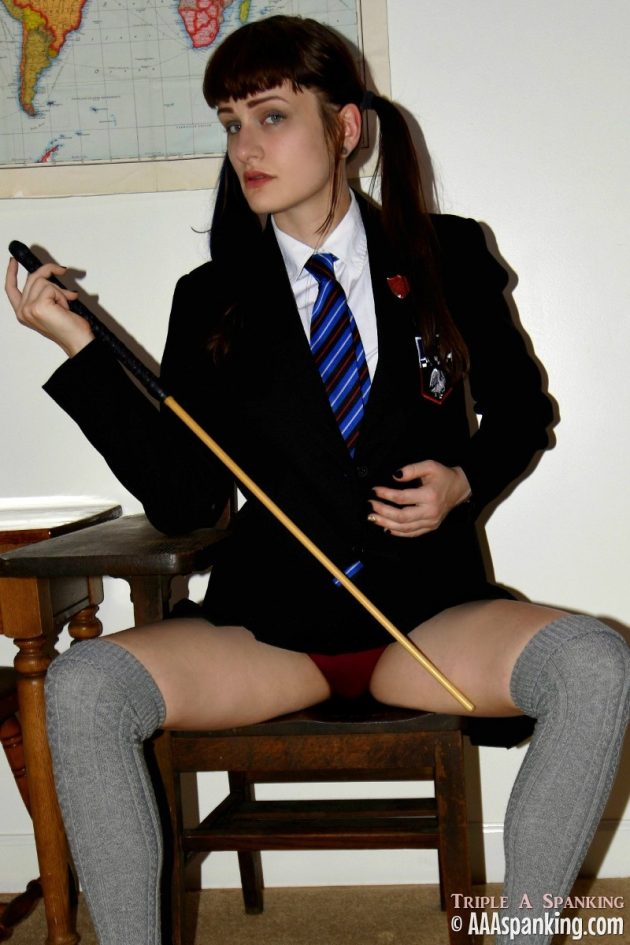 This is a stunning real tears punishment at Triple A featuring one of our new girls, Elle Bea. She is the Head Girl and had been in so much trouble recently that she was about to lose that status but not before a final caning after school hours. Ella had already received no less than 2 previous punishments that same day. Mr Osborne stayed behind to give her a caning she would not forget and her nervous disposition was very evident! She was spanked over his knee, with her regulation panties pulled down revealing the shameful marks of her previous infractions. She felt so ashamed that tears began to form before the caning which brought them out in floods. For good measure, Elle also received many hard strokes of the carpet beater that she had been playing with whilst waiting for this punishment which Mr Osborne had noticed when he arrived earlier. She had been told to wait with hands on her head facing the wall as standard practice which all girls knew full well! Therefore, he ensured that after her very tearful caning, she resumed this correct position to reflect on her poor day at school, leaving her there to snivel and sniff as the tears rolled down her cheeks.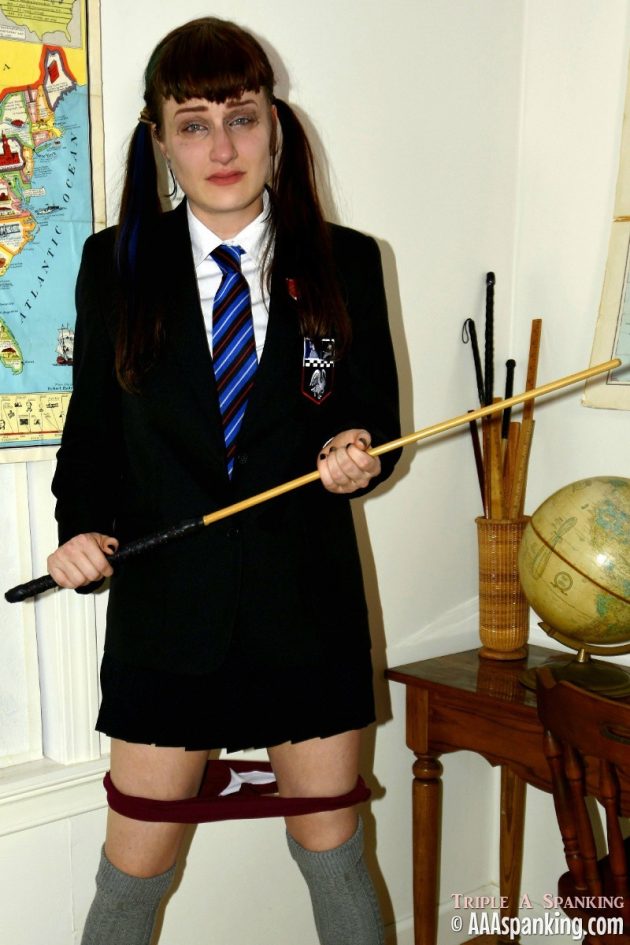 This is also available to download in full from the AAA Clips Store HERE

Just released at Cheerleader Spankings is a fantastic debut performance from one of our new favorite girls. Anyone attending various parties in the USA will probably know her and she is super adorable as you'll see! Mackenzie Reed will be appearing at all our sites soon but we thought you'd like to see this first (she is super adorable in her cheer uniform, don't you think?). We had just filmed this most recently in Las Vegas at a private party. Sarah & I shared a presidential suite with Mr Rob and it was ideal for filming being away from the mayhem of party play etc which we all enjoyed later. Coach Johnny Lake (FLAPaddler) is back and uses a stinging leather Reformatory Strap and his favorite choice of implement, "sticks", which brings poor Mackenzie to tears… hence the title of the latest film (below):  All images are screen shots taken directly from the film and in lower res (members get the full size video and images, of course)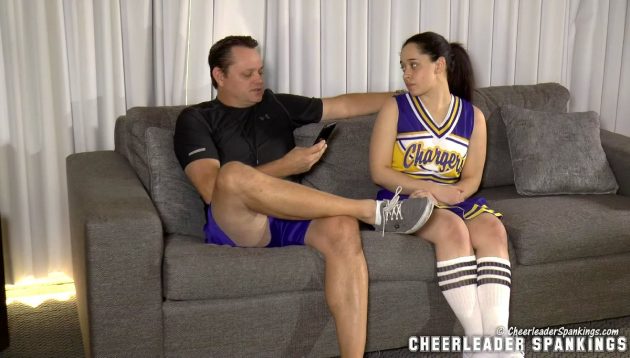 Coach Johnny Lake (left) and Mackenzie reed (right)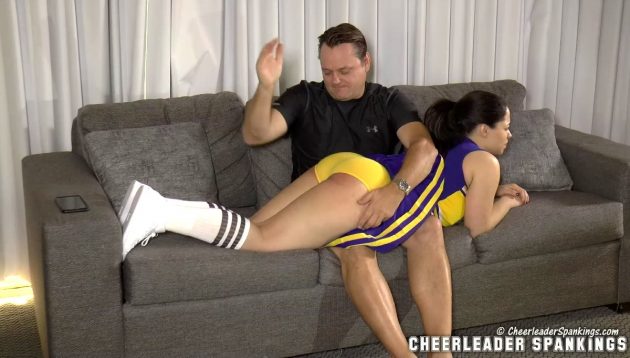 Mackenzie had been late for practice 12 times. Her uncle was one of the biggest contributors to the Cheer Squad and she had been protected by this fact. Until now! He had just retired and had no influence anymore meaning Mackenzie's poor attitude and behavior meant there would now be consequences, as Coach Lake gleefully pointed out! He told her that constant lateness was unacceptable and this would be the first example of consequences in future. He spanked her over his knee with her panties pulled down and because she had been late 12 times, he devised the following additional punishment. She would receive 12 licks with the leather Reformatory Strap followed by 12 strokes of the cane. Mackenzie never felt so humiliated being punished like this and by the time of her caning, she is crying real tears! She promises to do much better and be a productive member of the squad from now on!


Please remember that there are STILL 3 categories remaining to vote on in the 2016 Spanking Awards – 2 categories close later this week and the last (Producer's Choice) closes on March 16th.
CLICK HERE TO SEE THE REMAINING CATEGORIES & VOTE