Hi everyone, I'm not exactly in full health right now, I'm just getting over a cold I must have caught from too much partying or air travel (or a combination of both). I was visiting some special people in France recently. As it's a personal matter I won't discuss the reason for my visit, but needless to say I had a fantastic time and promise not to leave it for 4 years until I next see these peeps! Anyway… let's get on with some updates and I haven't featured much from across any of our site networks recently so here's a quick recap on some of the latest HOT spanking films that you can see (these are ALL F/F spankings!)
Sarah's Sensual & Sexy Spanking

Featuring Sarah Gregory & Tasha Lee at Sarah Gregory Spanking
Sarah and Tasha have known each other since the beginning of Sarah's journey into the world of spanking and fetish so their chemistry comes through very strongly when they play. They decided to do a no plot fun and sexy spanking, but that doesn't mean that Tasha doesn't throw in some hard swats, Sarah loves spanking after all. Watch these two play in a natural way; fun real dialogue, sexy and sensual spanking, Sarah in very exposed and humiliating positions, which of course she loves. Don't miss this hot spanking film that get's Sarah all wet and bothered.
This film update comes with plentiful images in both stills (above) and some fine video grabs from the film itself (below)

Breaking the Rules

Featuring real life sisters Stevie & Vada Rose with Miss Elizabeth at Momma Spankings
In this maternal discipline film, Stevie Rose gets spanked with her real life sister Vada Rose by the strict Miss Elizabeth. Vada tells mommy that Stevie has broken one of mommy's golden rules; not having boys over when she is not home. Well Stevie had a boy over and broke this rule. Mommy is very disappointed in Stevie and doesn't waste anytime taking her over the knee for a VERY hard hand and hairbrush spanking right in front of her sister. What mom doesn't know is that Vada has been skipping class 2 to 3 times a week!!! After she feels Stevie has learned a proper lesson in rule breaking, the tables are turned and poor Vada is taken over mommy's lap for a dose of punishment. She is spanked on her shorts, panties, and bare bottom. When mom starts in on the bare bottom real tears start streaming down Vada's face as she promises to be a good girl and not skip class again. It isn't until mommy applies the wooden hairbrush to poor Vada's bare bottom that she believes she will be a good girl from now on.
This film update comes with plentiful images in both stills (above) and some fine video grabs from the film itself (below)
Both the above sites can be viewed as part of the Sarah Gregory Pass – giving you access to over 600 full length films from both sites for a fraction of the combined cost! This network also gives you full access to all episodes from the award winning "Strictmoor Academy Year 1" series! Click Here for details.


Another strict all female film is the latest release at AAA Spanking
Fitness Coach Spanks Hard!

Featuring (hard bodied fitness model) Lily Swan & her coach Adriana Evans
Lily had overslept for a special Tournament that she was supposed to be competing in. Her Coach had to come find her but Lily was looking worse for wear from the previous night and Lily felt embarrassed as she had fans and so many people, including her coach that she was letting down. Adriana, her fitness coach, took no nonsense and had often spanked Lily in the past to motivate her to be a winner but this time the spankings were to be much harder and meaner. Lily was woken up with a furious and relentless hand spanking across her bare bottom. She struggled and cried out loudly in pain but Coach wasn't finished with her. She made her present her bare bottom on all fours, fully exposed on the bed for a wicked leather strapping. To add to her humiliation, Coach Adriana gave her a most humiliating scolding. Finally, in order to get Lily ready for the remainder of the Tournament, she got her to dress in her spandex fitness pants and checked that despite the redness not showing, Lily would feel one last painful spanking through the tight material before she escorted the lazy fitness model to the arena.
This film update comes with plentiful images in both stills (above) and some fine video grabs from the film itself (below)
This film can also be kept & played back as often as you want
as a special one time download – Click HERE for details

Finally the latest naughty & very sexy hot cheerleader film just out yesterday!
Sexy Cheerleader Fun

Featuring Audrey Sugarsmak & Adriana Evans at Cheerleader Spankings
Adriana and Audrey are in a relationship. They have always had the fantasy of playing naughty cheerleaders together so they decide to make it happen. After buying their hot, authentic cheer uniforms, Adriana takes her sexy girlfriend over her lap for a very sexy spanking. Audrey giggles in embarrassment and enjoyment as her girlfriend spanks her, caresses her and grabs her bare bottom intimately. Adriana gives a mainly sensual spanking but every now and then she can't resist smacking her gorgeous girlfriend's amazing booty just that little bit harder. Audrey gasps in shock but soon Adriana is rubbing her bottom better, all the while both girls are getting turned on and they start to make out in those hot uniforms without any panties on. This is a very hot girl/girl sensual and erotic spanking.
This film update comes with plentiful images in both stills (above) and some fine video grabs from the film itself (below)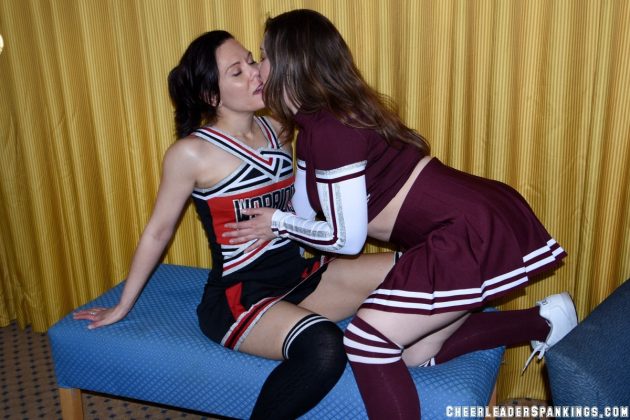 Hope you enjoyed seeing what is available right now as much as I did reviewing these films! If you're into F/F spanking, then you are all in for a treat across any of these sites this week! *goes to take a very cold shower!*
Brrrr…. maybe not *this* cold!!!
Register NOW before prices increase on May 1st! Full Details HERE