This is "Episode 244" of the "spanking soap opera" that is My Spanking Roommate – Do go check out who is spanking who in this week's hot, naughty and sexy new video update. Of course this episode comes with some great images too! (a few are shown below):
Mandy Muse Gets Her Revenge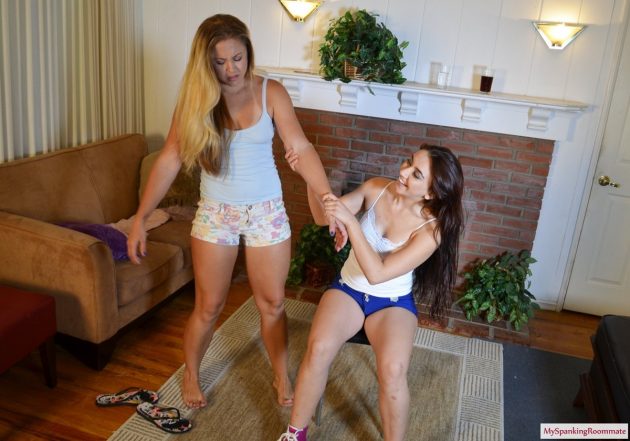 Madison's cousin Mandy Muse is still sore about the spanking Madison gave her recently. So when she finally gets her chance at revenge, she gives the curvy bottomed Madison the hardest hand spanking she can give. Madison squirms and wriggles in pain and embarrassment over Mandy's thighs, but finally admits to being sorry. The 2 girls end up comparing their sore, red bottoms as they make up with lots of chances for us to see their beautiful round cheeks glowing and freshly spanked!
From the same CF Pass Network comes one of the latest schoolgirl themed updates from Spanking Sorority Girls – this features an awesome role as "teacher" played by Snow Mercy with a new student, Amelie, who learns what happens to badly behaved young ladies in this small confined office!
Amelie is Spanked in Snow's Office
New girl Amelie earns a trip to teacher Snow Mercy's office and quickly finds herself over the teacher's lap receiving a very sound spanking on her super curvy bottom. She wiggles and complains, but Snow will not stop until Amelie learns her lesson. Snow even breaks out a hard, sturdy wooden ruler to drive the lesson home before sending Amelie to the corner.
These sites above are part of the Clare Fonda Pass network – giving you access of up to 5 premium sites for a fraction of their combined cost. Each site is massive in its' own  right, and are well worth the entry fee alone… but this pass represents the best value anywhere – Check it out and see for yourselves!
A great dream sequence next from Punished Brats featuring Nadia White fantasizing that her roommate, Bianca Rose, is spanking her (as her mother) like the naughty little schoolgirl she is dreaming that she is… (this is hot!)
Nadia's Spanking Dreams
Nadia had an argument with her roommate Bianca over the timely paying of her rent. Bianca noted that she could tell she hadn't been spanked as a child and hence this self-centered attitude. As Nadia settled in bed to sleep, the word spanking reverberated through her mind as she drifted off to sleep. Suddenly she is dressing in a schoolgirl uniform when in walks Bianca and drags her down the hall. When she asked Bianca what was up, she was told to not refer to her mother by her first name and that she was about to get the spanking she was promised last night after cursing at her mother. Confused, Nadia was taken over her mother's lap, skirt lifted; panties lowered and then her bare bottom was spanked by hand and hairbrush.

Nadia was stunned as her roommate now playing her mother in her dream spanked her bare bottom until she promised to be good. After her spanking, Bianca placed the naughty girl in the corner with her bare, red bottom on display.
Finally, an awesome new Momma/Daughter film from one of the best spanking sites out there to do anything like this… and that is (of course) Momma Spankings – featuring a very welcome return for Miss Elizabeth with a VERY tearful Elle Bea. If you love good maternal discipline and real tears from the punishment… do absolutely read on! You'll LOVE it!
Mommy Didn't Raise a Stripper!!

Elle comes home in the middle of the night to find a very angry mommy sitting in her room. Mom has done her research and knows that Elle has been stripping and not actually working at the restaurant she claims to be. After emptying her daughter's bag of stripper clothes, she knows her suspicions are true. Elle doesn't know what to say except she is sorry, but mommy is going to make sure of that. It's over her lap for a very hard hand spanking over those tight shorts, panties and then on the bare bottom. But that is not all, the paddle that mom finds in her daughter's bag gets used on her sore behind. She is spanked very hard and cries REAL tears of remorse and sorrow as she has let mom down big time and hates to disappoint her. Mommy didn't raise a stripper!
Momma Spankings is part of the Sarah Gregory Pass giving you more value with a combined membership. View all the videos from this network for a fraction of the price of separate sign ups. This includes all the "Strictmoor Academy" (long play) films, featured separately at both websites!
You can see Elle, Miss Elizabeth, Sarah & many more of us featured here recently at the forthcoming Lone Star Spanking Party! Not long now!!!