So little time, SO MUCH SPANKING to catch up on… so here's the latest "cream of the crop" – so to speak, as I start with a wicked jodhpurs and riding crop film from Northern Spanking featuring beautiful Maddy Marks punished by Paul Kennedy! This is a delightful spanking film, check it out!

 Without Her Helmet
Maddy has just gotten back from her morning ride. When greeted at the door by her boyfriend, Paul, her heart sinks when she sees he's holding her riding helmet. The helmet without which she is forbidden from riding, the one she has promised him before that she absolutely will not forget. Well, last time she was given a spanking and a warning of what would happen if she put her safety at risk again. So it's not just a smacked bottom on the seat of her tight jodhpurs this time, Maddy is going to be horsewhipped, with her own riding crop to remind of her responsibility and of how much she is cared about.
See plenty more films with Maddy marks exclusive to Northern Spanking
The brand new video (with extensive image gallery & vid grabs) is available, featuring Zooey Zara in a fantastic Daddy/Daughter domestic discipline role (in pajamas!) – oh yes… now showing at AAA Spanking
 Spanked and Slippered by Daddy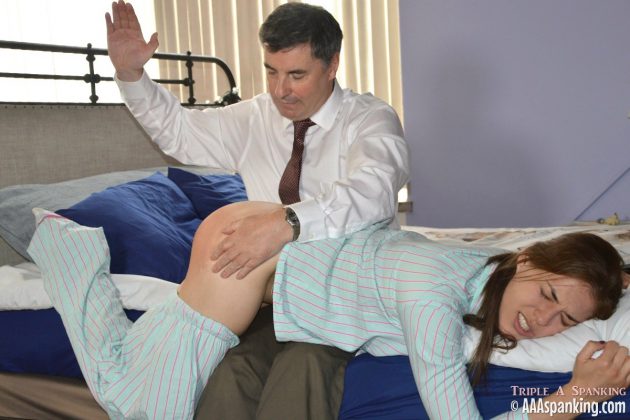 Zooey has been sent to bed very early after her mother found out that she had been punished at school yet again. "Just wait until your father gets home" she told her daughter… "A spanking at school always means a spanking at home!" However, Zooey's daddy is so disappointed that his daughter has brought shame to the family name that this time she will also get a nasty stinging, leather slippering. That is on top of the humiliation of going over daddy's lap for her embarrassing bare bottom to be spanked red raw again! See Zooey, in her cute pajamas, take yet another punishment at home across her already sore cheeks which has her yelping, squirming and begging Daddy to stop. He stops, only to deliver that slipper that he had promised earlier. This is a good old fashioned home discipline film that will appeal to those that love this father/daughter dynamic.
Stunning Zooey Zara also features in more exclusive films only from AAA Spanking
A new girl called Rae is introduced in the now standard format with an interview and spanking from the expert Miss Betty Blaze! Now showing at Real Spankings
 New Model: Rae
New model, Rae, is given an introduction to the RS network via the capable hands of Betty Blaze. She interviews Rae (who is not shy and is a beautiful young lady). Just as well, as this spanking over Betty's lap is going to be Rae's first… naked! She strips and gets over a smiling Betty…any hint of embarrassment she might feel is soon replaced with feeling her beautiful bottom getting a resounding OTK hand spanking. Full interview with Rae's introduction now showing for members!
See more new girls at Real Spankings – "Spanking Site of the Year, 2016" (2nd year running)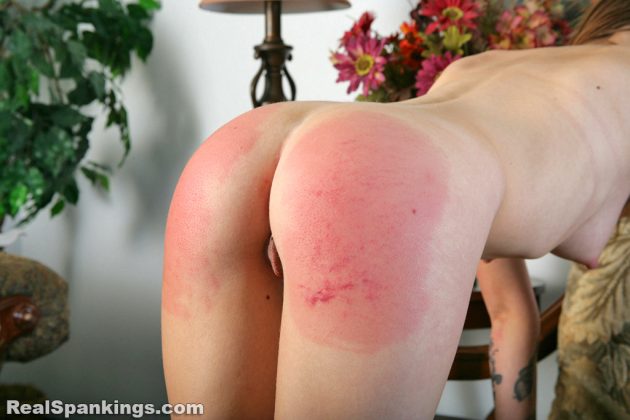 This site is part of the Real Spankings Pass network giving you access to a multitude of sites for a fraction of the combined cost. Make sure you have a spare hard drive! (click the link or banner for more info)
Finally today, I was feeling a little nostalgic so please do go check out sites like this one often overlooked. Featuring the best of British spanking from the 1990's and early 2000's – archived for you to download and keep! Still worth checking out the previews, including this one you can find on the front tour page (one of my favorites) at Spanking TV

Dinner of Just Deserts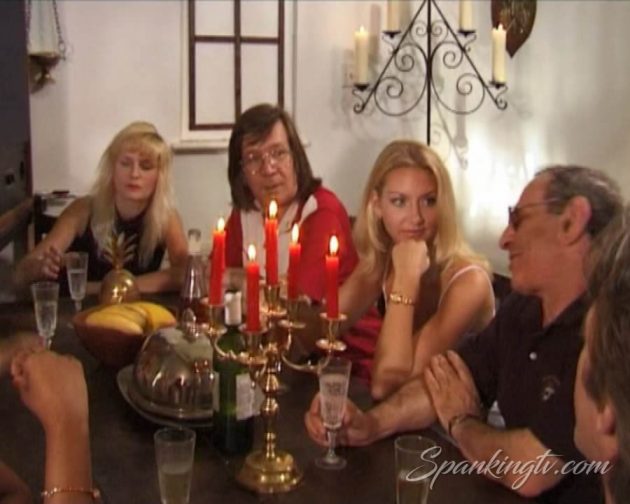 A dinner party for eight is in full swing when the host suddenly stands up to make an announcement. He informs the other guests that his wife has been having an affair for the last two years, which has also been covered up by one of the other guests. Humiliation, public discipline among friends and lots of spanking, with use of the strap, the cane and some very real tears at the end! This is a long play movie like they used to make them!