Good day, retro spanking lovers. I have a special treat for those who love the 1950's style era spanking stories that I have featured here in the past. Now featuring at Momma Spankings are the next 2 parts of this "mini" epic "Strictmoor Springbreak Spanking" . It's a sort of interim film with some extra curricular and punishments for 3 wayward young ladies. This plays between the highly acclaimed Strictmoor Academy Year 1 (2 hours 50 mins in length) and the much anticipated, soon to be released "Year 2" (coming this Fall).
If you are a member of the Sarah Gregory Pass then you can watch ALL the scenes of the entire Strictmoor series. Or else, individually, those with more maternal style punishments are found at Momma Spankings and the rest found at Sarah Gregory Spanking. My recommendation is to get the SG Pass as it is less than the cost of the 2 sites combined giving you even better value and constant spanking updates to keep you busy! (My opinion, of course).

Strictmoor Academy's Spring Break Spankings Scene 4
In scene 4: Angela, Mrs. Cooper's daughter gets her first of many punishments. She had been away at college and a letter was sent home to mother about her bad behavior. She had been late for curfew multiple times and the worst was being rude to her teacher in front of other students. Mother is appalled and intends to deal with this naughty behavior in the old fashioned way. This is her first of many spankings, in which she is dealt with by a good scolding, before being made to change into the dreaded punishment outfit. Then she is sat down and told to write a letter of apology to her teacher before mother bares Angela's bottom. Then it is over the knee for a bare bottom, hard hand and hair brush spanking which has the poor girl sobbing and kicking her legs. She is warned that her next spanking will be in front of the other two students. Since she misbehaved in public, she will also be disciplined in public.

Scene 1, 2, and 3 can be seen at SarahGregorySpanking.com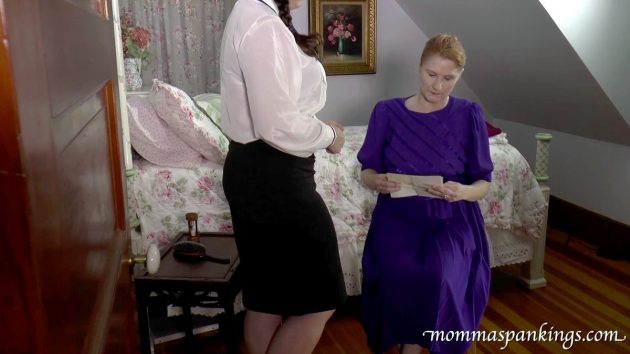 Angela Cooper gets spanked after mother reads the letter of her appalling behavior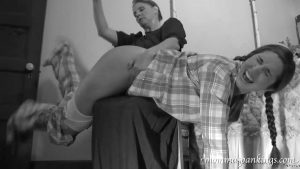 Angela recalls the flashback scenes and knows what to expect!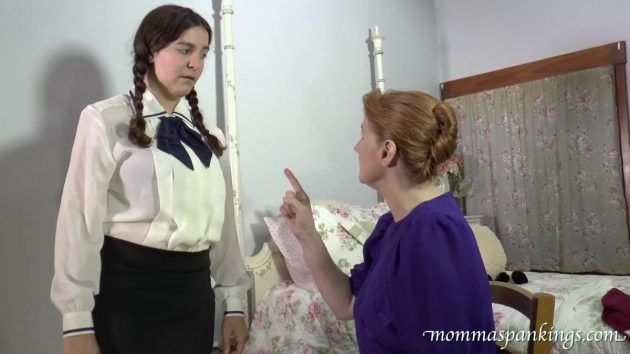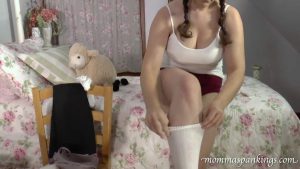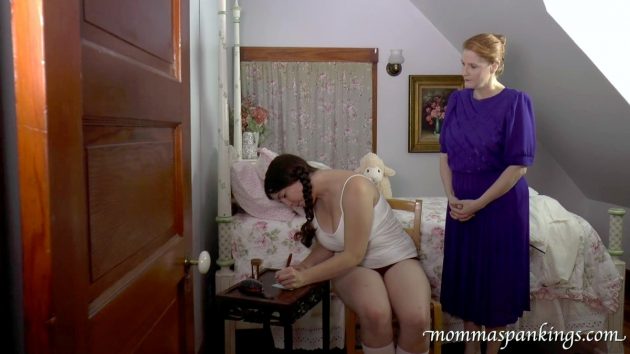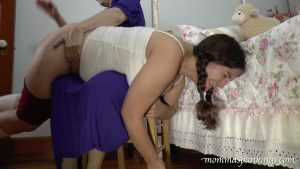 [jwplayer mediaid="53087″]
Strictmoor Academy's Spring Break Spankings Scene 5
In Scene 5: We see Angela get the second of her punishments at the hands of her mother. This time it is in front of Charlotte and Lynn during class. Since she had been rude to her teacher while away at college in front of others, she would be punished in front of others to add to the humiliation. After Angela is spanked over her knickers, and on the bare bottom, Mommy takes the hairbrush to her which sends her sobbing in pain and kicking her legs. After her spanking, Mrs. Cooper looks at the assignments and both Charlotte and Lynn didn't do as well as expected so they are in for more punishment. They are each spanked on their knickers and bare bottom with hand and hairbrush. After all three naughty ladies are punished, Mrs. Cooper has a surprise for them. Since this is their last day at the Academy they will be caned for their misdeeds while there to really sink the message in about how they should behave!
[jwplayer mediaid="53109″]


The best way to view ALL the Strictmoor Academy series – incl. Year 1 & Springbreak