Time flies when you're busy, I'm planning on my next trip back to the USA soon where I have lots of things planned with Sarah Gregory. I'm looking forward to visiting Fetishcon again (I missed it last year) and of course our trip to the west coast to see friends and meet new ones at the annual Shadowlane Party in Vegas (it will be my 4th anniversay since my very first party that I had attended!) – so like I say, time flies. Just as me waffling here won't get you your updated information on what I have seen this past week… so as I had intended to show you what was released earlier this week at AAA Spanking in another post, I will get that out first and then show you what else is "trending" for me these past few days!
Spanked in her Jodhpurs – starring Rosie Ann & Jadie Reece
Rosie helps out at the horse stables of her mother's best friend, Jadie Reece. She has a reputation for being a strict disciplinarian. Rosie secretly fantasizes that she would get punished by her and decides to see if Jadie's reputation is real or not! Instead of preparing Jadie's favorite pony she still has the saddle indoors and pretends that she is riding a pony! It's not long before an irritated Jadie catches Rosie in the act. Not only is the saddle not ready but she took her favorite riding crop and hat that she had been looking for. Jadie's tone changes, "this is it!" Rosie thinks… she can barely speak, her throat is dry and her heart racing as Jadie scolds her, promising discipline there and then. Rosie is spanked still "riding" the saddle, her tight jodhpurs stretched allowing Jadie's hard hand to smack her throbbing bottom! Rosie's head races with mixed emotions; fear, excitement, trepidation… her head is buzzing and barely hears the order to pull down her jodhpurs for a bare bottom spanking. She fumbles with the buttons… and trembling, does as she is told! With her bottom in the air, Rosie complies silently offering up her bared cheeks to the riding crop and a stinging leather paddle that Jadie kept for the stable boys! Now this paddle has a new victim. Rosie's bottom is red and visibly swollen at the end of this punishment. Jadie leaves her to compose herself and reflect on what had just happened, reminding the young girl that she still had a job to do. Get the pony ready for the morning ride!
This is a veritable visual treat of a beautiful teen girl (Rosie Ann) in (and out of) tight jodhpurs getting spanked by her mother's rather well endowed, buxom, strict and sexy friend (Jadie Reece)  – check out the link below to see the amazing free clip
This film can also be viewed in full as a special download from the AAA Clips Store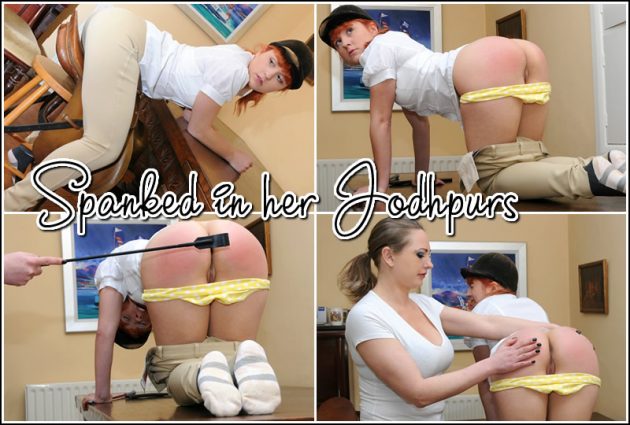 Annabelle gets a Spanking – starring Anabelle Lily & Paul Kennedy
A traditional bedtime story! One where Anabelle has been a very rude and disrespectful young lady. Sent to bed to await a stern punishment and a telling off. A good smacked bottom should drive the lesson home.

Ash Hollywood (another found film) – starring Ash Hollywood, Alexis Grace & Clare Fonda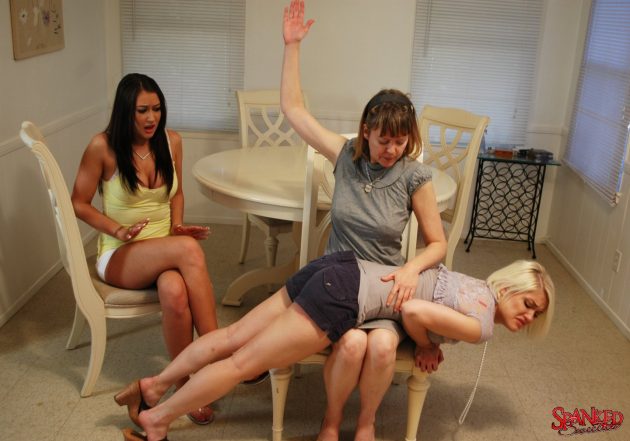 It's been a number of years since a young Ash Hollywood did her first ever spanking scene for this Sweeties site, with Clare as her mom. At the time we filmed another scene with Clare as mom and Alexis Grace as her friend who also gets spanked. We are posting this blast from the past now.

Extravagant, wilful, sassy and sexy, Katya Nostrovia is soundly spanked
She's so good at spending money, Katya's Sugar Daddy decides a spanking is the only way to curb her extravangance. She tries to bribe him with a blow-job, but John Friday is getting to the bottom of the problem, smacking her swiftly bared jiggling cheeks crimson, ignoring her protests. Slow-motion bun bouncing replay – delicious!