It gets kinda difficult to keep up withthe blog even if it isn't far from my mind. I have been traveling and filming so much content including a few custom shoots (in between visiting friends in Florida). I'm now on the other side of the USA… where i will be filming LOTS of new content with sarah this week before we take time off in Las Vegas and the get together of lots of like minded spankos at the annual Shadowlane party.
Anyway, in case you missed it, I have not ignored work behind the scenes at AAA Spanking and have been helping sarah with her sites too. Just in case you did miss it, an awesome new schoolgirl punuishment film was released last week starring the gorgeous and ever so spankable Mackenzie Reed (I love this girl). She took her first ever hard hand tawsing on film and I know that it hurt… as you'll see from the special preview clip. I also have images from this along withthe storyline deszcription. It features a traditional schoolgirl punishment (regulation panties with the white gusset that I know many of you adore seeing again!) – there are also some good hard hand spankings followed by the Reformatory Strap and finally some biting cane strokes that get the message across!
Schoolgirl Vandal's Punishment – AAA Spanking
Starring Mackenzie Reed & John Osborne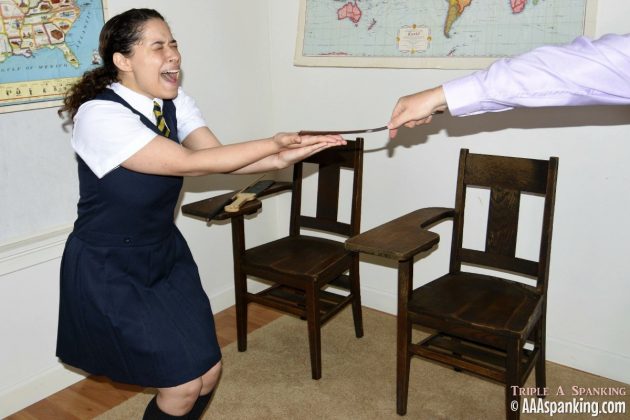 Mackenzie is in big trouble this time. Her Detention Punishment will not be pleasant, not after what she had been caught doing. The Punishment is held in the classroom where she committed her many acts of vandalism on the school's old maps in the Geography Room. She wrote over many towns and cities globally (including Mr Osborne's hometown from his native England) with newer "derogatory" names. Mackenzie's immaturity would mean a long hard discipline session with Mr Osborne who took her defacement of the maps personally! He tawses her hands at first, as a lesson that she should not deface school property.

This theme is repeated with a very tearful Mackenzie made to repeat these words as she is spanked with her regulation navy panties and white gusset showing. This is followed by a hard leather strapping which has her crying almost uncontrollably but Mr Osborne isn't finished with this tearful schoolgirl yet. She is already feeling ashamed and humiliated and he saves his best to last with a severe caning. This reinforces the important lesson of the day not to deface school property! Mackenzie's tears are real and for those who enjoy authentic hard discipline of schoolgirls in believable settings, you really should not miss this one!
When her regulation knickers with the white gusset are pulled down
Poor Mackenzie knows she is in big trouble!

If you don't like the membership option then you can also view this film below (in full) from the AAA Clips 4 Sale Store – click on the image below for the direct link and to view the freeview clip there too 🙂