Yes, by now you will know "Adriana Evans Week" is well under way across the SG Network (incl. AAA, today, of course). So here is the second of those updates now showing, courtesy of AAA Spanking. This co stars the wonder Miss Anna , who I have to say, has a very hard, mean hand. This is a strictly traditional, OTK hand spanking, but don't let that fool you into thinking it's a light spanking…. ohhhhh no! Adriana admitted this was one of the hardest, most painful spankings she had received by another woman… that says a lot!!!
All the images you see above are from all 4 featured films, so I'll let you guess what the other two could possibly be before they are released! You'll find (below) some stills and screen grabs, including three wonderful animated GIFs which best showcase this film. I have also provided you with a link to the free preview clip at the end. Did you know that AAA Spanking now has over 375 full HD films for members, that is a heck of a lot of content all with extensive zipped video stills galleries and lots of image galleries to choose from. The site has been updating with a minimum of one new film each and every week since its' inception in early 2011 and the project began at the beginning of this month in 2010 to film exclusive content! Seven years… where does all that time go???
You get a lot for your money and some of the best films showcased at AAA feature Adriana! The strapline for this site has been proudly shown on the join and members pages "Run by Spankos for Spankos!" since day one, unlike other charlatan outfits that like to steal other companies mottos as their own! Beware of badly lit, cheaply run, shoddy imitations! (You won't find them advertised here, ever!)
Adriana's Attitude Adjustment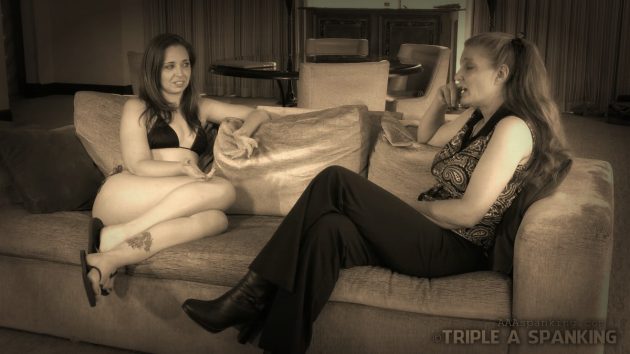 Adriana was allowed to accompany her mother on a business trip. Her mom thought that her daughter deserved to enjoy a nice break in a hotel suite provided by the company she was consulting for. However, Adriana repaid that trust and kindness by creating a scene at the pool, sunbathing naked. She was sent to the suite immediately by the hotel staff and her mother had been informed by the manager of her daughter's unacceptable behavior. There will be dire consequences and what you see is a good old fashioned mother/daughter scolding followed by the spanking punishment. Once the OTK spanking begins, it is a relentless assault on Adriana's bare bottom that has her quickly squirming, struggling and in very real pain. Miss Anna (playing her mom) really does have one of the hardest female hands and this is a fantastic punishment film that aficionados of severe maternal discipline will really appreciate, played by two of our favorite people. Adriana admitted (after we made this film) that it was one of the hardest hand spankings she had received in a very long time. That should tell you all you need to know!
You can catch up on what Adriana is doing via her Twitter feed HERE – we have filmed a lot of content with her and will be releasing more films very soon but in the meantime – check out her archives HERE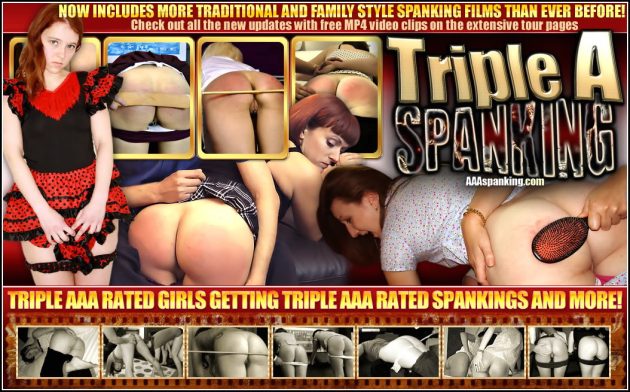 This film is now also available as a one time download at the Clips Store – it is sure to be a big hit there 🙂 (click on image below to access the direct page)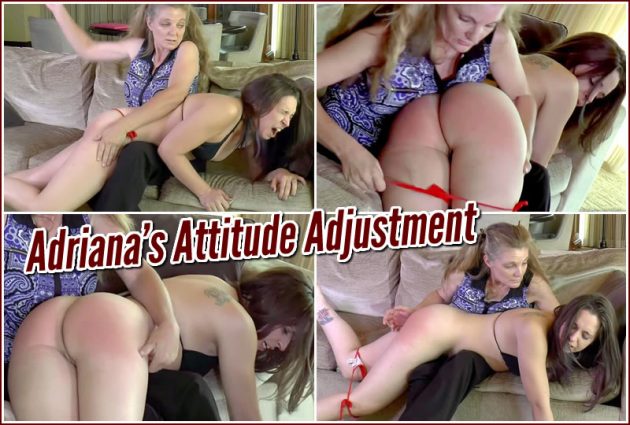 Coming very soon in Adriana Evans Week – she will be appearing at Sarah Gregory Spanking – so Don't miss my review 😉