Hope you have all had a great spanking weekend, for the majority of you who have them off, that is… don't worry, for you all, when you go back to work there's only 5 more days until you get that "Friday Feeling!" Here's a few more updates from the past week that I hadn't covered but now I hope you become aware of!
Tindra at the Sexy Cleaning Company – at English Spankers
Features Tindra Frost & Sarah Stern
Beautiful young Tindra Frost will try most things to earn some money and has now applied to join the Sexy Cleaning Company. She has to take part in the audition and interview for that work. This involves showing off her assets by bending and flashing her knickers as she cleans around the house. The second part is much easier, to please some of her customers she may have to take a spanking and the boss of the company wants to try her out with a spanking first. So, maids uniform offers no protection as she is bent over and spanked.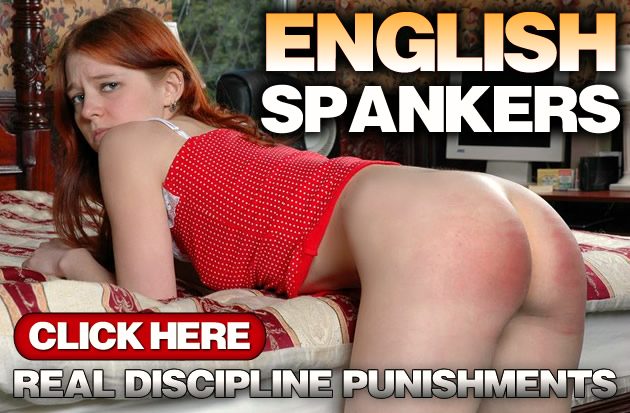 The Touch Of Discipline – at Northern Spanking
Featuring Harley Havik & Apricot Pitts
University student Harley is once again at the home of her professor, Jane Carson (played by Apricot Pitts). This time, she is in big trouble. Although Harley has worked hard and earned the title of valedictorian, she has really let her advisor down by showing up to her graduation meeting with the dean late…over twenty minutes late. Jane scolds Harley then orders her over her knee for a spanking with a leather strap. Harley whines and wriggles as the leather bites into her bottom over and over again, and Jane's disappointment in her hurts even more. Harley knows that she is going to be getting caned again and gets into position without a fight. This time, she receives 24 strokes, one for every minute that she was late. She cries out with each stroke, but cannot help but feel a certain kind of excitement at being punished.

Jane knows that showing up late to something like this is unlike Harley, though, and she asks her if she misbehaved on purpose just to get spanked again. Harley admits that she has been lonely and craving physical contact since her boyfriend broke up with her recently. Jane first kisses her face to soothe her…then the action turns to something else. She brings Harley into her bedroom to rub oil onto her bottom again, but this time, one thing leads to another and she kisses Harley passionately, plays with her breasts and lets her hands wander to exactly where Harley wants them to be. Soon, both young women are naked together. Harley is delighted as her professor begins to explore her body: kissing, licking and touching in ways that Harley never expected. Soon, she comes to a loud orgasm and collapses into cuddles on the bed.

Punished for Playing Hooky – at Momma Spankings
Featuring Stevie Rose & Miss Rachel
Stevie has walked off campus multiple times. School has called mom to inform her that this cannot happen. When mom confronts Stevie, she lies about it but then has to fess up once she knows that she has been caught out. She is sneaking off with her boyfriend. Mommy takes her naughty daughter over her lap for a VERY hard spanking with hand and bath brush until she is crying and begging for it to stop. Stevie certainly will not be playing hooky anymore after she is punished by her mom!
Momma Spankings is part of the Sarah Gregory Pass network, giving access to more sites for less than the combined cost with the same set of codes for added convenience.

Veronica Spanks Linny Hard – at Spanked Callgirls
Featuring Veronica Ricci & Linny Lace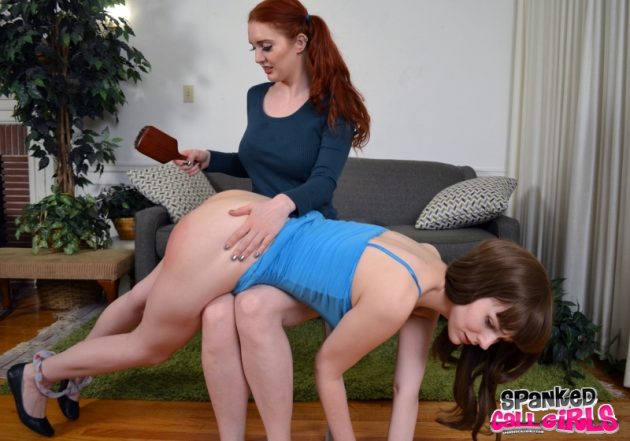 Linny's assignment is to get Veronica to return to the Call Girl House. Linny wakes her up – big mistake. An extra angry Veronica puts Linny over her knee for a long, hard spanking with her hand and hairbrush and sends her on her way with a sore, red bottom and task unaccomplished.

Harley Spanks Kay in the Kitchen – at My Spanking Room Mate
Featuring Kimberly Jane (Kay Richards) & Harley Havik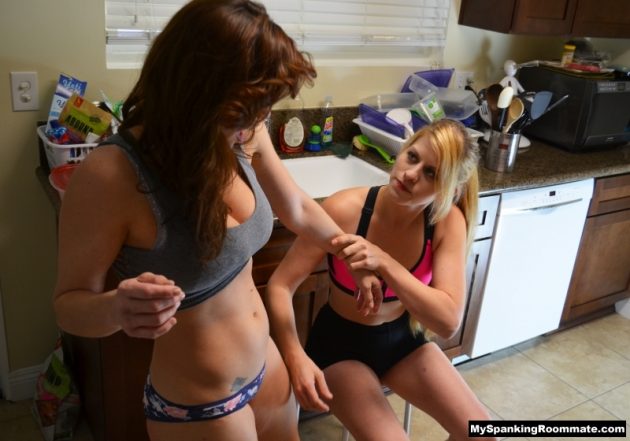 Kay is especially bratty and has failed to do her kitchen chores, so strict roommate Harley Havik puts Kay over her knee in the kitchen and gives her a very long and hard spanking that gets Kay kicking and hollering and her bottom getting very red and speckled. Harley even breaks a spatula over Kay's curvy bottom.
Both these sites are massive and unique in their own right but also make up part of the Clare Fonda Pass giving you access to all the sites for a fraction of the combined cost! For more information CLICK HERE or the banner below.