So here's my second weekend update as promised, if a little late, as I had just arrived back from a busy weekend away in Vermont. It was already snowing and very cold but both Sarah & I had a great time meeting some of her family up there! Anyway, here's a special look at a group of sites within the Clare Fonda Pass network – all these updates are the latest or very recent that I haven't covered. So without further ado… check out these great releases!

Young Riley Anne was spanked a number of times growing up, usually by her mom (played by Star Nine). She gives a candid interview to Star, then we re-enact two of her spankings, both of which leave her perky bottom bright red and so sore she asked for an ice pack.
Veronica Ricci and new girl Dria find Teacher Snow in her "office" which looks very much like a dungeon. When they discover she has been punishing girls here, they agree to keep it quiet if Snow takes the discipline spanking she deserves from each one of them. They use their hands, a leather paddle and a thin wooden implement to deliver the message.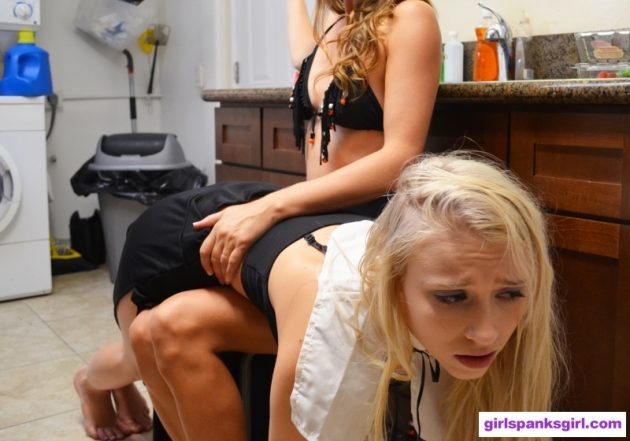 Riley Anne is dressed as a pilgrim for Thanksgiving and her older sister Star Nine is dressed as a Native American. While they are getting the Thanksgiving dinner ready, Riley says several inappropriate and ignorant statements that upsets her sister so much, that Star puts Riley over her knee right there in the kitchen for a sound spanking, turning her sister's cute bottom bright red.
CLICK HERE FOR MORE SPANKING PREVIEWS
Veronica Ricci greets new recruit Ami Mercury, who is interviewing to join the call girl agency. Ami doesn't know Veronica quit a long time ago. Veronica dominates and spanks and paddles Ami's curvy bottom until she convinces her to tear up her contract instead of signing it. Ami was so sore after this scene, she had to sit on ice.
Kay Richards (Kymberly Jane) has yet another new roommate, this time it's her friend, cute little Elori Stix. Kay teaches her new roommie all about the rules, putting her over her knee and spanking and paddling her to reinforce them. Poor little Elori's big curvy bottom gets bright red and sore while she learns the rules.

All the above sites can be viewed individually, they are massive in their own right. However, as part of the Clare Fonda Pass these 5 sites represent the best value spanking site network giving you 5 sites for a fraction of the combined cost! CLICK HERE for all the full details.