Happy Halloween… I hope that you all were nice to the Trick or Treaters visiting your door. Unlike me, in real life… I'm a grouch! It also just so happens that this is the latest style film now showing at Cheerleader Spankings – I have also found a couple of other Halloween style spankings for you, if that is your thing… it's usually just an excuse to see girls dressed in costumes getting spanked, so it's all good, right?
Trick or Spank – at Cheerleader Spankings
Featuring: Lily Swan & John Osborne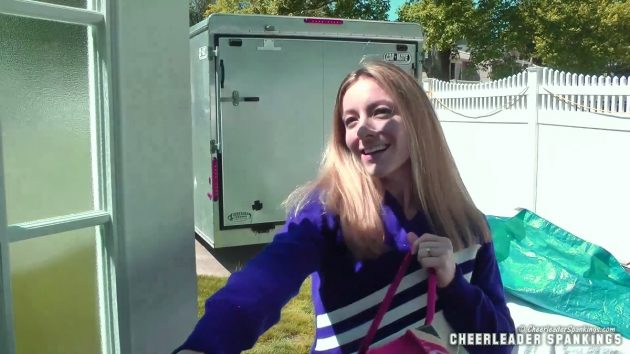 This is a delightful and amusing Halloween themed film but don't let the words "delightful and amusing" mean that you are about to watch a light spanking… far from it! Lily turns up at John's place "Trick or Treating". He is annoyed that this bubbly young lady is trying to scam some candy when it's obvious she should just let the neighborhood kids have their fun later instead. She insists that her cheer uniform makes her eligible as a Halloween costume to demand treats or he'll get his house egged! John invites her in saying he has a treat for her… and by "treat" he means a well overdue spanking! Lily is the type of girl that thinks she can handle anything so agrees to take one in rerturn for plenty of candy! He doesn't hold back with the spanking either, first over her tight authentic, color co-ordinated cheer panties (she really did do well with that costume!) then pulls them down. Lily is a strong athletic girl and John relishes spanking her as she struggles playfully but he knows that this hand spanking hurts and he enjoys giving her something she also appears to be taking far too well. She is going to earn a lot of candy, and she wants more! She accepts a hairbrush spanking challenge at the end. Lily shows off a very sore red bottom and her reward means the rest of the neighborhood Trick or Treaters later will be getting less from John's house… if only they knew why!

Halloween Spanking for Elori – at Girl Spanks Girl
Featuring: Elori Stix & Stevie Rose
Elori Stix and Stevie Rose lost the Halloween costume party because Elori wore a slutty outfit. Stevie warned her not to, and now Stevie is angry and will make Elori pay for this. She puts Elori over her knee for a long, hard spanking and even includes the use of a wooden rug beater to really drive the lesson home for Elori. No more slutty Halloween outfits unless you want a sore, red bottom!
Misty Lovelace gets a Halloween Spanking – at Spanked Callgirls
Featuring: Misty Lovelace & Clare Fonda
Young, sexy Misty Lovelace is wearing a slutty Wonder Woman costume when her aunt Clare catches her and demands she wear something less reveling. When Misty refuses, she gets a trip over Clare's knee for a sound spanking, turning her curvy bottom bright red. She goes to the party wearing Clare's robe.
The two above sites are part of the Clare Fonda Pass giving you up to 5 sites for a fraction of the combined cost! See more info on this amazing deal if you have the spare hard drive space (you'll be very busy!!!)