I'll be brief as I am packing for my forthcoming trip back to the USA. here are some recent updates from our group of sites and if I have time, a few others too! Interestingly, from what I see, these are all debut performers at the various sites shown today 🙂
Last week at AAA Spanking – we introduced new girl Key Winds who is proving very popular (as expected) with members and Clip Store purchasers alike! It helps that Key, dressed in a cute green Gingham school dress, is getting a good hard spanking over the lap of one of my favorite people, Miss Anna. She's an incredible switch and has a really HARD hand (as any girl will tell you!)
Punished by the principal – at AAA Spanking
Featuring: Key Winds & Miss Anna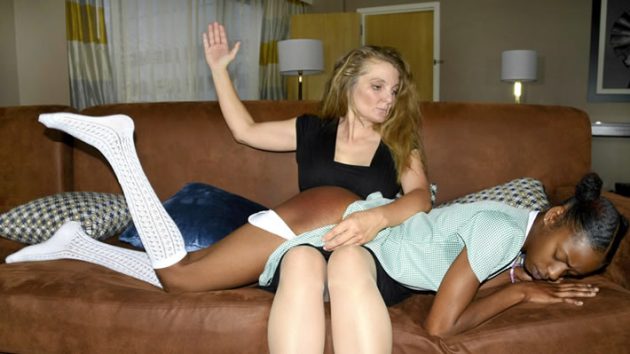 Please Welcome Key Winds who makes her stunning debut at Triple A as a rebellious schoolgirl, sent to the Principal's Study for a special one to one discipline meeting. Key makes light of the situation and the fact that she can not behave in the classroom. Miss Anna has considered all the options and only a personal humiliating spanking over her lap and with Key's panties pulled down will make her think twice about misbehaving in future. The Principal has one of the hardest spanking hands in the school and doesn't hold back. First, she takes Key over her lap, then finishing with the naughty schoolgirl bent over with her bared bottom fully exposed for a final embarrassing spanking she would not forget in a hurry!
or you can also view this film via the Clips Store in full HD in a format of your choice HERE

There's also a brand new girl featured today at Momma spankings – a cute blue eyed blonde girl next door type called Quinn. She goes over Mom, Miss Bernadette's lap for a good old fashioned spanking and hairbrush punishment…. see more below!
Quinn's Attitude Adjustment – at Momma Spankings
Featuring: Quinn & Miss Bernadette
Mommy had had it with Quinn's attitude and behavior lately. The smoking, swearing, dressing in ripped clothing, staying out late, and general rudeness has got to stop. Clearly new measures need to be taken to change Quinn's horrible attitude. Mom has never spanked before, but decides that the time has come to take her naughty misbehaving ungrateful daughter over her knee for a much deserved spanking with hand and brush. It is not long before Quinn is promising to change and to be a good girl. Clearly spankings are what this brat needed.

Next to Cheerleader Spankings – with a double spanking for cute young daughter, Ariel Summer, spanked by both her dad and then later by her mother! A great cast and a fantastic debut of Ariel in that cute cheer uniform!
Spanked by Mom & dad – at Cheerleader spankings
Featuring: Ariel Summer, Miss Elizabeth & Paul Rogers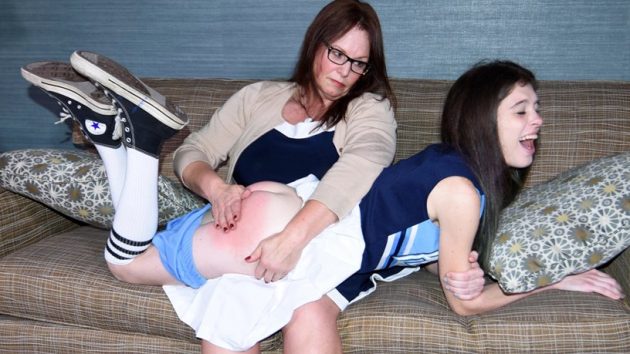 Ariel Summer makes her first ever appearance online. This is a memorable debut as she is first spanked by her father (Paul Rogers), then later by her mother (Mis Elizabeth). Why did she get a double spanking? Read on for the full story: Ariel had called her cheer coach a very rude word and was so diisrespectful that he sent her home immediately. Coach called her home and spoke to her father. This is where the film starts with her dad waiting for Ariel when she arrives home and he asks her to explain herself. Ariel tells him what she called her coach and he is appalled! It appears Ariel has no shame so Dad hauls her across his lap and gives her a deserved spanking. This discipline session with his hand is hard enough that her bottom starts to quickly turn red. Then he pulls down her sports panties to ensure that she learns her lesson with a bare bottom punishment. Ariel is sent to her room after daddy has finished but her punishment is far from over.

Her Mom is told what happened earlier and she knows what a "daddy's girl" Ariel is. She summons Ariel downstairs to explain herself and tells her that she will get another spanking, a bare bottom hand spanking followed by the hairbrush on her sore behind! This upsets Ariel who knows that Mom always spanks hard. Watch her struggle as mom's hand and the stinging hairbrush really get the message across! As a final humiliation, mother tells Ariel to call her cheer coach and apologize for what she did and to tell the coach that she had been spanked by her parents! How embarrassing for young Ariel; in future she will learn to be far more respectful and to curb her potty mouth!

You can also download the full length HD clip straight away at the Cheer Clips Store HERE
Ahhhh, I ran out of time as I need to pack so I will be back very soon with more news and updates including a special review (soon) of the just released STRICTMOOR ACADEMY – YEAR 2 feature length film (we are filming the third at the end of this week, and I am super excited and will bring you behind the scenes features you'll love as well as a preview of the new release!!!)
[jwplayer mediaid="54702″]