What a way to end the year with some recent Clare Fonda appearances at some of our favorite spanking sites! She is more than a capable switch and her appearance at AAA Spanking (first shown below) even features a pretty good, hard hairbrush punishment that shows she is more than capable of taking it when she has earned a spanking!
Clare's Comeuppance – at AAA Spanking
This is one of a few very rare M/F spanking films featuring Clare Fonda from the network that proudly boasts her name! Clare (aka Jamie Foster) is a well known cougar, preying on younger men and you can catch up with her naughty shenanigans HERE – in this video she has to work for her old friend, John, but is really not office type material. Instead she yearns to get off early to catch the "Happy Hours" at her favorite hunting grounds. Clare takes a wicked spanking from John, who delights in using this chance to give this feisty cougar what she deserves. A long spanking over her pantyhose is followed by a harder man-spanking on her bare bottom before she is given a sound brush punishment with a trusted old friend of hers, the "Mason Pearson" hairbrush. She isn't a fan of sting… and knows exactly what it feels like having used it on so many girls in the past! Great chemistry, great spanking action, great facial reactions and of course Clare's infamous wit makes this a must see film for the Holidays!
This was Clare Fonda's first appeance in a M/F spanking film at this site (it won't be her last) – you can also see her in a special double wheelbarrow style film with Sarah Gregory HERE
To see the M/F spanking film of Clare in full
Check out the clip store page below: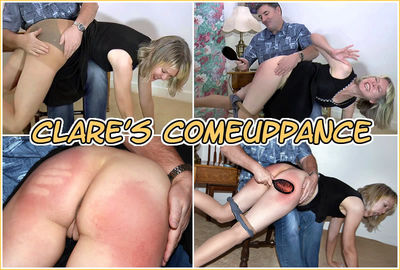 Mother Knows Best – at Momma Spankings
Featuring Clare Fonda & Cassy Lau
Cassy was with her irresponsible dad all weekend at the amusement park ignoring her worried mom's texts and calls. Mom is very worried and angry when Cassy gets home. She feels that she knows what is best for her daughter and some discipline is in order to teach her that she needs to be more responsible and check in with mom when with her dad. Mommy knows the divorce was hard on her but that is no excuse for the behavior. It is right over mom's lap for a hard hand spanking followed by the wooden hairbrush. Cassy kicks and yelps in pain, but learns the lesson she needs to learn.

Misty Lovelace Gets Spanked by Clare – at Spanked Callgirls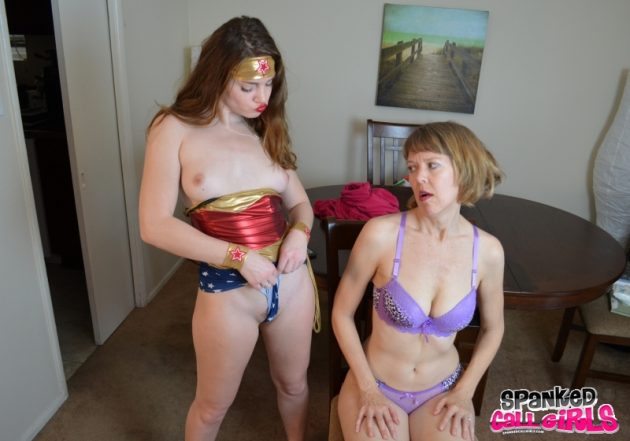 Young, sexy Misty Lovelace is wearing a slutty Wonder Woman costume when her aunt Clare catches her and demands she wear something less reveling. When Misty refuses, she gets a trip over Clare's knee for a sound spanking, turning her curvy bottom bright red. She goes to the party wearing Clare's robe.
Clare's New Roommate Spanks Her – at My Spanking Roommate
starring Clare Fonda & Kira
Clare Fonda has a new roommate, Kira. And when Clare starts to fondle and grope her, there is a dispute about what exactly a "roommate" must or must not do. So Kira clarifies what she will do by putting Clare over her knee for a firm spanking. She starts over those tight Clare yoga pants, using her hairbrush on her bare bottom.
More news updates coming very soon! Happy New Year to you all!