The second Spanking Awards 2017 category is now open, the long title for this is:
"Best Facial Expression during a Spanking Punishment" – over time this can be tear induced scoldings and looks of agony from spankings and such. Just so you know, I spent the best part of 6 or 7 hours looking for images then another hour or so updating this post and preparing the new poll for of all the nominees. This is a time consuming, thankless task as I am dealing with facial reactions… so I then get the girls complaining but I have really tried. Plus the images can only be from what the websites have shown this past year, another pain as when I check (in some cases I don't have full memberships to some sites) it is hard to find a better image. Hope y'all understand.
Best Facial Expression 2017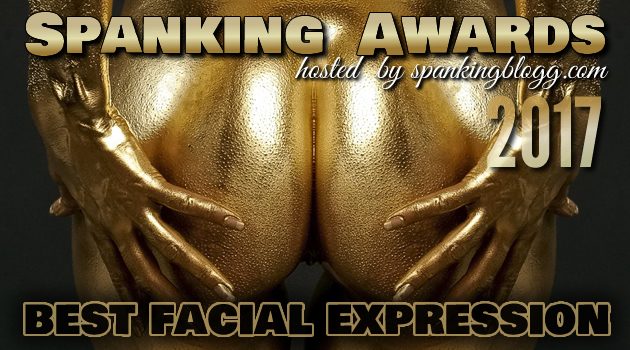 The following are listed alphabetically and in no order of preference. Click on any image to see a larger image of any girl. Links are provided where I obtained the images of their work this past year in case you wish to see more of these popular choices. I have cropped the images so they are all neat and in the same 3:2 formats.
Adriana Evans
Find Adriana this past year at:
Shadowlane – Real Spankings – Momma Spankings – Punished Brats
Amelia Jane Rutherford
aka Ariel Andersen
Find Amelia (Ariel) this past year at:
AAA Spanking – Spanked Cheeks – Firm Hand Spanking – Sarah Gregory Spanking
Apricot Pitts
Find Apricot this past year at:
Northern Spanking – Cheerleader Spankings – Spanking Sorority Girls
Audrey Sugarsmak
Find Audrey this past year at:
Punished Brats – AAA Spanking – Sarah Gregory Pass
Harley Havik
Find Harley this past year at:
Shadowlane – Sarah Gregory Pass – Clare Fonda Pass
Mackenzie Reed
Find Mackenzie this past year at:
Cheerleader Spankings – AAA Spanking – Sarah Gregory Pass
Sarah Gregory
Find Sarah this past year at:
Momma Spankings – Sarah Gregory Spanking – Spanked Callgirls
Violet October
Find Violet this past year at:
AAA Spanking – Northern Spanking – Shadowlane – Cheerleader Spankings

Please make your choice below & let everyone know that the voting process has started!
SPANKING AWARDS 2017
Previous Voting Category for Newcomer is HERE