No time to waffle, so here are a whole bunch of quality spanking updates I've been fortunate to check out and bring to you! If you like what you see, don't forget to help support the sites, take out a very reasonably priced membership… trust me, the producers need your memberships to help them to continue to create more content that you all love. These membership sites also represent the best value as opposed to clips store sites, case in point with these websites featured below, 100's and 100's of films for a membership well under 30 Bucks. (or buy one film for 10? You do the math!)
New model Lyra Bryant makes her spanking debut in the all new Fitness Fanatic with John Friday!

Meet real-life athlete Lyra Bryant as she makes her spanking debut at Firm Hand with John Friday taking her to a new level of 'training' – reddening her buttocks with a series of spankings that test her resolve and set her cheeks jiggling. Commitment to her sports sponsors earns Lyra her first of many spankings In the all-new Fitness Fanatic.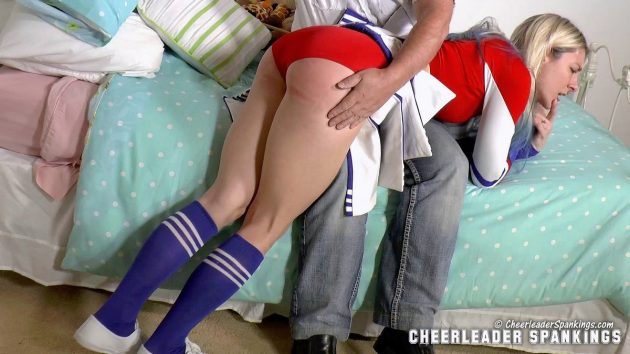 Starring Lily Swan & John Osborne

Lily has had an awful day. Earlier at school she got a hard spanking and caning. Then she had to go to cheer practice with her short skirt revealing the shame of a glowing, sore red bottom. At home, her father had already been informed of her punishment and Lily knows that whatever she receives at school she gets at home too. So, still in her cheerleader uniform, she sees Daddy come into her room and he has a look of thunder, carrying a cane in his hand. Lily's day is about to get a whole lot worse as she is reminded that what happens at school, happens at home.

Placed over his lap, her toned legs kick as she struggles over his knee getting a hard spanking. He leg locks her and pulls down her tight cheer panties to smack her mercilessly on her sore bare bottom since she still can not behave properly. Next she is given one of the hardest canings, far harder than at school for still showing Daddy defiance. This is a deep impactful caning that Lily knows will make it difficult for her to sleep restfully later. She will remember this double discipline day for some time to come!

Stars Mackenzie Reed & Stephen Lewis:

Stephen is livid at having to leave a business meeting to fetch Mackenzie home from her school trip.

The cause? Having been bullied incessantly for some time, Mackenzie finally snapped and pushed one of the bullies. Unfortunately down some stairs and all the way to hospital! Learning the details, Stephen's anger cools somewhat but nevertheless, violence is never the answer and to reinforce the point, Mackenzie will get a spanking and a rare visit to her bottom by the family strap before they depart on the long journey home. Mackenzie will not be sitting comfortably in the car for four hours!
Molly's Cathartic Spanking – AAA Spanking
Starring Molly Malone & John Osborne

This is a rare chance to see the amazing Molly Malone from a film we had recently discovered, edited and sitting in the Triple A vaults gathering dust. It had hidden for over 5 years so we are really happy to share this with you… finally! It brought back many interesting memories from that cold November day in 2012. It was the last video of the day and we all had a stressful time away from filming which none of us present could ever forget (oh if only we could tell you why but we're sworn to secrecy).

In this video, John thought he'd ask Molly a few questions, a sort of end of day "spankumentary" before dishing out a much needed cathartic spanking. No role plays, no stories to tell, just two people enjoying the act of spanking for spanking's sake. Molly is a fantastic switch but if you want one last chance to see her so spankable, bare bottom jiggling under a hard hand spanking, then here's your final chance to see this long lost video today! Molly is so damned hot, how could you not want to see her get spanked?

The Health & Safety Inspector – Spanking Sarah
Stars Lydia St Claire & Agean.

When Lydia wants to open a nightclub, she never thought she'd have a problem with the Health & Safety Officer but he was a really miserable person who would not succumb to her blandishments and who could resist the offer of sex for opening early?

Instead, he made it clear that unless she did as he wanted she would be reported for attempted bribery. She had no choice but to go over his lap for a lengthy, humiliating bare bottom spanking.
Belle at the Sexy Cleaning Company – English Spankers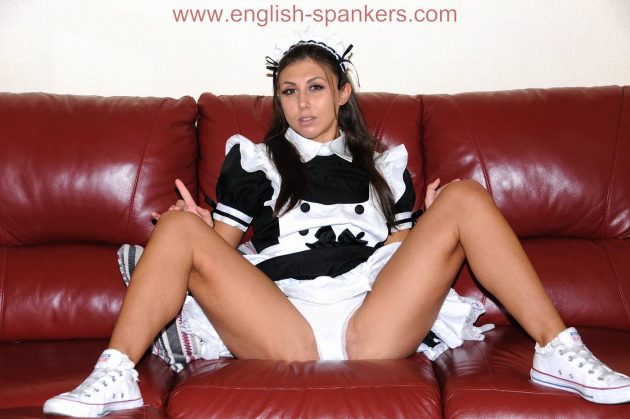 Starring Belle Calder & Sarah Stern

Beautiful Belle Calder is the latest recruit to the Sexy Cleaning Company who is indeed most welcome. Belle has filmed here before and is a firm favourite. She is quite into the spanking scene and never minds going over the knee for a hard spanking. In the first film of this series, Belle has on her lovely maid's uniform but as usual, looks better with her panties pulled down, laying over the knee, with her bottom in the air turning a bright red.
Back soon with the #SpankingAwards "Producer's Choice" and more update news!