In a bid to start my catch up of spanking update news, I thought I'd post this seperately. The SG Network of sites are the 4 sites you see below and this week has seen some fantastic and varied content that we know you will all love! There really is something for everyone across this network of sites… go take a looksee below (includes a free clip preview for each site too!)
Violet Spanked by Daddy at Sarah Gregory Spanking
This is the second part of Violet's Spanking. See Violet spanked by Mommy previously HERE from Momma Spankings. Now it is daddy's turn and Violet is already sore from the spanking she received from mommy. Daddy has made up his mind, she will not convince him that she doesn't need another spanking. Not only does daddy give his naughty daughter a hand spanking, but he also takes the belt to her as well. Violet is one very sore and sorry little girl.
Girlfriend Spankings  at AAA Spanking
Luna Lain and Zara Diesel are 2 new hot additions at Triple A. This is a very sexy girlfriend spanking film with real tenderness, love, affection and desire for each other's pert booties! At Triple A… we love all forms of spanking and impact play between consenting partners. We don't harp on about the spanking must always be harsh or punishment orientated, we have plenty of films like that (from a full library of 400). We like to consider our films have much more considerable range, unlike some… and this film is genuinely hot. Just look at Luna and Zara (for goodness sake), rarely seen in this context. Watch them make out, undress, spank, grab and massage intimately each other's bare bottoms. "Schwiing!"
Mackenzie Learns her Lesson at Cheerleader Spankings
Mom and Dad are waiting for Mackenzie to arrive home from Cheer Practice. She has been skipping sessions after they were informed of her behavior by the Head Coach. They know that she will lie about it and they have some nasty surprises for her if she does decide to do this. So… when Mackenzie is confronted by them, she makes up a total fabrication about the practice sessions which infuriates her parents. Enough is enough, and they tell her she is going to learn a lesson about lying to them both. Mackenzie goes over Mommy's lap first and receives a hard spanking across her tight panties then on her bare, exposed bottom. Afterward, it is the turn of Daddy who continues to spank her with his hard hand. This really starts to drive the lesson home! She is begging for it to stop so Mom delivers "Surprise Number One": The heavy bathbrush! Watch Mackenzie break down in a flood of tears as this nasty wooden implement is used with such relentless force, turning her bottom a dark shameful, burning crimson. The poor girl yelps and is barely able to take this punishment as her tears flow freely. there is no let up though as it is time for "Surprise Number Two": Daddy's leather belt! With her bottom fully presented on the sofa, Mackenzie takes a wicked, stinging strapping with the leather belt… a strapping that brings yet more floods of tears as they stream down her face, mother all the time scolds her. This is one lesson Mackenzie will not forget in a hurry. She learns that lying to her parents has very serious, painful consequences.

Best Friends Punished Together at Momma Spankings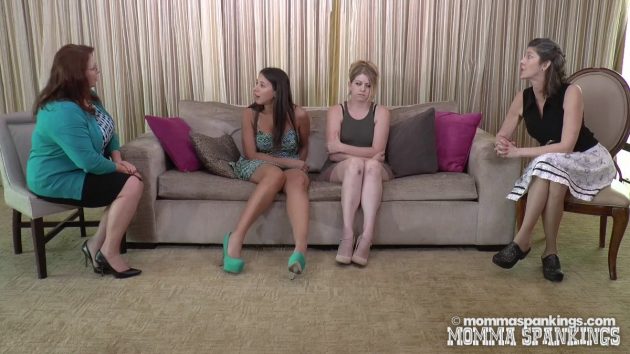 This is a continuation of "Lingerie, Lies and Spankings" which was released earlier. Now it is not only Harley getting a spanking, but her friend Sarah is also going to be punished for buying lingerie and lying about it as well. Mommy takes Sarah over to Samantha and Harley's house with the plan of "addressing this issue" and getting to the bottom of it with both naughty girls. Each girl is spanked to tears and very very sorry.
Momma Spankings & Sarah Gregory Spanking form part of the Sarah Gregory Pass – this gives you both sites for less than the combined cost withthe same set of codes… check it out at the banner below (as an added bonus, this gives you full access to all Strictmoor Academy content across the sites!)


More update news later today! Have a great weekend!