My apologies for not getting back sooner but the truth is I have been so busy these past few weeks that I had no chance at all to write anything meaningful (ha!) apart from tweeting stuff. In between the travel, the parties, the extensive filming (oh, the filming!!!!) and a horrible cold which I caught in my precious downtime at the end of our Vegas stay (grrrrr) I've been too busy and unable to give the attention this fine blog needs. So here is a very quick pictorial update post with some all new girls that I have been so very lucky to film personally… partly some of the reasons I have been *ahem* … busy. I will also let you guys know what Sarah and I have been up to on our travels to Las Vegas, San Francisco/Bay area and… the tour continues into next week as we venture down (eventually) to LA! So I better get this out before I feel even more tired!
Introducing Delta Hauser – in her 1st ever online spanking appearance
We are proud to present to you our latest new girl at Triple A Spanking (the 1st of at least 2 this month) who we met recently at a spanking party in Las Vegas. Her name is Delta Hauser and she is a lifestyle switch who has been in the scene for a while but had never ever appeared anywhere on film… until now. This is a long introduction video which features plenty of varying spanking styles that she is familiar with, and we gave this beautiful rock chick a plausible role play for her to be punished (for being drunk and letting people down). More importantly is her debut performance… She is spanked over her tight daisy dukes, then her tight black yoga pants for a long time before they are pulled down revealing her bare bottom turning a shameful burning red. Delta gets to experience the wheelbarrow position (trust us, this is a good one) which we are so well known for – before receiving plenty of leather strappings including a double leather strap finale that adds thud to the sting of the 2 straps used. This is an impressive showcase of a new girl we know you all will be seeing a lot more of over the next few months. We have many more films featuring this lovely lady coming soon, but just enjoy this fantastic introduction for now. How could you not? Just look at her!

You can also view this full film in the format of your choice at the AAA Clips Store
Also most recently in Las Vegas we were very fortunate to be the first production company to film with uber gorgeous Veronica Weston. She is a stunning young lady, who is a successful cam girl, but is genuinely into spanking & has the potential, in my opinion, to be a very special addition to new finds of 2018 if she so wants. I get a little concerned when I meet new girls who claim they are into spanking when in fact it's a boyfriend tapping her butt playfully style light slapping etc. However, I need not have worried – Veronica is the real deal and proved that in our very enjoyable filmshoot. She appears this week (it's just out, in fact) at Sarah Gregory Spanking followed by an all female super sexy wheelbarrow spanking next week at AAA Spanking – so stay tuned, folks!
Veronica Learns Her Lesson – in her first online appearance anywhere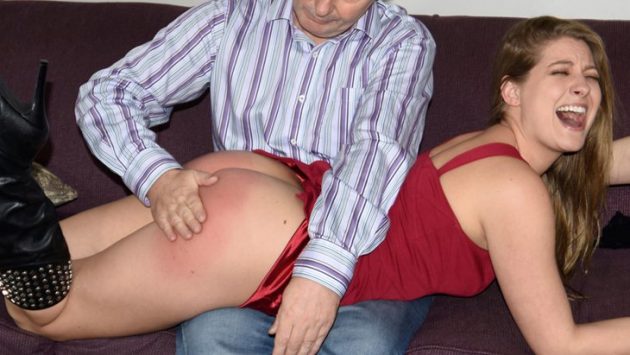 Dad is shocked to find his precious daughter at the door of his hotel room when he was expecting an escort for the evening. He can't believe his own daughter is working as an escort. He brings her in the room, sits her down on the couch to discuss how disappointed he is before taking her over his lap for a well deserved spanking. He is mortified that his own daughter would be working in this line of work. She is going to learn the hard way what happens when her true profession is discovered by her dad.

I was going to write more but that will be for next time… until then, I hope you all have a fantastic time wherever you are! I will be back 🙂