What a month this is turning out to be at AAA Spanking – each week we have been featuring a brand new girl to the site. This week is no exception, only the featured lady in question is hardly new to the scene… however, this is her first spanking appearance outside of her own amazing site which makes this special. Well, special for me at least as I had, over the years, promoted her sites, watched them take shape, messaging her occassionally and keeping in touch only to finally meet up. The lady in question is Amber Dawn of amberdawnxxx.com – a beautiful redhead who we were so honored to finally meet and work with… and she did not disappoint one little bit!
The other new lady who we worked with first and feel sure has a wonderful spanking career ahead of her – is Veronica Weston (who we met while in Las Vegas) – she is a perfect, very naughty girl next door, who can also take quite a spanking – oh, and is extremely easy on the eye. We had also just filmed a brand new girl who we met at the Fetish Flea last month called Raven Mackenzie and she will be appearing in a few weeks at the site.
Next week we are also showing a new girl to AAA Spanking (yes, we have been extremely busy) but for now I will keep that under wraps! (I'm such a tease).
Amber's Tearful Spanking
Amber Dawn makes her debut at Triple A Spanking, the first time she has helped participate in a spanking production outside of her own network of websites at amberdawnxxx.com – We were honored to finally meet her after being a huge fan of her work since she first started online over 10 years ago! This first film we are showing is also rather special as it features Amber taken to a tearful limit, something we had not expected but it shows what a true lifestyler she really is. Amber is a beautiful redhead, smartly dressed and looking to impress her Parole Officer for a special meeting he has called privately at his place as he is trying to help her avoid jailtime after her latest parole violation. She accepts his harsh punishment as a final chance to remain free. What you will see is a hard tearful spanking, with Amber looking incredibly sexy in her stockings, laid out over his lap. Her bubble butt is spanked over her delicate panties then bared and reddened with his hand. The next part of her punishment is with her laid out on the sofa, her already sore red bottom is given a wicked strapping with 2 leather implements which bring tears to her eyes. For the final part of this unique punishment, Amber is reminded and scolded about the consequences of breaking her parole violations again, then given several hard strokes of the rattan cane which brings total contrition. You'll see her tears and that this punishment is actually an emotional spanking film we are sure you will all appreciate from a special debut appearance from one of our long time spanking crushes, Amber Dawn!
CLICK HERE TO SEE AMBER GIVENS A TEARFUL SPANKING!
You can also view this download at one of the clip stores featured below… Amber Dawn will be appearing at our sites over the coming weeks and months, we made some excellent films and both Sarah & I are happy to have made a new friend in the business! Amber is awesome!!!

Download this full length clip from our C4S Store
or if you prefer you can also download this film at our Library Clips Store

Then the previous week, we featured a debut performance of Veronica Weston alongside one of our favorite girls to work with, Violet October… both disciplined by our "Vegas Mom" Madame Samantha B! What a line up. Veronica is a real life spanko, who really surprised us and took a hard spanking over the few hours we filmed with her. With new girls we are always a little unsure so book them for only 2 or 3 hours in case they are unable to take anything more. I think Veronica could have gone on all day and loved getting her delicious booty marked a burning red after our filmshoot! I like this girl very much, LOL! Oh, and she was alongside Violet & Samantha in this film… it is awesome, as you'll see! These girls really were VERY sassy!!!
Sassy Sisters Spanked by Mom
Elder sister Veronica persuades Violet to go out and party without their mother's knowledge. Mom had taken them both to Las Vegas as a treat, staying in a nice Strip Hotel suite whilst she is on a business trip. Mom hears the girls trying to leave on the second night and is shocked at their behavior, especially Veronica who is trying to hide evidence of meeting with strange boys on her cellphone. Mom gets to the truth when she reads the texts from a boy Veronica had only just met. The girls sassy attitude and poor behavior infuriates Mom further so she decides to spank and punish them both. She knows exactly how to humiliate Veronica by watching her text this new boy informing him that they will not be going out because their mother will be spanking them! Violet is made to watch Veronica's spanking, as mom scolds the eldest sister and uses a hard wooden hairbrush on her bare, sore bottom. The sisters swap places and Veronica watches her younger sister taking the same embarrassing punishment. Violet's bottom turns a dark, shameful red after the hairbrush is used with great force! The girls are reminded about how their sassy behavior will not be tolerated and that there will always be consequences like this punishment by Mom in the future. This film features a stunning debut by Veronica Weston alongside one of our favorite models, Violet October and our special Vegas Mom, Madame Samantha B.
CLICK HERE TO SEE VERONICA & VIOLET SPANKED!
You can also view this download at one of the clip stores featured below… the girls also filmed more content (& a first for Violet but that would be telling right now). So please do check out the main website HERE or if you just wish to download the clips, go check them out (below).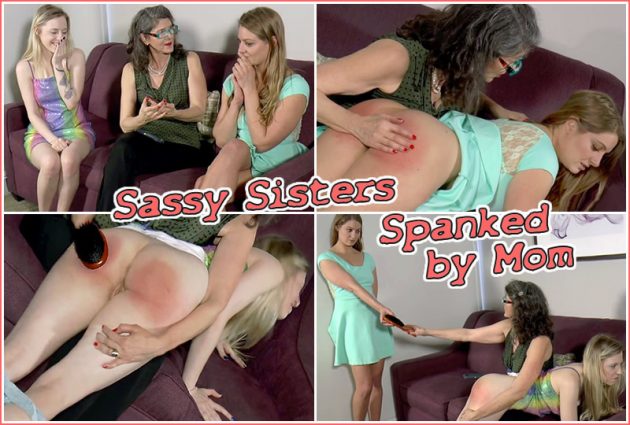 Download this full length clip from our C4S Store
or if you prefer you can also download this film at our Library Clips Store

Please welcome Raven Mackenzie – who we filmed earlier today. You will be hearing much more from this brand new girl, local to where Sarah & I live in the US! We think she is sure to become a big hit with our followers & members as well as many more people! Just look at how cute she is in that Girl Scout uniform… don't let that girl next door look fool you for one moment though! 🙂