Howdy! It's been a while and I had been traveling (now briefly back in the UK again) and there is much for me to catch up on. Both Sarah and I had been touring the West Coast of the USA and filmed with so many awesome people, we have so much content and so many new ladies to show you… so I think at AAA (at least) we will be showcasing new talent for the next few weeks… there's a new girl in a full HD FF spanking film tomorrow and the following week I'll be dishing out one of my meanest scoldings and canings to another schoolgirl miscreant which saw her legs visibly trembling (this is being edited as I speak).
You'll have to wait until tomorrow for news of that but in the meantime let's catch up with some other producers and what they have been showing recently!
At Northen Spanking this was released a few weeks back, I played the part of a pervy rich resident at a convalescent home (look at that awful technicolor dreamcoat dressing gown Paul got for me) and it brought back many good, fun memories of that filmshoot… however, the spankings by Matron Jessica Wood to uber naughty, cute nurses, Jenna Jay and Rosie Ann, were the big feature! Go check out the tour pages of Northern Spanking to watch this awesome free clip they have provided as well!

Featuring: Jenna Jay, Rosie Ann, Jessica Wood & John Osborne 
The Matron of a convalescent home has received a complaint about the conduct of two of her nurses. The complaint relates to the lack of respect shown to one Mr Osborne whom, according to his daughter, is teased mercilessly by these two girls and left to his own devices, not even served his tea and biscuits on time!
The complaint is somewhat puzzling, as we shall see. However, the punishment suggested by Matron Jessica and its subsequent application to Rosie and Jenna's bottoms seems to satisfy the complaint, particularly when Mr Osborne gets to examine the results for himself! You have to feel sorry for the poor old chap!
SEE THE AWESOME FREE SPANKING PREVIEW HERE

This was a great introduction for a girl I know little about, but she is featured more at this network since her first appearance at the turn of the year (see? that is how far behind I am on bringing you update news sometimes!!!) – She is called Mila, has fantastic breasts (I know Mr M loves to see girls spanked with their boobies hanging out and their booties spanked hard… & why not?) – oh, and I absolutely loved this film, stunning Mila took this hard punishment well!
Mila is bent over a stool and spanked on her bare bottom with a leather strap for choosing not to wear a bra. Then Mila is dragged out of corner time and spanked on the bare bottom with a cheek to cheek wooden paddle. With a very bruised bottom, she is placed back in time out until the bell rings.

Next up, I would like to wish Angel Lee a Happy Birthday (it's a day or 2 late here… but better late than never). Angel and Harley Havik both switch perfectly, although I think Harley's hand might hurt more… I know it did when she spanked Angel in this sibling rivalry style film, then used a wooden spoon without holding back! Ouchies! This was a recent film update which you can see in full at Sarah Gregory Spanking right now and it comes with an image gallery, extensive full set of video images and the HD film options.

Featuring: Angel Lee & Harley Havik
Harley has just been spanked for something both she and her sister did, take the car. Harley covered for Angel, but now Harley is going to get even with her. If Angel doesn't want Harley to tell mom she was in on it, then she must take a spanking and wooden spoon on her bare bottom just like Harley got. Angel is a sorry and sad little sister. Harley gives her the hard spanking she deserves.

I can't tell you how good it is to see our friend, Clare Fonda (aka Ms Jamie Foster), spanking lots of tearful girls for a variety of sites nowadays. I can't get enough of this self styled cougar "soccer mom" who looks better as each day passes. Isn't she incredible? Fortunately we had Rachel Adams in this day (a real beautiful crybaby) who gave Clare the perfect excuse to give her a hard, hand and hairbrush spanking – to tears!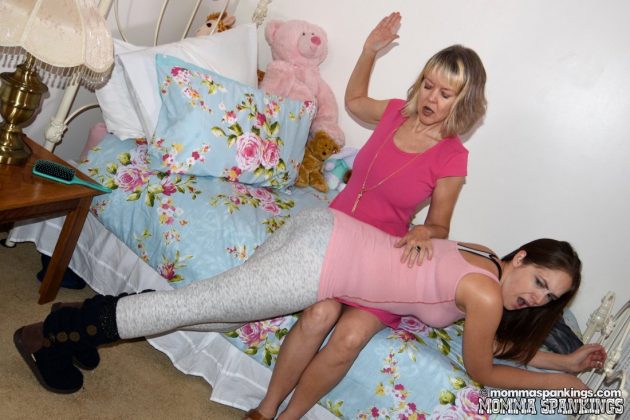 Featuring: Rachel Adams & Clare Fonda
Momma Clare has a crush on the school principal so when he calls her to tell her that her daughter was caught smoking, she is mortified. How embarrassing of a phone call, not what she was expecting. When Rachel arrives home from school, mom is waiting for her. She takes her naughty daughter of her lap for some old fashioned discipline. Rachel cries real tears and mom knows she is sorry.
This site can also be viewed as part of the Sarah Gregory Pass – Giving you more content for less than the combined cost of the sites with one set of codes for your added convenience!

Finally for today, it's been a while (a-Hwhile – sorry I can't help myself) – damn! "Now I have Cool Hwip on my mind… Thanks Stewie Griffin!!!" Grrr, I'll just get this out of the way & you'll understand cool whip/cool H-wip and awhile/a-Hwile… or the weird/H-weird – now that one doesn't even have an "H" in it!!!
Wil H-wheaton… LOL, I forgot about that one and the whip references (I adore Family Guy's subversive kinky references) Anyhoo… onwards to the final installment today from Spanking Server and one of their many caning videos you will always get to see with a delightful difference, the caned anus feature. This short video stars the beautiful Chelsy who appears at this site often… oh my!
Chelsy had been in the time out position after her traditional caning but now it was time for the humiliating part of her caning. peter instructed her to bend over on the floor, with her ass fully exposed and her face down. Her puckering hole was visible and as he teed up the first stroke, her nerve ending tingled with dread as she knew just how painful her delicate area was. Chelsy took the strokes without complaint but it was obvious you could see the telltale reddening over her most intimate parts! This caning and many more like it are available from this website.