Here's a fantastic news round up that contains some very real, harsh discipline and spanking updates from some of my favorite sites you all know and love too! There's not too much I can say except that the images I have for you will do the talking… they say "a picture is worth a 1000 words". So I'll shut up, stop waffling and bring you some superb (and some may say harrowing) real discipline vids that get right into the headspaces of these ladies!
Last week at Momma Spankings the new film had harley havik taking her very first mouth soaping (and her last on film, I believe). The films is split into 2 distinct parts, the hard hand spanking and hairbrush punishment by her mother (played by Miss Elizabeth) then as harley is close to tears, she is taken to the bathroom for her mouthsoaping. All I can say is that many girls WANT to try this with us (In around a month or so, Nuna Starks takes her first ever mouthsoaping from me and that is a tear jerker too!!!) – Anyway, today it is harley we see… and her curiosity about getting punished for a foul mouth really hit home – I think she will genuinely try to avoid any further mouthsoapings after you see this superb film!
Part 1 – the scolding and spankings
This is Harley's first ever REAL mouth soaping and we were so happy that we got to film it. Harley plays a very rude and disrespectful daughter to Miss Elizabeth. They had been out for a family meal the day prior and Harley was less than respectful to the wait staff, in fact she was so rude that she swore at the waiter. Mommy will not have her daughter using such foul language, especially in public and especially in front of the family. She did not raise a daughter like this. So, its right over mom's lap for a hard hand and hairbrush spanking before being given a mouth soaping which leaves Harley very remorseful and crying real tears!
Part 2 – the mouthsoaping punishment
This site is part of the Sarah Gregory Pass network – access more sites for less than the combined cost of them with one set of codes for your convenience!


Another amazing film, this time from AAA Spanking with the debut performance from Lady Alice (who I think has a Michelle Pfeiffer look going on… who happens to be one of my fave actresses!) anyway, Alice plays the feisty schoolgirl so close to expulsion that this IS her last caning punishment (or she is expelled) and the scolding and entire roleplay with her looking so good in authentic UK school uniform really got into her headspace! I said on Twitter that I couldn't praise Alice enough… and I stand by that, check out these images – and again it's kind of in 2 parts, the scolding and spanking followed by *that* caning!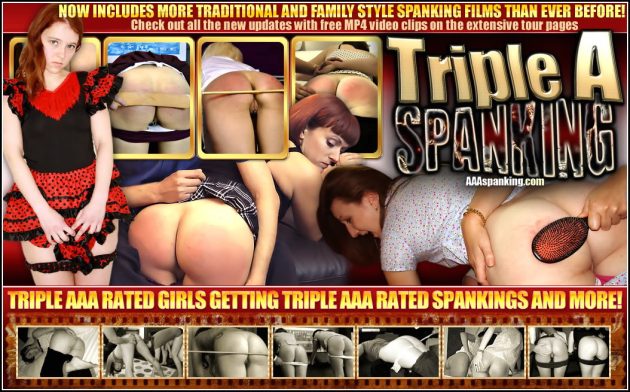 Another week and another fantastic new girl at Triple A Spanking. This is an excellent schoolgirl punishment video that you shouldn't miss for the scoldings, the authentic school uniform and of course Alice's reactions to her spanking and caning. She eventually receives 12 hard strokes of Headmaster's Dragon Cane (these really hurt) after he loses patience with her continued poor attitude during his showdown meeting with her. Alice ihas been continually punished by the teaching staff and himself for the last 3 months. This meeting will be the last as she is so close to being expelled. This is a serious punishment and depending on how she reacts to him in this meeting, including how Alice takes her severe caning will determine whether he signs the expulsion papers placed in front of her – or not!
Part 1 – Scolding & Spanking
Part 2 – The severe 12 stroke caning

In what I am assuming is another excellent custom video fresh out at Girl Spanks Girl (there are many more style films like this). Submissive Dria takes one heck of a punishment at the hand and various implements in Snow Mercy's Dungeon, with Veronica ably assisting in Dria's painful torment… please do read on!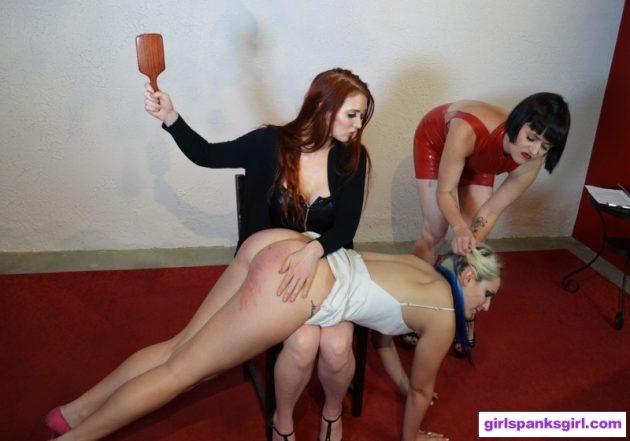 Dria has been sent to visit a dungeon by her wife. She quickly learns that her visit is for her to be punished by not one dominatrix, but TWO, Snow Mercy and Veronica Ricci. Dria was unfaithful to her wife, but won't admit, until undergoing some serious discipline that includes hand spanking, whipping, caning and wooden paddles. Watch this hour long thrashing from two great tops who are looking to break the spirited, curvy bottomed Dria.

One of my favorite sites is Spanked Callgirls – I have always felt honored to be a part of this in the past with that pesky Sarah Gregory, of course… however, today, a rather interesting update (I heard all about it from both Madame Samantha B and Clare Fonda) – they meet up again after their awesome pairing at the turn of the year from Cheerleader Spankings – so now you get to see some interesting chemistry in this latest offering…
When Clare recruits a girl from a rival agency, Madame Samantha B pays her a visit. She punishes Clare with a sound spanking, and has her ask for a flogging, which Samantha then delivers to teach Clare not to tamper with her talent!
Both these sites are part of the Clare Fonda Pass network – up to 5 sites for a fraction of the combined cost – check out all the latest updates across the network HERE


You will see plenty of the people I have showcased here today coming soon to the Lone Star Spanking Party in Houston, TX. You have until the end of the month to get the discounted pricing and despite other parties saying they will be full… we do not scare monger and will always have space for you (within reason) but time is running out to get a reasonable price offering! Great rooms, fab hotel location close to Houstion IAH airport (with free shuttle) reasonable rates, the largest gethering of party attendees, lots to do including many informative classes/events/suite parties, introductions, and also the party that has the highest attendance of online models, tops and producers…. oh and the BEST vendor's party and fantastic Saturday Night Ball (this is optional so is cheaper without but you make your own entertainment until 10pm or so) with THE best meal options at any spanking party I have ever attended personally! *takes deep breath* – have I missed anything???
Go join up, the sooner you get your flights arranged the cheaper it is: The dates? Put this in your calendar – May 17th through to 21st!