Brittany was sent to see Principal Audrey after being caught cheating on a test. She was stunned when she learned that her punishment was to be a bare bottom spanking. After a humiliating and painful bare bottom spanking, Brittany was subjected to several hard swats with the school paddle. She promised to never cheat again.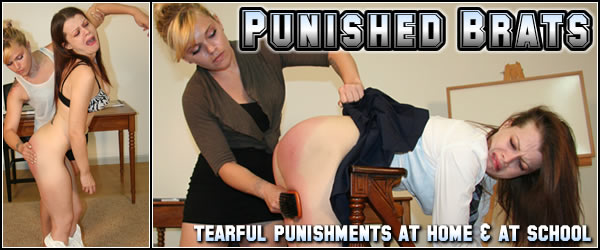 Mr Stern just had one hell of a telling off from his wife for not doing his training exercises. His personal trainer dropped him right in it. He is now going to teach his trainer, Lola Marie, the erros of her ways for telling Mrs Stern. As he was good at cricket in his schooldays he finds a wooden paddle shaped like a criket bat and plays with Lola's bare bottom instead of a ball. A real heavy duty painful whacking for Lola.

Harley has been a very rude girl. Once again she finds herself confined to her bedroom, in her jammies in the middle of the day. Worse is to come though, much worse. Soon Paul will arrive and he will punish Harley with his hand and probably his carpet slipper.