Finally, it would appear that the last vestiges of the wintry weather are at last disappearing and I have already driven with the roof down on my car (twice) – so it must be getting warmer, right? Spring is my favorite time of year… I love seeing the trees turning green, the apple and cherry blossoms, the days getting warmer and longer as well as the flowers in the fields and woodlands going crazy after such a miserable, grey cold winter! It's also a busy time of year for me, and nowadays, more often than not, I am back in the UK… so that means I get to find some bluebells in the woodlands… when I have time to do so. Oh, and I suppose I better get you some spanking updates as it has been far too long! I do apologize… I know, I always do, but like I said, I have been busy, so wrapped up in other things that I have had to spend less time on here… but let's forget that for now, I'm back, Spring is back… and some cracking spanking updates are back on this blog! Enjoy!
Mackenzie is a hard working employee but she gets frustrated with others who are unable to keep up with her schedule and has created a lot of animosity among her fellow co-wporkers. This has come to the attention of HR manager, Stevie Rose, who has a special, trusted method of dealing with this type of delicate situation. Mackenzie is a valued employee but her attitude is appalling. Rather than let her go, Ms Rose decides to give an off the record "Disciplinary". That means it is done the old fashioned way, with Corporal Punishment! Mackenzie knows she has been difficult and takes the punishment to keep her job and learn from her mistakes. She is spanked over Ms Rose's lap, her tight pantyhose unable to hide a growing red marked bottom from a hand spanking. She is then spanked over her panties and on the bare bottom which she find embarrassing but worse is to come. A paddling over her manager's lap with a mean wooden implement is followed by her bent over, pantyhose and panties fully removed with her bottom bare and exposed for a double leather strapping that has her gasping in shock and pain. Then Ms Rose lets Mackenzie struggle back into her pantyhose, letting her know that she is watching how she deals with her freshly spanked sore red bottom. It's embarrassing and humiliating, something Mackenzie will want to avoid again if she ever faces another "In House Discipline".
I loved this movie, no new girls at AAA this past week, but it was a first for Stevie topping at this site and did she deliver! Stevie is fearsome and so good to watch, especially strapping Mackenzie's gorgeous butt… then watching her poor hapless employee awkwardly changing back into her pantyhose afterwards… joy!
Or view it as a full film download (or in even smaller action spanking and strapping clips with no build up dialogue) at the AAA Clips Store (direct link to the full length film is below)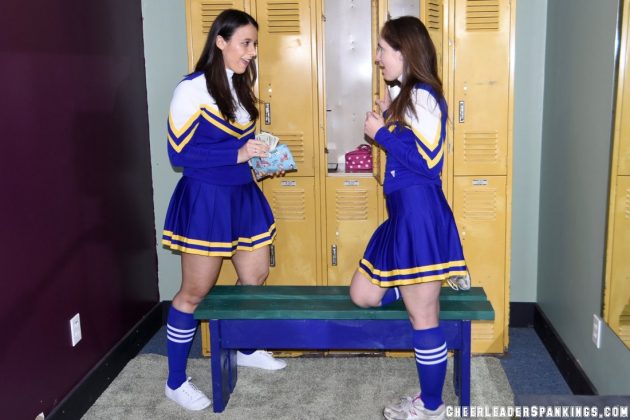 Sarah and Rachel are caught by Miss Elizabeth trying to steal items from the other girls lockers after she heard them both rummaging and rifling through personal effects from outside the Locker Room. They snuck back into school after hours while the rest of the cheer squad was practicing. Miss Elizabeth is shocked to find the girls as she is on her way home for the day. The girls deny everything of course. Sarah is particularly bratty and answers back with smart alec quips which earns her a spanking over Miss Elizabeth's lap. Rachel is told she is next as Sarah is spanked and then given a harder hand spanking on her bare bottom. The girls swap places and the punsihment and scolding continues, but not without Sarah answering back continually. Miss Elizabeth has had it with these two little thieves and pulls out a hairbrush from her bag, taking first Sarah, then Rachel, over her lap as she really wallops them both with the brush which finally gets through to them both what nasty thieving cheerleaders they are! The girls apologize and feel rather foolish that they had been caught and punished in their cheer uniforms, their red bottoms on display for all to see.
These uniforms are absolutely adorable, and with the locker room setting, and of course Miss Elizabeth scolding & spanking Rachel & Sarah – this is as about perfect as a cheerleader spanking video gets in my opinion!
Or you can check out the latest movie update from the Cheer Clip Store HERE

Creamy smooth bouncing bottom bared, Lilian White asks for a spanking – Bubble butt brat Lilian White returns as a girl curious about spanking in her all-new series Asking For It with John Friday. Lying across his knee she claims to be nervous, but as the spanking heat is turned up and her buttocks jiggle redder, it's clear she needs more than a hand on her butt! Awesome slow-motion booty-bouncing replay.
FHS get this  right with a lovely OTK hand spanking that has the right power and intensity to ensure this IS punishment – whilst also being incredibly hot to look at! Go check out this latest series for yourself.