I thought it was about time to remind you of the very latest spanking films coming out for members of the Clare Fonda Pass network – or for those who join the sites individually… whatever options you might decide on, each site or, of course, the pass option (the best value in my opinion) are all worth the entrance fee and your support helps them to keep hiring and producing content – like any website out there, for without YOUR support these options and creative new conent would dry up overnight (please remember that!)

Cora Ora is stomping on the floor, trying to get some ants. Veronica Ricci, who lives in the apartment below Cora, pays her a visit. She teaches Cora not to make noise late at night, but putting her over her knee of a long, painful spanking with her hand and a large leather paddle, turning Cora's bottom bright red.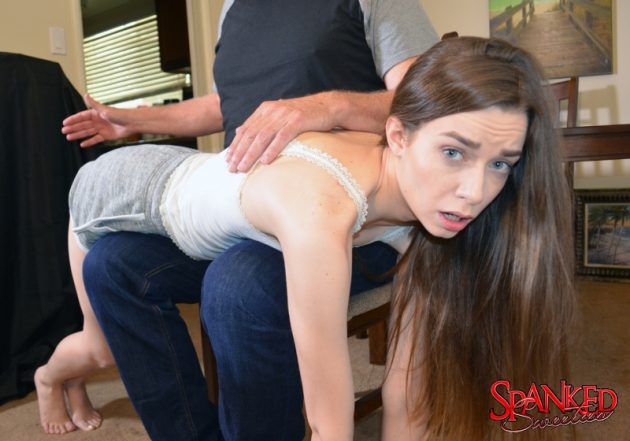 Tali Dova grew up in a small town in the Midwest where discipline often came in the form of spanking. She talks all about it in her interview, and we re-enact a time when her babysitter (played by Veronica Ricci) spanked her with Mom's permission and another when her uncle gave her a painful birthday spanking.
Madam Snow Mercy recently spanked Amelie in her dungeon and now Amelie's dad (played by Josh Day) is coming for revenge. He threatens to call the police on Snow, but instead she agrees to take a stern punishment from Josh right there in her dungeon, with hand a large strap.
Curvy bottomed Judy Jolie needs April Snow to forge a signature on a note for her while both are in detention. April will do it for a price – she gets to give Judy a spanking. After the spanking, and the note signing, Judy decides that April is in for a spanking of her own, and she pulls the schoolgirl over her knee in the front of the classroom.

Kay Richards walks into the dining room buck naked and finds her friend Addie Juniper wearing all of her clothes, which she borrowed without asking. So Kay strips Addie naked, puts her over her knee and teaches her a valuable lesson about borrowing without permission.
All the above sites can be accessed seperately and are massive in their own right… but if you have the time and hard disk space, then I highly recommend the Clare Fonda Pass option – giving you up to 5 sites with one membership and one set of codes for a fraction of the combined cost! CLICK HERE or the banner below for more information.