Hard and sexy? is that possible? Well, Anna and I wanted to film something a little different (well, she did, actually). To those who don't know, I am considered her mentor and when we do get to meet personally, I look forward to our meetings as she is a good friend AMD a valued play partner. Anna never makes it easy (LOL) – but apart from private play (which I love) Anna is an intelligent and amazing lady who I love filming with too – whether it is for AAA or one of the other SG sites! Our films always end up with me literally thrashing her, so this time she said she wanted to do something a little different (but with the thrashings thrown in, of course).
Thrashing… I'm sorry if that doesn't make sense to my American readership, we Brits like to use that word and I have been quite aware to avoid using it in video descriptions… but for me, that was what it was in the end, a good old fashioned thrashing!!!
noun
an act of physically beating someone; a beating.

"a sound thrashing might teach the individual to refrain from complaining"

a heavy defeat of a sporting opponent.

"the thrashings administered by Plymouth Argyle to Exeter City"
So… below are some video images and I have also added the free preview clip for your perusal.
It had been some time since Anna and John had spent some quality time together so when it came to their playtime, John was upset to discover that Anna had been keeping a secret from him. "You've been seeing him again, haven't you?" He could see the marks of a recent beating. Anna was so apologetic but John was incensed that she was keeping secrets like this. So he quickly dragged her over his lap and started to give her a hard hand spanking. Anna was already in her sexy lingerie and her long legs kicked as she struggled to take his angry spanking. This was just the start as he loved to use his favorite leather implements, a Reformatory Strap and thick, stiff gunbelt. However, there was to be no sensual spankings, just heavy licks of leather, reddening and marking her full round cheeks. John also knew that a hard discipline session turned them both on so by now he was past caring how he felt about her secrets and he used the heaviest, meanest bath brush at his disposal. This was a mean session with the brush that had her fighting back tears but John saved his best to last! Anna, was ordered to remove her bra, now naked… her full round breasts glistened as the adrenalin coursed through her body as it was time for her caning! Anna positioned herself over the bed for some of the meanest strokes she had ever received. With this over, John wanted to comfort Anna and provide the aftercare she needed. This was such a hot, mean spanking session so he used lots of soothing Arnica lotion, gently rubbing into her sore skin, with equally soothing words in her ear, tender cuddles, hugs and gentle kisses to remind her how much she meant to him. Don't miss this long play, very grown up domestic spanking video between real life play partners!
You can also view this film as a special one time download (to keep and playback as often as you wish on your devices). Go to the AAA Clip Store or click on the direct link (image) below.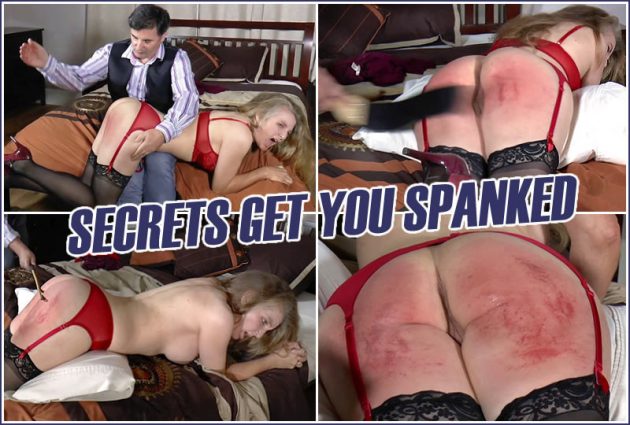 If you missed this other blog post, it covers all the other most recent updates from AAA Spanking and include lots of free exclusive images and clips – CLICK HERE – and have a great weekend!