Good day to you all… I had planned to do this update yesterday, but I had a few private commitments I had to attend to so it's a little late, but it is well worth the wait, as you will see! I have tried to spread the spanking net a little further and introduced some GIFs when I have the time (they take up my time to make, of course). But I hope you like what I have found for you today, past and present at these various spanking websites! So without further ado, here's a couple to start with featuring a couple of my favorite spanking models… Sarah Gregory (naturally) and the beautiful, leggy blonde Australian model, Gigi Allens!
Currently at My Spanking Room Mate – this is the very latest video release (episode 297 in the ongoing spanking soap opera) and it co-stars myself with my beautiful bratty GF, Sarah Gregory. I loved making this and I hope we get a chance to work some more later this year!
The lovely, but bratty Sarah Gregory has lost track of the niece of John Osborne, her landlord. Sarah was supposed to be watching his niece for the day, but lost track of her at the mall. So John puts Sarah over his knee for a very long, very hard spanking, using his heavy hand plus a dreaded leather paddle that teaches Sarah a valuable lesson and leaves her bottom red and sore!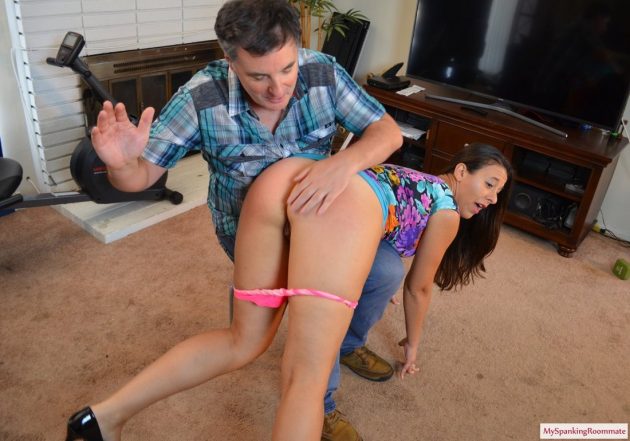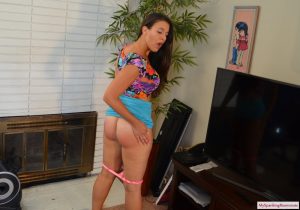 View this episode (& 296 more) with full image galleries exclusively at My Spanking Roommate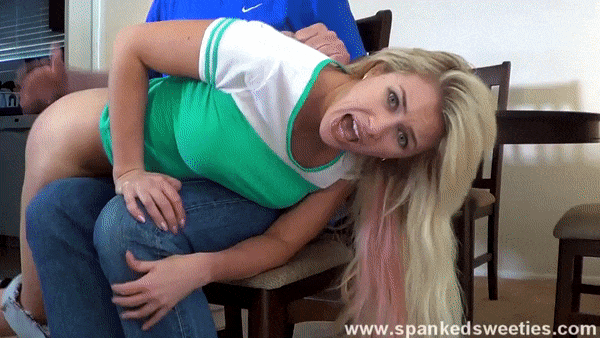 Gigi is wearing the tiniest, short shorts that ride right up her butt crack and she is about to go to school until her dad sees her dressed like that inappropriately. They argue and she further disrespects him so he drags her over his lap for a good old fashioned hand spanking. First he spanks her over the shorts, then pulls them down to make a point so that her bare bottom is reddened properly. Watch this leggy beauty take a good hard man spanking as she is told to go and change into something more appropriate for the classroom.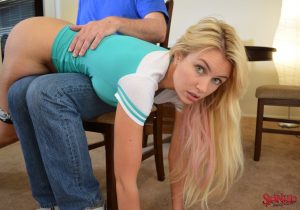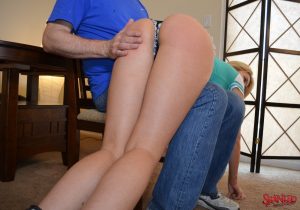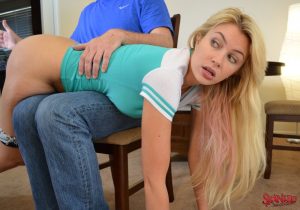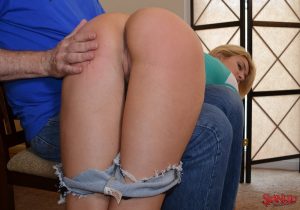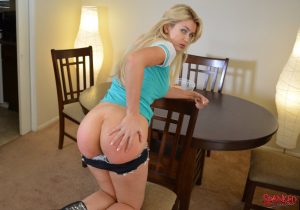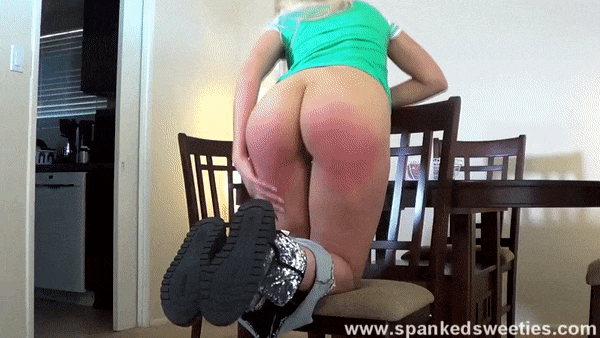 4 domestic & introductory vids with image galleries are available of Gigi at Spanked Sweeties
These sites are part of the amazing Clare Fonda Pass network giving you up to 5 premium websites for a fraction of the combined cost with one set of codes for your added convenience!

The Dean finds Delta in his private study reading a magazine. She is made to remove her clothing as she is strapped. Not satisfied with the severity of the implement, the Dean sends Delta to his office to retrieve a more effective implement.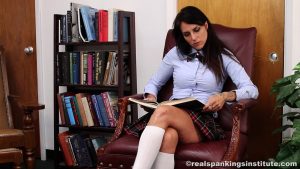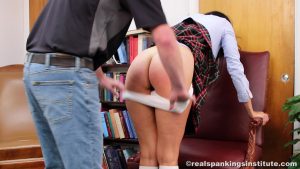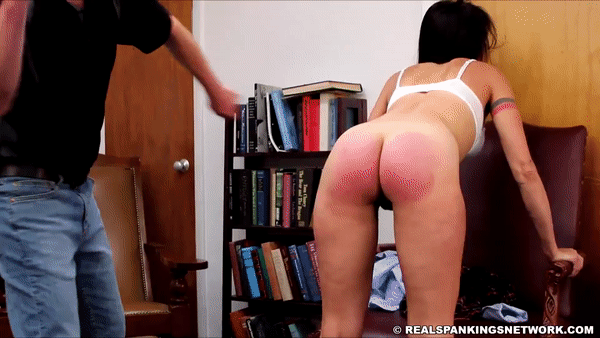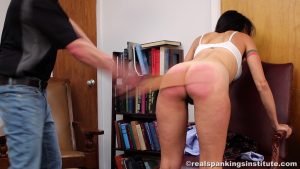 See more films with Delta at this network Real Spankings Institute
Sexy little redhead hottie, Johanna Sullivan, presents herself clad only in panties and bra, for a spanking she clearly needs. As instructed, she drapes her lovely body over Chelsea's knee and the spanking begins, just as it should, with a nice, stinging bottom warming. Once Chelsea decides Johanna's cute, round bottom is warm enough, out comes the hairbrush and things really begin to heat up! As her much needed discipline continues, Johanna finds herself on all fours in front of Chelsea, whereupon a very large wooden paddle is put to good use. Soon Chelsea's ready to move on to the next implement and she instructs Johanna to lie flat on her belly. The strapping ensues!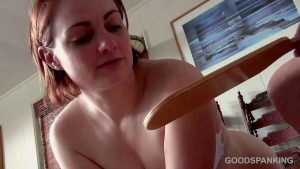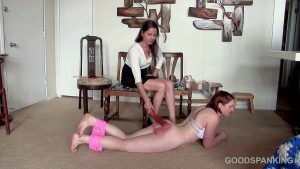 See more of Johanna getting spanked by Chelsea exclusively at Good Spanking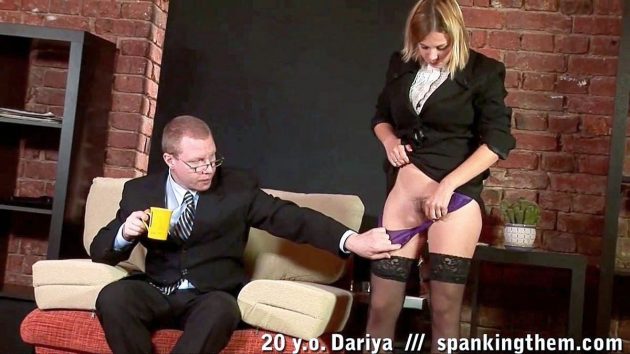 The girls knew what it meant when they were summoned to the Principal of this Russian School for a "Disciplinary". It was both scary and involved many facets of humiliation and spankings! The gossip was rife and the girls were afraid to lose their position, but if they passed their test in the Disciplinary there were rumors of penalty swats and more! So it was pretty girl next door Dariya's turn. Nothing quite prepared her for undressing and being spanked then having her panties stuffed in her mouth as she was told to crawl around on the floor, but that is what she did. Discipline, Russian style, like this is often a turn on for these girls, as it turned out for Dariya who lost her inhibitions and was allowed to masturbate lewdly for her principal… and she loved it!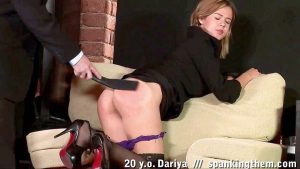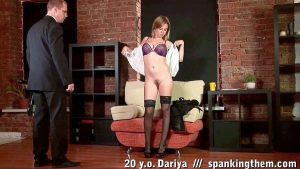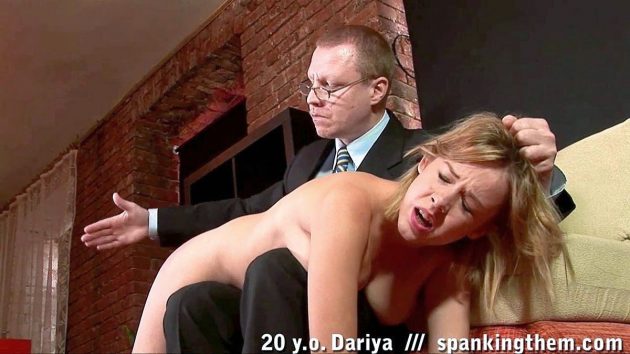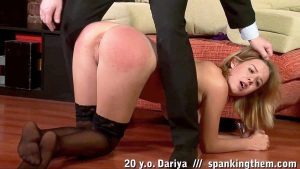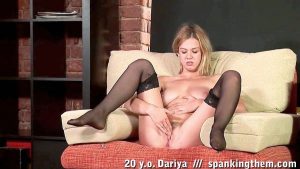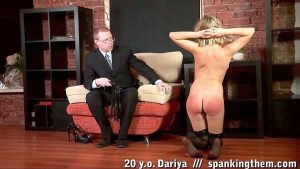 Spanking Them is one of the few Russian spanking/humiliation sites that I highly recommend