As promised, here is part 2 of this weekend's spanking catch up. It's images only today, but I think you will enjoy what I have collected for you to review as I showcase some recent video updates from these following websites.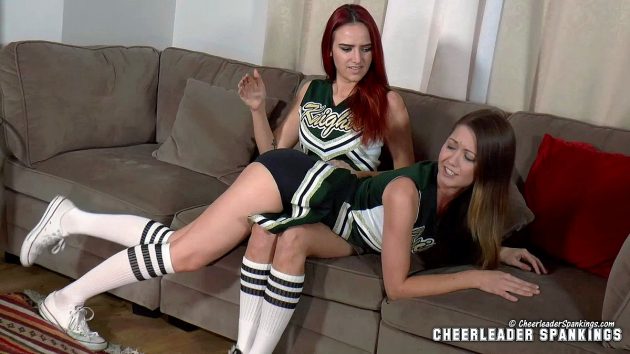 Lola and Chrissy are hugely competitive sisters who are constantly fighting or scolding each other when their paths cross. When Lola finds out that her younger sibling has joined the cheer squad (that she is captain of), she discovers that Chrissy is trying to take her spot. Witness their latest confrontation, which gets rather feisty. Chrissy's demeanor is bordering on arrogant which infuriates her hard working sister, Lola, who drags her across her lap and starts to spank the younger sister. Chrissy takes her spanking as she knows that poor Lola is scared that she will take her spot, but she didn't expect Lola to pull down her panties and spank her bare, reddening bottom. This gets her attention as being spanked on the bare bottom is not only more embarrassing, it is far more painful and humiliating. Lola is satisfied her argumentative sister has learnt her lesson… but for how long? This video features two hot models, Chrissy Marie and Lola Anderson in their matching, authentic cheergirl uniforms that makes watching this spanking film a real visual treat!

Breaking into the home of the Coach of a rival school tennis team, intent on sabotage, has serious consequences for Alex Reynolds, in terms of the outcome of the match and for her bottom!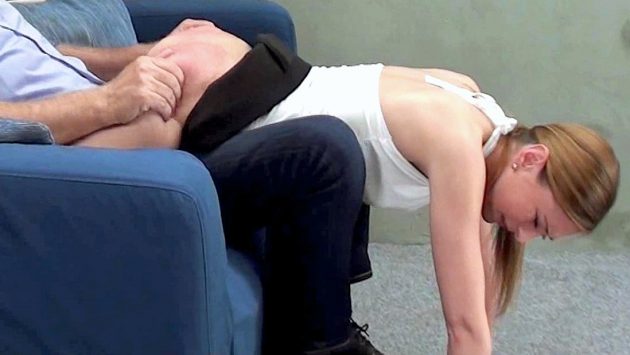 Peter takes Luca Bella over his lap but this time it is for a short sharp shock wheelbarrow spanking. He removes her panties, she takes the embarrassing position, exposed and bared, face down ass up – as he smacks her bare bottom. She is spanked, grabbed and it reminds her how submissive this position makes her! A rare chance to see beautiful girls like this from Eastern Europe given a very special style punishment!
One of the SIU new players, Olga, decided to skip practice and hide in one of the conference rooms but coach Johnson caught her. After finding out she had no excuse, she was soon over his knee getting her rounded squirming bare bottom soundly spanked. Afterwards, coach Jonhson dragged Olga by her ear into his office and Kelly the the teamleader showed up, proceeding to strap Olga's bare, sore bottom harshly while she cried and squirmed in pain on the desk.
What a delight young Cherry is, a lovely little lady with a very spankable bottom. Sarah caught her as she was putting some of her prize teddy bears and other toys onto the internet to try and sell them. Sarah was pretty annoyed and set about teaching her a real lesson. She went over Sarah's knees for a good spanking over her skimpy shorts then on the bare bottom. After a jolly good hand smacking she will then feel just how nasty a slipper can be when it is applied to a bare sore bottom. Bent over, no mercy will be shown as she takes a real good hard slippering.