Good morning everyone, I have a varied selection of spanking updates for you today and you should go check out all these fine sites. Featuring cute girls in various uniforms, getting their bare bottoms thoroughly tanned! I'm starting with a recent double update at Spanked in Uniform in the "St. Elizabeth Hospital" nursing/medical spanking uniform section: Trust me… watching Jentina Small getting punished in her uniform is HOT!
Hospital policy clearly states: "No mobile phones/cellular devices allowed during work hours" – but Dr. Johnson caught nurse Jentina tweeting on her phone on a staircase while on duty. She was marched into a nearby office and her bottom was soundly spanked while kneeling on a foot stool. She even had to film part of her spanking and post it on Twitter. Then she was taken for bare bottom reflection time in the corridor. Some time later, nurse Jentina is still doing her bare bottom reflection time against the Hospital corridor wall, when Doctor Kelly walks by. She feels Jentina's bared bottom thinking that it is not red and sore enough. She orders the nurse to touch her toes and her bare bottom is soundly spanked further. Later Dr. Johnson sees that her bottom is redder then when he spanked it earlier so he compliments the good Doctor on a job well done!
The House of Correction has a new staff member. Amelia Jane Rutherford has fooled Aunty Katy into giving her a job as an assistant in her House of Correction, not realizing that she used to be an inmate. She soon finds herself in trouble when she lets the establishment's naughtiest girl out for the day. Staff member or not, she has to pay the price and that means a good hard whacking on her bare bottom from the stroing arm of Aunty Katy.
Having pulled strings to get his niece a nursing assistant position in the hospital where he is a consultant, Dr Kennedy feels rather let down when two incidents of abject unsuitability to the caring profession are brought to his attention. Whatever her future in medicine, Sunnie's immediate future holds a smacked bottom and a caning!
Caught awake at 2:30 AM, Maya is pulled from her bedroom, into the living room, for a hard bedtime spanking.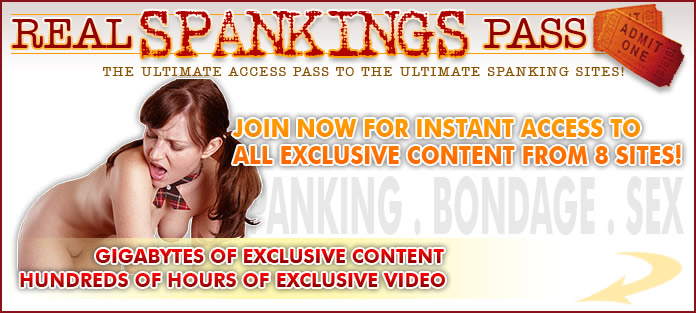 Cleo had been spanked at school and in her house a spanking at school means a spanking at home that evening. Mommy scolds her daughter and then takes her over the lap for a much deserved hard spanking over her pajamas and then on the bare bottom. She finishes with a hard bath brush spanking which makes Cleo kick and squirm in pain as she promises to be a good girl from now on.