Time to get you some of the very latest spanking updates out there from these following excellent websites. So check out these reviews with full plotlines, images and where you can view free preview clips and download the full films! Supporting these sites is incredibly important… anyone sourcing these videos or site rips of the sites in our niche are not helping one little bit. Membership sites like the ones below do NOT cost the earth and you really are helping when you purchases a membership.
For any spanking producer who uploads their content at a clip store or their membership site…it is incredibly galling to see the latest videos pirated from the use of stolen credit card details. It kills creativity and those sort of independent large scale productions (sadly I don't think any of us anywhere will ever fund such a thing on our own coin anymore, those days are long gone!) However, custom work is very helpful but for those special large scale productions, they are the brainchild of the client, catered to them specifically and can sometimes be quirky or a little off point of our fetish. But these are interesting times so every producer worth their salt (myself included) help to make them as they can help mitigate costs in production and provide a much needed service to those who request something a little more personal from us all (plus, on the whole, from my experience anyway – I really love making custom work come to life).
But as usual, I am digressing… LOL – so… on with the updates!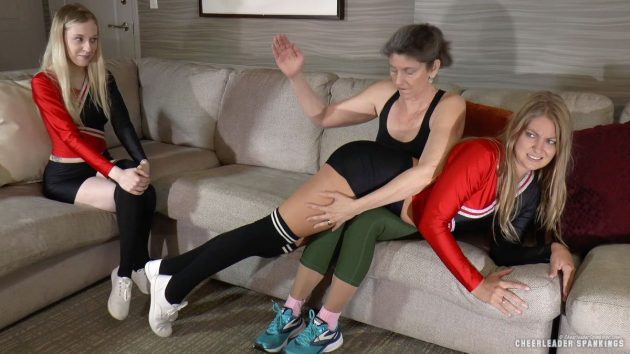 Violet and Veronica had been caught by female officials in the locker rooms making out and performing sex acts on each other. As a result, their lewd behavior got their entire cheer squad unfairly disqualified for setting a very poor example at the Annual Christian Boarding School Championships. Their coach was beyond herself with anger and wasted no time in giving both girls the type of discipline their filthy selfish actions deserved. This means a damned good spanking and humiliating ear withering scolding that both of them receieve in front of the other. The spankings are not over as coach is so disgusted that her entire team suffered due to their lewdness, that she uses a heavy rubber soled sports shoe on their bared, exposed bottoms. Both girls are bent over side by side and it is a painful reminder to these sluts that this type of behavior will never be acceptable at such a prestigious cheerleading championship ever again!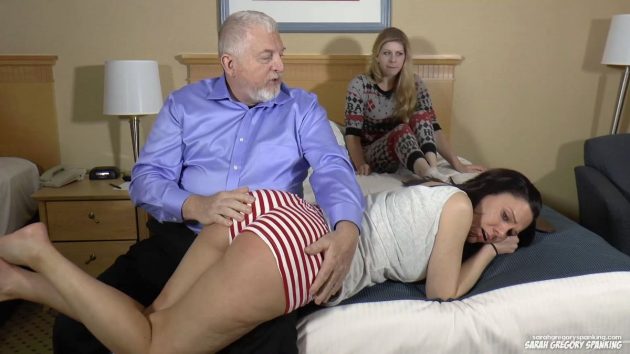 Audrey tells her dad it that was Harley's idea to steal his credit card but she was too scared to admit the truth and she tries to save her own ass. Both girls get a spanking but after this "revelation" Harley also gets a leather strapping from Audrey's father. It really hurts as Harley's bare bottom is blistered and stings with shame. Audrey can only watch, racked with guilt, as her friend takes a nasty leathering which she should have received. Afterwards, when dad has dispensed with his punishment, Harley is so mad at Audrey. So in order to save their friendship, Audrey must take a hard hand spanking and hairbrush punishment over Harley's lap for her lies. Audrey agrees and takes worse than she would have if she had told the truth.. there is a lesson to learn here!
This site is part of the Sarah Gregory Pass – giving you access to both sites for less than the combined cost and included every episode from Strictmoor Academy
Sarah has been sent to stay with her strict Aunt because her behavior is out of control and mom is at her wits end. Sarah is in for a rude awakening when she is woken up (mind you at 3 in the afternoon) and told that what she needs is some good old fashioned discipline for her rude behavior, skipping school, and general breaking of rules. Sarah is taken out her aunt's knee for a hard hand and hairbrush spanking.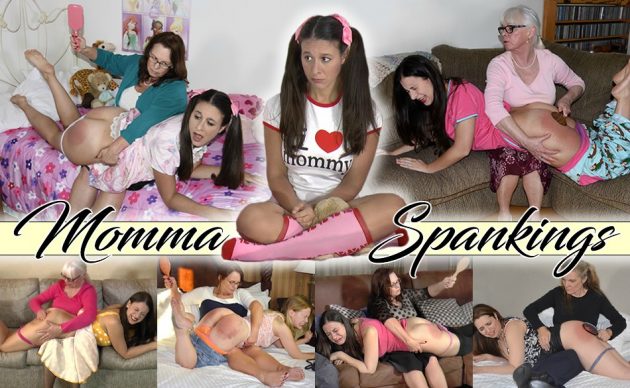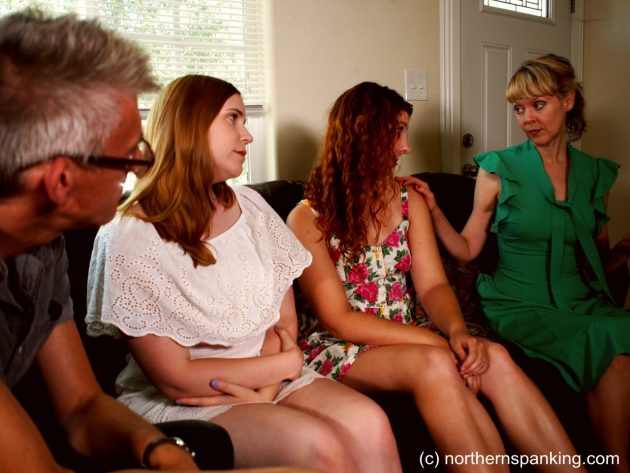 Sisters Alex and Maddy are always squabbling. They are awful at school, where somehow they are in the same class and horrific at home. All Paul and Clare want is a peaceful household and it seems the only way to achieve this is a return to giving the girls regular spankings. Here we see the first installment of that process.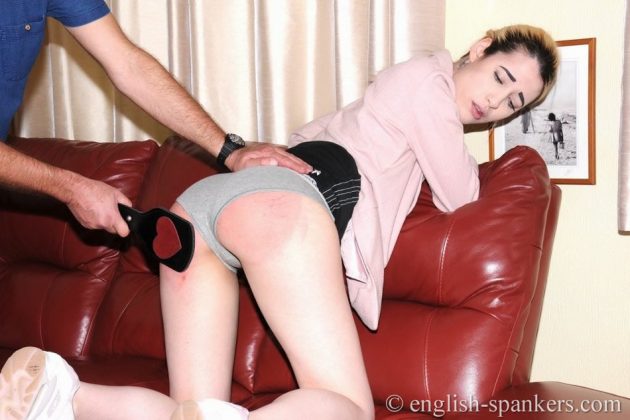 This is Mia Beth's return to the office after her spanking for failing to buy the syndicate lottery ticket. Her boss has to pay out the other syndicate members and he intends for Mia to suffer for her behavior. She has to kneel on the sofa as he removes her panties and paddles her bare bottom.
Amelia has got herself a job at Aunty Katy's "House of Correction" under false pretences. Parker the probation officer, however, knows the truth and the truth will out. The punishment will be a double caning. Stripped naked, she is bent over the kitchen table as Parker and Katy take turns to lay the cane strokes on her bare bottom.