I know it has been a while so I do apologize for that… sometimes, I just need a break from updating the blog. I have been wondering what direction to take with it. You may have noticed that there are far fewer blogs that update regularly nowadays… and I would still like to do real news updates, behind the scenes (on our group of sites including film shoots, like I used to do with AAA a few years back). Sadly all that takes a lot of time… and nowadays that is a really precious commodity that I never seem to have enough of. However, I will try to at some point, with an upcoming HUGE Strictmoor shoot planned in November. There is also the Annual Spanking Awards – nominations start next month, and I have decided to add a category – BEST CLIP STORE – it can be any store dedicated to spanking, hosted at any clip store company providing this service (eg. clips4sale or manyvids etc). Clip Stores can also include best individuals. But… in my opinion, membership websites still take preference… being a webmaster ultimately responsible for your own hosting, customer support and such is so much more difficult, plus websites offer extras that clip stores can not. Anyway, more on that at a later date.
Today I shall just feature some spanking site updates. Since there are so many to choose from…

Corrective Discipline for Ten
Cheerleader Spankings
Ten Amorette has been asked to see Head Coach Lake in his Office after she turned up late for practice yet again. Coach wants to find out exactly why her attitude and recent poor behavior has fallen below an exacting standard he expects from his best members of the school's top cheer elite. He is in no mood to be messed around with, not since the coaching staff are so busy with the new routines that the girls are now learning. He has seen Ten in this lost headspace before and suspects that she is seeing another loser boyfriend. His suspicions are confirmed and he has just the remedy, only she will get an additional twelve hard strokes of his cane as well as a spanking punishment. Ten knows this is going to really hurt and even though the spanking is embarrassing when he pulls down her crisp white panties, she can't help but think about that awful thick cane! When it is time, she is bent over, bottom out and exposed as the first of twelve biting strokes hits her bared flesh. She wants to cry out but knows that she has let down the other girls so grits her teeth and takes each nasty, mean, calculated stroke. Coach knows this corrective punishment will help Ten focus on her being the best cheerleader he knows she can be!
Slutty Brats Spanked
Momma Spankings
Ava is being such a rude brat to her mom. She is sitting on the counter in what is a slutty dress and ignores mom when she tells her to get off the counter. She backtalks her, calls her own mother a slut and is completely out of control. Mom bends her over and takes multiple wooden spoons to her bratty daughter's bare bottom. She even strips the dress of her and makes her throw it out. No daughter of hers will be dressed like a little slut. By the end of Ava's spanking she is one sore and sorry girl.
Clare spanks Nikki Turner for being bossy!
Spanked Callgirls
Clare Fonda is tired of hearing about how Nikki Turner is bossing the other girls around and even spanking them. Clare needs to show Nikki who the real boss is, and that is Madam Clare. She puts Nikki over her knee for a sound spanking that leaves Nikki unable to sit down.
Smalltown Betrayal
Northern Spanking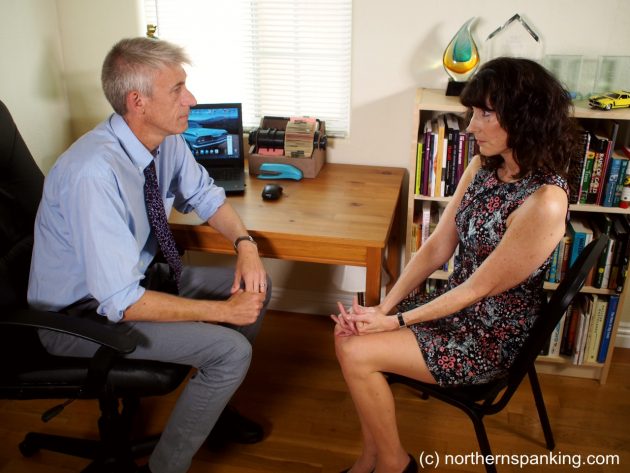 Erica has worked for Kennedy Auto Sales for years. She went to school with Paul Kennedy, the owner and they grew up together in the same small town. Imagine his shock when he discovers that Erica, his trusted employee and friend, has been stealing money from the business. Disappointed does not even begin to cover it and Erica's reaction only increases his anger, to the point where he has no choice but to fire her. And then there's the betrayal. It's the betrayal that hurts him the most and its his belt that's going to hurt Erica the most.
This site has had a much needed revamp bringing it up to date with extra features, take a look… I will be doing a review at some point, but why not check it out for yourselves? I think you will be pleasantly surprised!
A stinging wooden hairbrush warms Amelia Rutherford's bare bottom
Firm Hand Spanking
The curvy perfection of Amelia Rutherford's juicy bare bottom cheeks in Princess Punishment is the target for Mr Johnson's chosen spanking implement: a wooden hairbrush. "My yelps are real," says Amelia. "The last 30 seconds has over 100 smacks with the brush, non-stop!" See how a bratty princess-to-be is spanked in her garden.