You know how I often remind you how good some of our recent content is? Well, here are some more examples of why I do remind you all… starting with a special double caning feature now showing at Sarah Gregory Spanking – both girls were cold caned and given 18 mean, hard strokes with one of our "bitey" dragon canes! This meant real painful visible welts! This filmed stars Violet October and Veronica Weston… Violet is no stranger to receiving hard strokes of the cane from us, but for nervous Veronica, this was her very first experience. The results speak for themselves and both girls were a tearful mess, consoling each other as they yook 12 each, then a further 6 more… comforting the other, knowing how the other would be feeling. it's quite an emotional film, and really rather f*cking good if I say so myself! See the image below (the video episode contains both full size stills and screen grabs, all in decent quality… no other network offers as many images to accompany the HD video as ours… it's just what we do… and all files are zipped of course!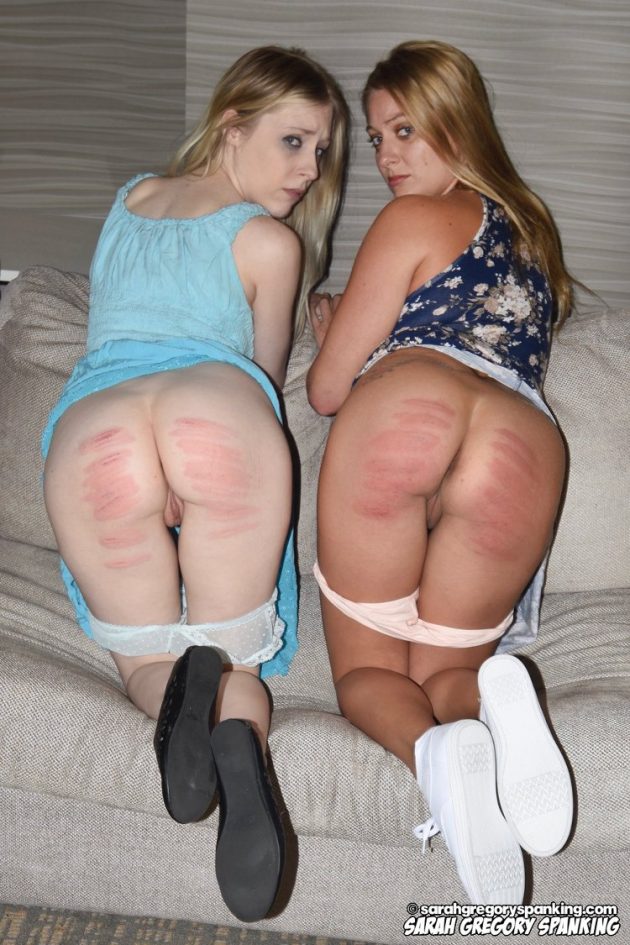 How did the girls end up like this? Find out (below)
Violet and Veronica have done it again, the constant misbehavior at school. Well, daddy has never had to cane them before and today is the day. They are clearly not learning their lesson so things have to be done the old fashioned way. Each girl is given 18 strokes of the cane until they are crying real tears and are very very sorry. This was actually Veronica's first ever caning.
This site is part of the Sarah Gregory Pass – giving you membership access to Momma Spankings as well for less than the combined cost using the same set of codes and full access to all the films from Strictmoor Academy


This week at AAA Spanking features the second long play video in the "Punished for Plagiarism" double feature. If you want to see the 1st part where Pandora Blake was punished by her Headmaster at school – then CLICK HERE
the second part shown here and out this week is her home punishment at teh hands of Daddy. House Rules are: A Spanking at School means a Spanking at Home. There is the added bonus that Pandora also gets Daddy's belt as he is so very disappointed with his daughter. All I will say is that this was actually my very first time I had ever spanked Pandora… and this scene worked so well! Anyway, I hope you like it too. There are plans to turn this full length film into a special DVD (with both parts making up the Punished for Plagiarism full DVD).
Previously, Pandora Blake had been disciplined at school by her Headmaster for the blatent plagiarism of another's work in an examination paper. For this she had received a spanking and strapping. In this film, she is waiting at home in her bedroom, nervously, as she knows her father will be very upset and that there are yet more consequences. A punishment at school means a punishment at home. Her father is disappointed at her behavior and takes her over his lap for a further spanking before promising her something special that she will not like. After her bare bottom is a glowing shameful red, he reveals the second part of her home discipline is with his belt! He lays her on the bed and reminds Pandora that she will do better, as the heavy leather belt rains down repeatedly on her quivering, sore bottom. This is one sorry daughter who has had two nasty punishments in one day courtesy of her foolish plagiarism.

The superior man is satisfied & composed;
the mean man is always full of distress.

Confucius: 君子坦荡荡,小人常戚戚