Recently, we had just wrapped up filming of the annual spanking custom video that has taken on its' own life with epic first and third party storytelling. There are featured, intricate flashbacks and full length multi girl scenes which results in around 3 hours or more of final edited footage from a full 2 days shoot on location at the Strictmoor Academy residence. In this special post, I want to show you the preparation, the setbacks that inevitably occur from getting the cast together from all over the USA (& Europe), behind the scenes images and stories as well as time spent with friends, new friends and colleagues afterwards. I will provide you with the full cast as well as those who helped behind the scenes.
Strictmoor Academy – Year 4 will be shown in The Fall of 2019
Sarah Gregory has a close relationship with this very special custom client, who is the brains behind the scenes and the idea of Strictmoor Academy. It would be remiss of me to say just how important he has been in the storytelling scenarios that appear not just for this production, but for many other projects over the years for which I am sure you will recognize a recurring but very successful theme. Strictmoor has a particular era which we aim to recreate, the late 1950s and early 1960s are brought back to life, imagined in a unique and ritualistic style of punishment (when needed) of the miscreant schoolgirls sent to the academy for learning and corrective behavior.
As you see from the above image, this production features 9 young ladies, with 3 female teaching staff. There are usually a few returnees but as has been the case, it is requested that we feature new talent (both established and brand new) along with some subtle new ideas to add to an already established formula.
Once Sarah has been given the brief, which can be 9 or 10 months in advance of the production, she then follows up the casting requests to see if they are feasable. What some of you may not realize are the sheer logistics of getting people to turn up to the north east of the USA in mid November (the weather can often be grim) and of course there may be casting issues with girls who are popular in many fetish or adult niches. Finding hotel rooms as well as providing adequate transport transfers where needed are all part of the early preparation. Keeping in contact with girls to commit can sometimes feel like herding cats, from my experience, but Sarah is one of the most organized people that a top project manager would be impressed with her talent. In the meantime, there are props and costume requirements, additional costumes requirements for this film included uniform changes, specific changes and props that were hard to come by as well as ensuring the same venue (enquired about over 9 months ago) would be available. Remember that for the same franchise Sarah and I also produce what we call "mini Strictmoors" and mini "minis" – 2 were filmed previous to the "Big One" including new locations in Los Angeles and Toronto (Canada). Those present their own issues and finding props specific to that production, but for Sarah that is just part of the job.
The scripts are based on a lot of ideas and texts/messages and frequent communication between the patron and Sarah… this year I helped with writing and proof reading the scripts alongside Sarah. This is a lot harder than you might think and I know we really do work on this to ensure if it what Sarah's patron requires. Also Sarah deals with the emails and pre-comms between the cast, ensuring that those in this production have some idea of what to expect, script wise and what to expect on/off set.
This is often a shock for some girls who will be hanging around not being on set as we film scenes out of order to get maximum use of each one for time management. So they are well briefed to bring social media/books… or in Ariel Andersen's case… knitting (and drinking tea).  This year was particularly difficult on the first day as we had many intricate flashback scenes which took longer than anticipated in between getting one of the early school classroom scenes under our belt. Personally this time I was well prepped for lighting and camerawork, knowing in advance what I'd be doing… but one person really stepped up this year and so deserves a special mention. Sarah's right hand girl, assistant director Adriana Evans. She was amazing and helped us get the right girls ready in a timely manner, keeping heads cool whilst we got the bitty parts out of the way and checking the shoot order. So a big thank you to Adriana! You rocked!
Also this year there was a return for Tasha Lee, who will also be narrating everything, including flashback scenes (from the letters that she had been reading). Not forgetting two esteemed returnees, Miss Elizabeth and Miss Bernadette. They all played their parts perfectly and added what was needed from 3 strict teaching staff entrusted with the discipline of 9 young ladies on this particular course at the academy!
Also did I mention the catering? Apricot Pitts certainly enjoyed it…
I have a few scenes from the classroom set, with the discipline of the nine (un)lucky ladies who ended up at the academy! I should also mention that all images shown here were taken by the eagle eye of Yoni who helped out recoding scenes and capturing some candid reminders from behind the scenes. Thank you Yoni (husband of Tasha and, as some of you will know, Yoni was one of the co organizers of the Crimson Moon Spanking Party for many years).
By now you most probably recognize most of the schoolgirls shown above? As I said I will provide a full list of cast and behind the scenes help. I also feel it is worth mentioning a friend of Sarah's, Robert, who helped with bringing the orders we made at Costco (thank you Robert… and Costco) – I would also like to thank Robert for bring the outstanding pastries which I know those of us fortunate enough to have devoured them, greatly appreciated this very kind gesture!
I would also like to thank Justin – J_Doggg – who is an enormous help behind the scenes and helps more than any of you know prior to the film, helping to set up and help take down the sets/lights/moving the desks/props to storage and such.
Behind the scenes tomfoolery!
Enjoy some of these images taken by Yoni that help capture the mood on and off set!
Yes, there were also scenes with schoolgirls in authentic straw boater hats! ta-daaaa!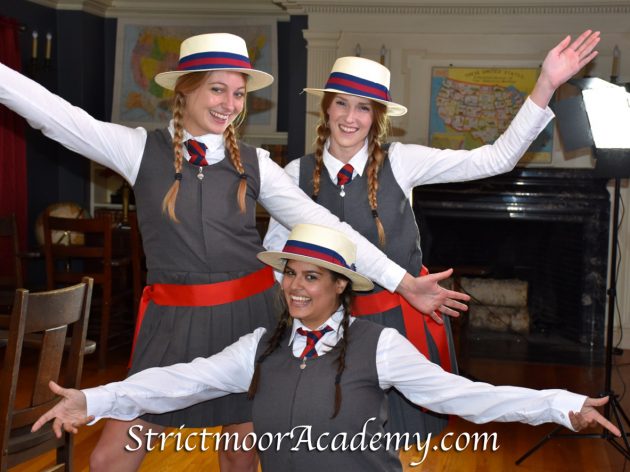 Did I mention Apricot enjoyed the catering?
Strictmoor wouldn't be Strictmoor without bedroom/pajamas spanking scenes as well as a finale scene. Normally we film the that last scene, which involves everyone at the very end to make it a wrap… but this year we had to film it a little earlier in case we ran over… personally I found that a little sad as it is usually a hell of a way to end… but this year's shoot was different (and more challenging) so we had to film this earlier as this is usually a long one to set up… as Sarah explains below!
The bedroom scenes also included a mouthsoaping and bathroom epsiode (I have no images of that to hand, so I apologize) however, those liking the typical Strictmoor bedroom scenes won't be disappointed, some images here were also taken from Yoni's cellphone!
So there you have it, this year's Strictmoor production, filmed over a long weekend. Some of the girls came back to Sarah's and got to meet the dogs, which I guess most loved, a few of us had a few beverages, of course (LOL) and also sampled Ken's excellent burgers (his burgers really are that good!) and another fantastic help behind the scenes that one wouldn't necessarily realize. Ken provides us with additional transport/advice and a lot of support to Sarah when I am not around! Also, there is a little tradition of going through clothes that Sarah's tops make her get rid of… there's quite a lot as you can see… LOL!
The full cast of Strictmoor Academy (l. to r.) – I have included their Twitter profiles if you click on their names if you wish to check them out further!
Tasha Lee – Veronica Weston – Ashley Lane – Apricot Pitts – Misty Lovelace – Raven Mackenzie – Amelia Jane Rutherford – Maddy Marks – Alex Reynolds – Lily Swan – Miss Bernadette – Miss Elizabeth
Director – Sarah Gregory
Asst Director – Adriana Evans
Photography – Yoni Marten
I helped with videography and lighting/production and of course special thanks to our friends, Justin, Robert & Ken!
Least but not forgotten in all of this, Sarah's amazing custom client, without whom all this would not be possible!
Coming soon!