Hello… before we all stuff ourselves full of Turkey & Stuffing with all the trimmings this coming Yuletide… let's delve deep into Santa's Sack (Ho Ho Ho!) for some present spanking showstoppers from around the globe. If you've been on the naughty list then you can escape with a few viewing treats provided by the following websites all vying for today's Spanking Stage. So let's see what's out and about this coming Christmas time…
After being arrested at a party at school, third year college student Nadia was called home by her mother. Her mother was not at all happy with her daughter's behavior, and attempted to discuss the matter with Nadia. When Nadia told her that she is a gown woman and will do as she likes, she found herself over her mother's lap for a spanking. It was bad enough being spanked, but when Nadia insisted that the spanking cease, her mother took down her panties. Nadia was struck by disbelief, then her mother's hand. As her mother spanked her bare bottom harder and harder, Nadia forgot of her feelings of humiliation and was now begging her mother to stop spanking her and promising to be a good girl. After her spanking was over, Nadia was led to the time out chair used when she was a child. Placing her freshly spanked bottom upon the wooden chair was another in several humiliating and painful sensations she needed to deal with since this college girl arrived home.
See MORE of Nadia White grtting a deserved spanking here
THE ROCKFORD SCHOOL OF DANCE
– Episode 37 & 38: Caught At Home –
Cheerleader Ivey decided to miss a practice and mobile with her friends. Little did she know that coach missed her and went to visit her in her own home. After a good scolding she was turned across the coache's knee and her tight little bottom was soundly spanked. Afterwards she had to strip and kneel on the couch with the dreaded Stinger in her mouth. After spending a while kneeling naked on the couch, she was bent over and she felt The Stinger's pain explode across her naked bottom before she was taken back to practice. Her bottom bare under her skirt so the other cheerleaders can see she was punished.
The Judge at Home (new series)
– The Hamster Problem –
This is the first in a new series of The Judge at Home: Not in a court of law but a domestic setting where domestic crimes are sorted out. A complaint has been made against Cherry for not looking after her pet hamster. Judge Stern listens to the evidence and pronounces the sentence which is to be carried out. This will be in 2 parts for which the first is a hard OTK spanking!
Alexa is staying at Sarah's house but it is not quite turning out how she envisaged. Her husband caught her going through their stuff in the bedroom and then is walking around the house in sexy outfits. Sarah is not happy at all eith the way she is behaving but her saving grace is that she said she likes spanking ames. Sarah picked a very heavy leather paddle – a real punishment instrument and no plaything and she used this on Alexa's bare bottom.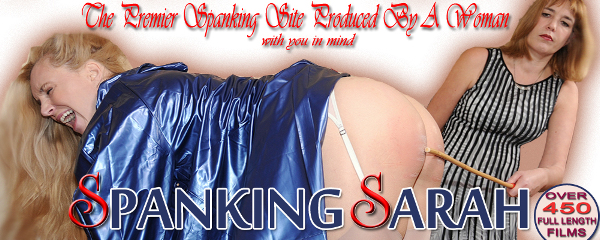 Yasmeena tries to hide from Peter when it is time for her punishment with his belt. He finds her hiding behind the curtains and quickly places her over the sofa, pulling her pants down before giving her the promised spanking and strapping across her bare bottom. Yasmeena then spends corner time near her hiding place, this time with her bare, sore bottom on full display to remind her to behave better in future.