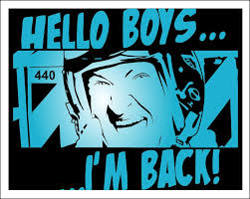 It has been so long since I wrote an actual blog post, the awards had really taken up a lot of my time, and all this whilst away on vacation, it kind of put a dampener on things for me, just as WordPress updated to version 5.0 and presented me with the an overly complicated piece of editing software that was totally alien to me. "Great", I thought, "Just what I need on holiday…" a whole new learning process to waste my time, making a one hour post turn into a three hour late nightime fiasco. When I was less tired I researched this the following day and found out many MANY other people felt the same as I and there is a new plug in with over a million downloads already to help create the Classic Editor we all know and love!
So enough of my woes, let's just get on with a few catch up posts from the sites closest to me today, with some unseen images and a review, these recent films are amazing and have brought in great sales to both Sarah & myself. I honestly feel the content we have been producing this year is by far the best we've ever made and is only getting better! We know what we want and it shows! & a big tyhank you to our awesome members, making this year by far the best we have ever had. We must be doing something right, despite the appalling piracy of our content. So  to those members who have supported us, this would not be possible to bring the talent that we have without your valuable help – thank you so much! To the freetards and Russian lowlife that steal our content, fuck you – sideways – with a rusty blade!
TEARFUL MISTY: SPANKED STRAPPED & DIAPERED
Another stunning debut performace from what we are sure will be a real fan favorite. Please welcome Misty Lovelace. In this very tearful opening film, she stars alongside Miss Elizabeth, her no nonsense mother who knows exactly how to punish very naughty brats! Misty was not used to punishments at school, so when she had been spanked and strapped on several occassions for her poor behavior, she was sent home after the latest disgrace when she peed over her teacher in a bid to stop the punishment! Mother was mortified when she heard the news but as Misty nervously waits in her pajamas, she instantly regrets what she had done when she sees mommy walking into her room with a hairbrush, strap… and a diaper! Since she behaved liked a baby, she'd be treated as one after the impending spanking. How humiliating! Misty worries about that crinkling diaper next to her, how it would feel over her sore burning bottom. First though, she endures another hard hand spanking across her bare, very sore, recently punished bottom. The hairbrush and strap were next, causing excruciating pain, on an already tender bottom. There was no let up as Misty is then told to open her legs wide as mother powders and diapers her, all whilst she could barely watch the events unfold. She is sobbing and crying, as she receives a final bedtime scolding! Misty will not be using that lame excuse again in the future to get out of a spanking at school!
This was Misty's first appearance at AAA Spanking and her first online spanking and diapering punishment shown anywhere. Misty also has a very sore red bottom that took further punishment in this 15 minute film. Fans of this awesome fetish actress will also be able to see her in more films at this site early next year and in the  upcoming Strictmoor Academy Year 3 series to be shown very soon via the Sarah Gregory Pass
Cassy has broken the biggest rule that mommy has; having sex in the house. First off Cassy has had her boyfriend over when mom was not home, second she isn't old enough to be having sex, and third, she has had sex! Mommy is livid and plans to teach her disobeying daughter a lesson the hard way. After a good scolding, Cassy is taken over mommy's lap for a hard hand and hairbrush spanking which leaves her kicking and screaming in pain.
This is a rare appearance of Cassy Lau getting a spanking, she is an accomplished switch nowadays… I don't believe she films anymore but instead chooses to session as a Top when available, you can check out her Twitter page HERE
To view the most films of Cassy spanked, our network of sites has more than any other… this film and others are exclusive at the link below.
KIKI SPANKED & CANED AT SCHOOL
Kiki is on exchange in the UK at a British school and decided to attend her first day wearing her casual street clothes. She claims she doesn't have her uniform yet, but there is no reason to be dressed in such short shorts and a slutty top. Headmaster is appalled and informs her how they deal with such naughty behavior: Corporal Punishment. Kiki reluctantly bends over his desk and takes down her shorts for a hard hand spanking over her panties. Next it is right to the bare bottom for an even harder spanking before she gets the cane across her very red very sore bottom. she has learned this lesson the hard way.
Kiki is a very popular model on t'interwebz and our group of sites have filmed a lot of content with her (she has yet to appear at Triple A Spanking such is the fact the SG Network has so much content as yet unreleased). This is the pink period of Kiki (LOL)… you'll be able to see much more of her in this cute look coming soon as well as her current brunette look (which both Sarah & I adore too!)
This site and Momma Spankings make up the Sarah Gregory Pass – giving you more value as both sites can be accessed for less than their combined cost with the same set of codes. Remember that by using the pass, you get FULL access to all episodes of the complete Strictmoor Academy series – check out this deal at the banner below:
Cheer practice was abandoned and cousins Quinn and Apricot sent home immediately for fighting. Quinn had already been punished earlier that day at school so she knew that she would be in big trouble. She was told to go meet up at Apricot's home where her mother would also be waiting for them both. This didn't bode well at all! How embarrassing it was for the cousins, still in their cheer uniforms, to be scolded and told off by their mother and aunt at the same time as seeing the same thing happen to the other. Then the girls were spanked in front of each other by their own mothers. Quinn was first, as her mom sat down on the same style straight back spanking chair that they had at home. She dreaded these moments and it was far worse with her aunt and cousin Apricot watching. She was spanked over her tight panties then they were pulled down, she felt so humiliated, Apricot even smirked at the sight of this obvious shame on Quinn's part! The hand spanking was hard and reddened her bottom before it was Apricot's turn to experience the same treatment at the hands of her own mother. Once Apricot's bottom was suitably glowing and burning, her mother told them both to go fetch 2 wooden spoons from the kitchen as they would experience this harder punishment from their aunts! Oh the embarrassment, Apricot was close to tears and struggled to take the painful strokes… but poor Quinn cried, unable to hide the pain as the tears flowed, she yelped as that earlier punishment at school made the wooden implement hurt even more! Finally the girls were told to apologize, as tears streamed down Quinn's face, it was obvious that they had both learned their lesson in this most unusual home discipline punishment.
Another exclusive appearance with one of our most popular models, Quinn… alongside one of the most popular current crop of spanking stars, Apricot Pitts, makes for an awesome cheerleader spanking film. Just look at those authentic uniforms and this was a great storyline. Quinn's tears were very real too… an epic stern discipline film. This site may only be about 3 years old but already it has passed 150 full length films including the very popular multi girl films (Cheer Camp series) and the hugely popular multi-Volleyball Girl films… there is another coming out in time for Xmas – do NOT miss that! You won't with a membership to this site which is really taking off and it's a site both Sarah & I are very proud of! See why by checking out the excellent tour pages!
Also, don't forget to vote for your faves in the SPANKING AWARDS – You can do this daily, so if you are really torn between one girl/site and such, vote for another the next day. Voting remains open until the end of the month!