Hello, before I bring the next installment of results from the Spanking Awards 2018 (in my next blog post) I thought I'd quickly catch up with some recent updates from the Sarah Gregory Network of sites including an announcement of a new concept appearing sometime soon…
So without wasting any time – let's get straight down to business as I bring you some exciting new films we have released at the sites recently. First up, at AAA Spanking – the very first time that Skylar Rose received a mouthsoaping was caught on film and released along with this excellent father/daughter discipline spanking film called, "Skylar spanked & mouthsoaped by Daddy" (yeah, orginal title, eh?) Skylar doesn't actually have a social media account but being the little sister of Stevie Rose has some noteriety, I guess… Skylar is relatively new to the online spanking scene but as you will have seen, she finished an incredible 2nd place as Best Spankee Newcomer for 2018. That's quite an achievement, but with her genuine girl next door looks, tolerance for pain and being incredible to work with, I am very happy for her and I hope that she gets to find out how well she did! Maybe we can get her to the Lone Star Spanking Party in May (there is a brief presentation ceremony on one of the evenings there).
 "Skylar spanked & mouthsoaped by Daddy"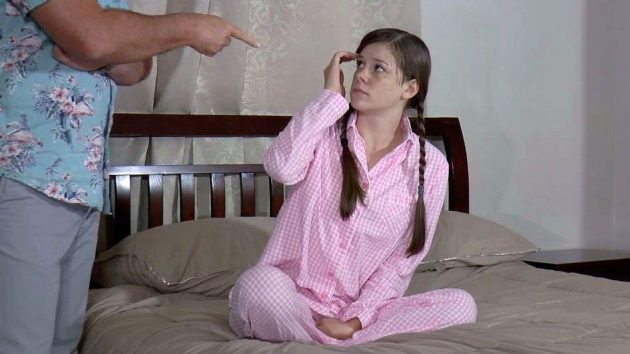 Skylar has really done it this time! She made her mother cry after using such foul language that no young lady should ever use in the presence of her parents! Daddy is so angry that he has sent her to bed early telling her to wait for him in her pajamas. She knows this means a spanking punishment and he has promised her something else "extra special" to treat that foul mouth of hers! Skylar is reminded how upset her poor mother is before Daddy takes her over his lap for a hard hand spanking and scolding. He tells her that she is also going to get her first ever mouth soaping after her bottom is thoroughly reddened. This adds to Skylar's humiliation, the thoughts of those nasty suds cleaning her mouth make her almost gag… but then she has to deal with a hairbrush that Daddy finds near the bed as he continues to whack her sore, throbbing cheeks until they are a burning crimson! She is led to the bathroom where she really does get her first ever mouth soaping, Skylar has no idea what this will be like but knows it will be utterly unpleasant! Watching daddy lather the soap has her tummy in knots as he instructs her to open her mouth and hold out her tongue for the first taste of those suds! Watch Skylar take this thorough cleansing punishment whilst also having her bare bottom smacked more with his hand and hairbrush! This is one of our most dramatic domestic discipline videos featuring a real sweet inoocent looking girl next door type… rising spanking star, Skylar Rose.
"Those soapy suds got everywhere, biting down on the bar of soap was just awful and I really got to taste that soap as I found bits of it stuck between my teeth. Yukkk!" said Skylar after her first ever mouth soaping punishment!
Watch this as the conclusion to her spanking and hairbrush punishment in her pajamas before this scene. You can download the film in full right now at the Clip Store HERE as as part of a membership (with approx 450 other titles at the time of writing) to AAA Spanking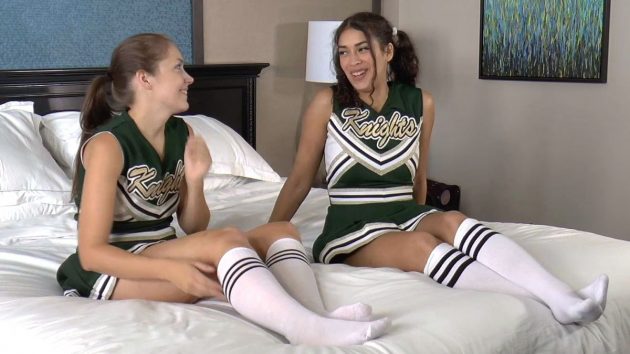 Girls like Kitty and Rachel sometimes get a little too exhuberent when they are away with the team on tour. They are both hanging out in their hotel room, fresh from practice and giggling about what they got up to the previous evening. That is when their door is rudely opened and the Hotel Manager, Mr. Rogers, approaches them both. They had been identified on the hotel's security monitors as the girls responsible for making the mess and after a meeting with Coach Lake… the manager had taken his advice and is he there to spank them both. Mr. Rogers has also brought his own trusty belt, being a good God fearing Texan! The girls are dismayed when they hear Coach Lake has approved of this punishment and Rachel is the first to go over the manager's lap. He lectures her and Kitty about their poor behavior, while spanking each girl in turn with his surprisingly hard stinging hand, over panties, then – as the girls each in turn complained and squirmed – panties down and on the bare bottom. How humiliating, the girls had to watch each other take this spanking and it made them both cry with embarrassment and shame! Not forgetting that belt, the hotel manager placed the girls on the bed, opposite each other, face to ass, and strapped their bare exposed bottoms. It was Kitty first, as he expertly followed through hard with the leather as this brought more tears. This was repeated for Rachel which had the same very teaful result! Both girls are left to reflect on their punishment, sobbing and feeling very sorry for themselves, knowing that disrespecful behavior has dire consequences.
This film was such an apt title… having two of the biggest cry babies in spanking co-star together was always going to be a genuine tear jerker, and this film does not disappoint if you are a fan of this reaction to a spanking and strapping punishment! (I know I am!) Kitty Catherine and Rachel Adams were a perfect pairing as two sassy cheergirls – you'll be able to see much more of them BOTH at other sites in this network coming soon. However, today you can download this video in full at the Cheer Clip Store – or as part of a membership at one of the fastest growing sporting/uniform spanking websites (that also specializes in amazing group scenes) – check out Cheerleader Spankings for more free previews!
Stevie hasn't been showing up to her singing lessons prepared. Her parents pay a lot of money so Stevie can attend these extra classes. When Stevie gets home, mom confronts her and Stevie lies, saying things at singing class are going great. Mom is very upset with her for not only lying, but not showing up to her class prepared. She has told the singing coach that she is going to take care of this the old fashioned way. A spanking is in order and as much as Stevie protests, mommy has made up her mind. It is right over mommy's lap for a hard hand and hairbrush spanking which doesn't have Stevie singing the kind of song she likes.
I recommend that you check out the free preview clip showing at Momma Spankings – Stevie Rose and Madame Samantha B had great chemistry in this film and of course having Stevie perform the scales whilst getting spanked – very funny/entertaining indeed! She really is one of our fave girls to work with and it's easy to see why! She is heavily featured across all 4 sites within our network… as is Madame Samantha B (she is appearing in the next FF spanking film at AAA in around 10 days or so, for example!)
As you may or may not be aware, Strictmoor Academy – Year Three is out… the first few scenes are now playing at Sarah Gregory Spanking – and as always there are scenes of flashbacks, plot reveals… and of course – spankings! This site will mainly feature the story as it unfolds though a few more maternal scenes will probably appear at Momma Spankings – but of course, those with the Sarah Gregory Pass (these 2 sites combined) will not miss out on this and all the other Strictmoor titles that have already appeared!
Strictmoor Academy – Year Three (opening scenes)
We are proud to bring you Strictmoor Academy Year Three starring Clare Fonda, Miss Elizabeth, and Madame SamanthaB as the teaching staff and Cassidy Lau, Christy Cutie, Rachel Adams, Luci Lovett, Elori Stix, Kitty Catherine, Mackenzie Reed, and Nuna Starks as the eight naughty students.

Year Three follows these eight young women's two week course at the academy. Each are dealt with in the usual ways a naughty girl is at Strictmoor: with lots of discipline. Such discipline entails; detentions, writing lines and essays, mouth soaping, and of course old fashioned over the knee bare bottom spankings. Also, as tradition stands, a spanking in the day means a spanking at night, so each naughty young woman suffers multiple spankings and punishments each day. Hopefully after this two week course they will be much more behaved and ready to return to their homes and colleges.

In scene one, we see nine flashbacks as told by the teaching staff. They sit around the dining room table and reminisce about when they were taken in hand and spanked by their mothers as well as many punishments they witnessed. Each lady witnessed spankings at their colleges when they were younger and they tell their stories as voyeurs. Also, they all discuss the last time that they had to administer punishments to naughty young women.
To see what titles are now available – you can check out the Strictmoor Academy website HERE – this also shows you each of the mini series released as well as the casting pages/Coming Soon features and the special Box Set collectable DVDs for sale! If you wish to download the complete series of films as part of a membership option then check out the Sarah Gregory Pass – giving you both sites for less than the combined cost (separately). Bargain!
Finally, I know it's a bit of a tease… but Sarah & I have been working on a new website concept, something we've been doing behind the scenes for quite a while. I think you'll get the idea of what it is about from this poster! Super sexy girls, many not seen in spanking films, super sexy all girl spankings and real intimacy. For the love of women and the love of spanking… "Intimate is Coming!" (If it's good enough for the President to meme out his silly "Sanctions are Coming" from "Winter is Coming" G.O.T. then it's good enough for us too, LOL!)