Gosh, I have some catching up to do, eh? Here's plenty more recent updates to feast your eyes on from these fine spanking production companies. If you like what you see and want to see more or haven't been to these sites in a while, do go check them out and support them. The best way is with a membership which in most cases here will mean for approx $25 you'll get access to 100's of HD movies to download, 1000's of edited images and much more! Without your continued support then these sites would not continue, so thank you in advance for considering any of these today and many updates I feature!
Veronica pays the price – starring Veronica Weston & Madame Samantha B
Madame Samantha B has set up one of her best callgirls, beautiful Veronica Weston, in a popular Las Vegas hotel suite perfect for her business. However, Veronica's earnings have been dwindling so much that after a few weeks she knows this sly callgirl must be skimming some of the earnings! Her suspicions are confirmed when she discovers extra money hidden on Veronica's person and this madame knows exactly what to do! The girls have heard about her legendary spanking punishments, including the humiliating and demeaning scoldings… and Veronica discovers first hand what this means! Veronica is spanked over Samantha's lap, she is stripped and her bare bottom paddled and cropped. Then her legs are splayed and she is treated like a common slut as Veronica is reminded how she must not only earn her madame her fair share, but also her trust! This unique spanking punishment will be carried out over a week to fully ensure Veronica knows who is boss if she wants to continue in the lucrative employ of Madame Samantha B!
Veronica & Samantha are good scene friends and we are proud to have featured them both first at our sites. We have made no secret of their talents and so have recommended them to other producers, naturally! After all, just look at them both! This is a really hot all female spanking with some great humiliation as well asadmiring the obvious beauty of Veronica!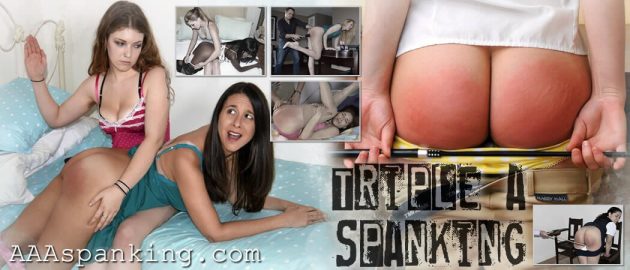 You're Lying – starring Ella Hughes & Aleesha Fox
Ella's decision to play truant from school proves unwise when she is spotted by a neighbour, also a good friend of her mother's. Further adding to Ella's misery is the fact that Ms Aleesha Fox is Deputy Head of a nearby private girls school… One that still uses corporal punishment! After a conversation with Mrs Hughes, the inevitable punishment of Ella's schoolgirl bottom takes place. As well as a wicked strap, Aleesha Fox is an experienced expert with a cane. Ella will not be playing truant, otr lying about it, ever again!
This was one of the last times that I believe you'll see famous porn actress, Ella Hughes, in a genuine spanking role. Unlike some porn stars, Ella did/does have a genuine interest in fetish and in particular, spanking. So for that reason alone, this film and a few more she did at this site opposite Aleesha, it is worth the entrance fee alone!

Spanked & Paddled – starring Maddy Marks & Miss Bernadette
Maddy has been sent to the Principal's Office for further punishment as her behavior, especially at cheerleading practice has bordered on rebellion. She is out of control and the coach is fed up trying to discipline one of her best girls so this is a final lesson as to how serious this situation is. Getting sent to see the Principal, especially one brandishing a wooden punishment paddle, is the last straw before losing a scholarship or expulsion. Maddy doesn't seem to understand how serious it is until she is placed over the principal's lap and her bottom is being spanked. It's humiliating and even more so, when her tight sports panties are pulled down. With her bottom bared and exposed, the spankings and scoldings continue until it is time for her to receive 15 severe swats of the paddle. By the final swat, Maddy's legs had buckled a few times as the searing pain and evident paddle bruises showed just how mean and effective this punishment was! The sorry looking cheerleader promises to change her ways to avoid this type of punishment again!

Ambriel is strapped by Miss – starring Ambriel Willow & Miss Betty
Ambriel is bent over with her hands on her knees, as Miss Betty spanks her with the leather strap.
New model Ambriel is one of the hottest young ladies to have appeared at the RSI Network this past year (in my opinion) and with Miss Betty giving her a thorough spanking and strapping… this is an all female punishment video that you don't want to miss!