Here is a brief selection of updates featured across various websites that I know you'll enjoy seeing more of… so without further ado let's get on with the reviews.
Summer – The Audrey Complication
Audrey had come into Joelle's retreat house in the woods unannounced only to find Bianca resting in bed. The tall redheaded told Audrey to leave or she'd hit her. She made a half-hearted attempt at striking the powerful editor from New York and soon found herself pushed onto the bed with Audrey on top. Soon the two were exchanging passionate kisses when Joelle came into the room wielding her crop. Joelle was aware of the attraction between Bianca and Audrey and felt that the best way to break that spell was to thoroughly humiliate her dear friend and editor. It is clear that Joelle and Audrey have a complicated relationship, and it is also clear that relationships of this kind are the only sort that Joelle has.

In front of Bianca, Audrey was made to slowly remove all of her clothes, allowed to cover nothing. Audrey protested when she was made to go over Bianca's lap for a spanking. She protested even more when she was instructed to spread her legs while being spanked, for Joelle's pleasure. Then Audrey screamed when she felt the powerful hands of Bianca descend upon her. As Audrey screamed from the pain of her humiliating punishment at the hands of the tall redhead, she also felt lost. Joelle told her that she was suffering for the good of their relationship and this helped center her. At the end of her very painful punishment, Audrey was put on display as Joelle and Bianca admired her well punished bottom and tormented her further by rubbing their sharp nails into her tender flesh and exposing her most private of places.
Mackenzie spanked to tears by Mommy
The full clip can be viewed at our Clips 4 sale store HERE
Mackenzie arrives home, hoping against hope that her mother does not find out what happened at school earlier that day. However, the butterflies in her stomach flutter wildly the moment mommy asks her to explain what transpired… as she had received a call from school. The poor girl can not lie, she is aware mother knows everything already so tells her that she got caned for lying by not handing in her homework assignment then is made to show her bare, recently punished bottom. Mackenzie knows that a spanking at school means a spanking at home! Mommy wastes no time getting her daughter over her lap for a hard, bare bottom hand spanking that has Mackenzie yelping, squirming and begging for her to stop. The spanking is far from over, as a near tearful Mackenzie is told to give her mother the bath brush that is laying on the side table in front of her! She begs for her not to discipline her with that awful, dreaded wooden implement. Her pleas fall on deaf ears and mommy doesn't hold back, fed up with her daughter's continuing poor behavior. This time she will learn a very tearful lesson as the bath brush hits poor Mackenzie's tender cheeks again and again. This painful short sharp shock punishment makes Mackenzie cry and promise that she will do better at school from now on! For the sake of her bottom, she must improve or she will be finding it hard to sit down in the future!

Director's Cut: Stacy Stockton spanks Amber Davies
As director Lauren Holt says: "I don't know who was more nervous when I directed Stacy Stockton giving her first spanking to a totally new model, Amber Davies! It turned out that they were both brilliant as sorority sisters. I didn't even have to tell Stacy to spank Amber harder, she went for it!" Enjoy previously unseen footage in this new Director's Cut!
Bathbrush for Kali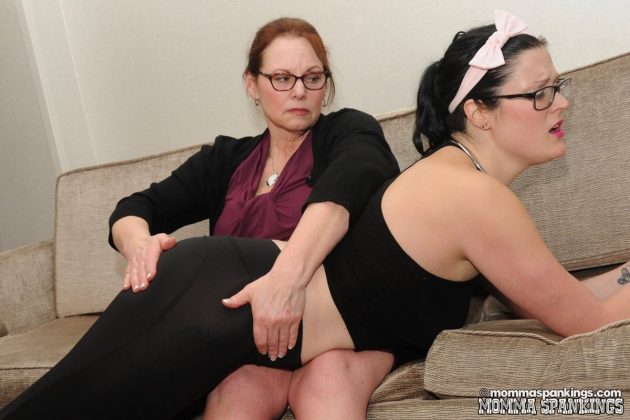 Mom is royally pissed off. Kali has left her "special" candles burning in the house yet again so mom confiscates the candles. Kali comes home and is upset that her precious candles are gone. Mom explains how this is a safety hazard and that there could have been a fire. Kali doesn't seem to care, so mom is going to light up her naughty daughter's bottom and make it feel like fire with a hard hand spanking and then the wooden Bathbrush. This leaves Kali's bottom sore and marked and one sorry sorry girl.
This site and Sarah Gregory Spanking are part of the Sarah Gregory Pass – giving you full access to both websites for a fraction of the cost and full access to the Strictmoor Academt series across the websites. Take a look HERE for more information.