It has been some time since I reviewed Momma Spankings sharing news of the very latest updates, so here goes, I have provided some escluisve images and links to free preview clips. This really is the best maternal discipline spanking site out there by far, the latest updates show this!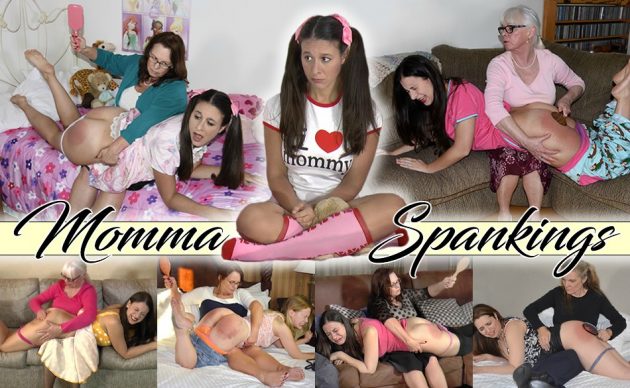 Mommy is furious at her daughter Skylar for getting in trouble at school. As Skylar is trying to sneak off to bed, mommy listens to her phone messages and there is one from school alerting her that they had to spank her daughter in front of all the other students. She was behaving so poorly at school that the teacher had to spank her. The rule is that a spanking at school means a spanking at home, so poor Skylar is taken over her mother's lap for a hand and hairbrush spanking on her already spanked sore sore bottom.
Chrissy was spanked and caned at school for poor grades and of course mom was given a phone call. That evening she knows that she is in for another spanking as a spanking at school means a spanking at home. Chrissy sits in her room in her Pajamas and is contrite and scared. Mommy comes in and solids her and then takes the naughty girl over her lap for a hard hand spanking followed by the brush. Chrissy promises to do better in school as she doesn't want a spanking like this again.
We are so excited to introduce new spanking model, Sophie, in this fabulous film showing off what she loves; hard spanking. In this film, she works at a dungeon and has been lying to mom. Mom is curious so decides to follow her to work one day and is shocked at what she finds. Well, if Sophie enjoys giving pain to others so much and enjoys lying to mom about it, she is in for it. Mommy is going to give her a dose of her own medicine. Now the tables are turned. It is right over mom's lap for a hard spanking with hand and leather paddle. Then she is put on the spanking bench while mom straps and canes her very hard. There is one lesson being taught for sure today, don't lie to mom about where you work, especially if it is in a dungeon.
Mommy is very upset with Ariel. She has told her many times to respect her older sister and not to bother her while she has friends over, but she just doesn't obey. Well, enough is enough and this time words are not enough. Clearly mommy needs to drive the lesson home another way. She takes her naughty daughter over her lap for a hard and much deserved spanking on her tight cute dress, then over her panties, and of course on the bare bottom. She spanks her hard with the brush until Ariel is kicking and crying and promising to be a good girl from now on.
Kiki has been ultra rude to her mother's friends lately. She claims it is because they are saying mean things to her and making fun of her "little girl" clothing. Well, mother says they are only stating the obvious and it is time for Kiki to grow up and stop wearing these childish clothes. After all she is a teenager of 18 years old. Kiki is defiant and argues with mommy which only angers her more to the point of taking this naughty girl over her lap and giving her a hard spanking over her little shorts, then on her panties and finally on her bare bottom with the dreaded wooden hairbrush. She is now one sorry little girl and agrees to apologize to mommy's friends for her rude behavior.
Momma Spankings, a site dedicated to mother/daughter spanking scenarios. There are many female tops who play the role of mom to naughty bratty girls. See everything from traditional over the knee bare bottom spanking, to mouth soaping, diapering, caning, hairbrush spanking, and strapping, plus so much more. Sarah is in a real life relationship with both Miss Elizabeth and Dana Specht. A lot of the spankings she does with each of these women include real punishment as well as role play. Sarah also enjoys playing "mommy" in some of the videos to some of the younger models who appear here. This site is Sarah's true passion. There is nothing she enjoys more than being spanked by a maternal and nurturing mommy figure.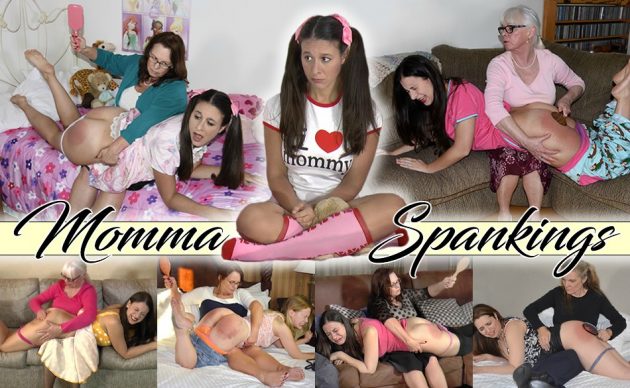 This site makes up one part of the Sarah Gregory Pass